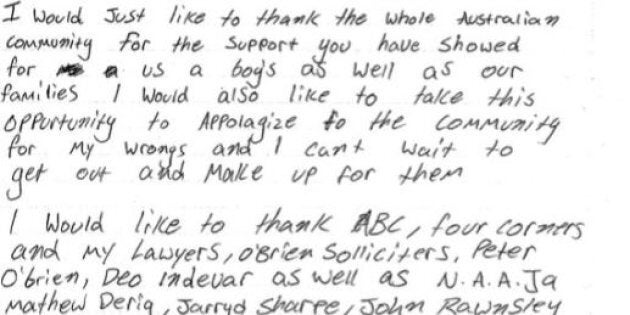 Dylan Voller -- the boy who featured repeatedly on Monday night's Four Corners being stripped, strapped to a restraint chair, hooded and gassed in a NT detention centre -- has released a letter thanking the Australian community for its support since the shocking revelations.
In a letter released by his lawyers on Tuesday night, Voller said he can't wait to get out of prison and make up for his wrongs.
"I would just like the thank the whole Australian community for the support you have showed for us boys as well as our families," the 19-year-old wrote.
"I would also like to take this opportunity to apologise to the community for my wrongs and I can't wait to get out and make up for them."
Voller was one of the six boys tear-gassed in the Don Dale detention centre in a "riot" in August 2014. Guards told police a number of boys escaped and were armed, but footage released on Four Corners on Monday evening painted a different picture. Only one boy had escaped from his isolated cell.
The footage revealed widespread mistreatment in the prison where boys were held in solitary confinement for weeks and deprived of water and sunlight.
Prime Minister Malcolm Turnbull has since called for a Royal Commission into the mistreatment, which had the country in shock on Monday night.
Speaking on The 7:30 Report on Tuesday night, Attorney-General George Brandis said the Royal Commission should be "underway" by September.
"I have already drafted terms of reference which I have discussed with the PM and others. And I expect those to be finalised in time to be taken to Cabinet on Thursday," Brandis told the program.
"There is always administrative arrangements to be attended to before an inquiry can commence its hearings, but I would expect it would be under way some time in September."
Brandis also said the Royal Commission would extend beyond Don Dale detention centre and investigate the juvenile detention system in the Northern Territory. However, it would not investigate other states or territories.
"We don't propose to take it beyond the Northern Territory because that's the particular problem that has been exposed," Brandis said.
"I think one of the things about these royal commissions is if they're going to be useful -- if they're going to provide practical solutions to real and urgent problems -- they should be focused."