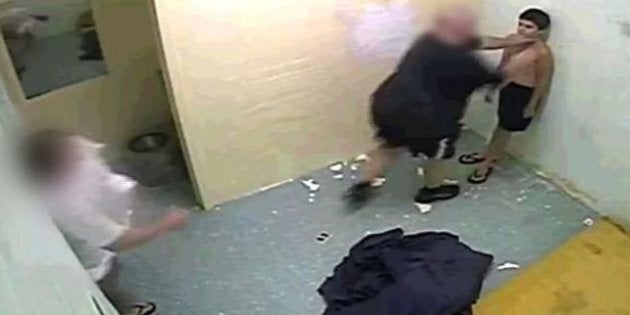 The Four Corners investigation, aired on Monday night, prompted Prime Minister Malcolm Turnbull to immediately announce a Royal Commission into the treatment of children in the Don Dale detention centre on Tuesday morning.
The NT Corrections Minister has also been stripped of his portfolio.
But Facebook has removed the revealing and particularly shocking footage because it contains nudity.
A spokesperson from Facebook said users reported the videos, prompting their removal.
"These videos were reported to us by members of the Australian public and our community operations team promptly reviewed and removed them for containing child nudity," the spokesperson told The Huffington Post Australia.
"Upon further review, we have restored one of the videos because it does not contain such imagery.
"We review millions of reports each week and from time to time we make a mistake and work to rectify this as soon as we become aware of this."
Facebook does not allow any nudity of minors on the social media service.
"Our Community Standards do not allow any nudity of minors to be shared on our services, even if they are shared with the with the purpose of condemning it," the spokesperson said.
The video below has been restored because it does not show nudity.
ABC News director Gaven Morris told HuffPost Australia said the videos are strongly in the public interest.
"ABC News gave careful consideration to publishing these images, which are evidence of the mistreatment of a child and not in any way gratuitous," Morris said.
"We have expressed our concerns to Facebook about their handling of this matter."
The stripping of boy Dylan Voller by guards at Don Dale detention centre was one of the most chilling scenes in the footage aired on Monday night.
"No matter what the reason for them wanting him to take off his clothes or be naked or whatever the hell they were doing, what on earth do you think was going through that kid's mind?" Solicitor Peter O'Brien told the program.
"That kid at that time, he has his bare naked buttocks exposed and in a manner where he's being held down in such an intimidating and brutal fashion. One can only think."
The Huffington Post has approached Four Corners for comment.