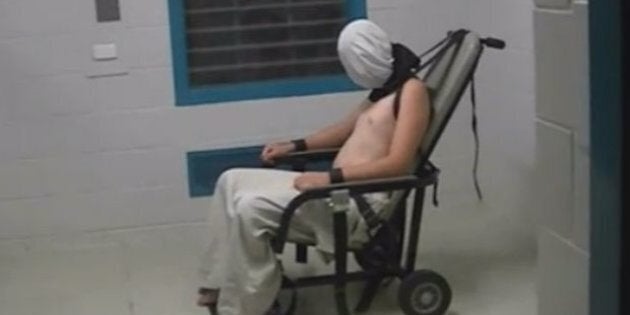 Prime Minister Malcolm Turnbull says a Royal Commission into juvenile detention will look at the Northern Territory only, despite increasing calls for it to spread to other jurisdictions.
Turnbull first announced the Royal Commission on Tuesday, after distressing footage of teenagers being tear gassed, stripped and tied to chairs at the Northern Territory's Don Dale youth detention facility was aired on the ABC's Four Corners.
"The Royal Commission will be focused on the youth detention system in the Northern Territory," the Prime Minister told reporters on Wednesday.
"It will be focused on both mistreatment of juveniles in that system, failings in the system, and also how it was that these failings were brought the to light earlier or, if they were brought to light, why action was not taken.
"So it will be a comprehensive review of the circumstances surrounding this mistreatment of juveniles in the Northern Territory system."
He said the commission's terms of reference will be considered by the Cabinet on Wednesday.
"Royal Commissions that go on for years and years and years in my experience are disappointing so what we're going to do - this will be clearly focused on the Northern Territory," he said.
There is mounting pressure for a Royal Commission into juvenile detention to extend to Queensland, where former guards have claimed they were sacked for speaking out against violence inside the institutions.
The allegations come as Northern Territory Attorney-General John Elferink defended his handling of his former Corrections portfolio amid revelations a teenage boy was strapped to a restraint chair multiple times before footage depicting a 2015 incident was made public on Monday.
Former youth worker Graham Pattel told the ABC he was sacked in 2015 for complaining about the centre on social media.
"They shut me up, they charged me under the public service act and went through the process and sacked me. Now, I do not think it was fair," he said.
Another ex-worker from the same facility said he had filed numerous reports of excessive force over several years and alleged a senior staff member put a boy in a headlock before hitting him in the face with a steel can.
Queensland barrister Joshua Creamer asked why the Royal Commission announced by Turnbull on Tuesday should be restricted to the NT.
"I say there are sufficient concerns that needs to be properly and openly inquired into and a the Royal Commission is the best way for that to occur," he told ABC News 24 on Wednesday.
In the NT there are calls for the Territory government to be sacked as it comes under increasing pressure to explain why, when they had the most of the footage shown on Four Corners on Monday, they didn't act sooner.
CEO of Danila Dilba Health Service Olga Havnen told the ABC that the government should be dissolved ahead of the Territory election in a month's time.
"Anybody that abuses their power in this kind of way has forfeited their rights to form government in my view," she told the ABC.
Questions are being asked about how Elferink can keep his job as Attorney-General and Families minister while the state prepares for a Royal Commission.
Elferink, who is retiring from politics at the next election, criticised the ABC's Four Corners for not talking up the positive steps taken by the government of Chief Minister Adam Giles.
"If you look at corrections today compared to corrections four years ago, you have a system that's totally different in terms of employment, in terms of diversionary programs for inmates," he told NewsCorp.
Meanwhile, Dylan Voller, the boy who was hooded and strapped to a chair in March 2015 with a hood on his face issued a letter to the public, thanking them for his support.
When questioned about the use of the chair on the ABC's late line on Tuesday night, NT Chief Minister Giles, had this to say on ABC's Lateline (the full interview can be found here):
EMMA ALBERICI: In May of this year, you along with 12 of your colleagues voted to introduce exactly the kind of chair that we saw in the footage that was used to retrain 17-year-old Dylan Voller for close to two hours. Tell us why such restraints are appropriate for children as young as 10?

ADAM GILES: Well, I think there are two elements here. One is that that's what we want the royal commission to have a look at: whether we've made the right decision or not.

But the second component of that is that we have to put in measures or put in place the framework to allow prison officers to put in place measures that allow for the protection of youth detainees from both themselves and from other inmates.

Some of those elements include making sure that kids are restrained to a point where they are able to calm down and not be in a position where they inflict harm on themselves. And I'm aware of many cases where kids have been very keen to break their own arms, have bones protruding from skin, smashed their head on walls...

EMMA ALBERICI: Should they be... Should they be wearing a hood in such cases?

ADAM GILES: Well, obviously those images don't look good on television, which we saw last night. But there are some...

EMMA ALBERICI: In what circumstances would they be good?

ADAM GILES: Well, I'm not saying that they would look good in any other circumstances. But I do know that many of these inmates are frequently spitting on prison officers. And in a work environment, we have to make sure that prison officers are also afforded the best OH&S environment in which to operate.

EMMA ALBERICI: So you support the hoods?

ADAM GILES: Look, nobody wants to put a hood on a child. But where we have a prison officer who is trying to support a child in youth in detention, and they are continuing to be spat on, I have to also provide a work environment conducive to healthy work practice for those prison officers.