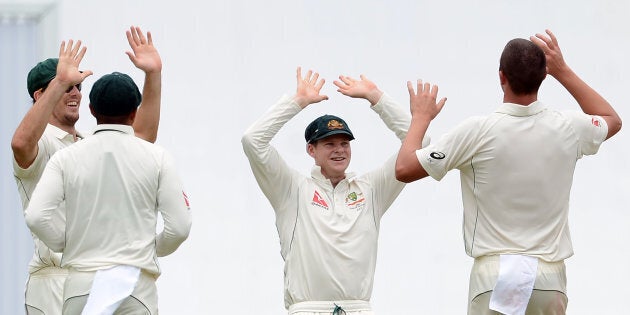 Cricket is happening again. Just when your brain was overloaded with the various football codes and the upcoming Rio Olympics, along comes Australia and bowls out Sri Lanka inside two sessions on the first day of the first Test at the Pallekele International Cricket Stadium in Kandy.
Speaking of Kandy, this was a sweet morning for Australia's bowlers. Josh Hazlewood and Nathan Lyon took three wickets apiece, while Mitchell Starc and Stephen O'Keefe each chipped in with two. O'Keefe is in this match as Australia's second spinner and continued his good form from the lead-up match, in which he took ten wickets.
The fact the wickets were spread evenly between spinners and seamers tells you that this was no sub-continental dustbowl. Sri Lanka's pitches are generally fairer for all types of bowlers than India's, and so it proved.
The pitch was taking both seam and spin, although the locals' collapse can perhaps be attributed more to shoddy batting than brilliant bowling. That said, Josh Hazlewood was very good. When isn't he good these days? He now averages exactly 25 in Test cricket (runs per wicket) and that's dropping every match.
With each match, comparisons to Glenn McGrath grow. Like McGrath, he's a tall New South Welshman with unerring line and length. He's not one of those intimidating, in-your-face pacemen. He kills by stealth.
Australia started poorly in response, with David Warner bowled for a duck after attempting a rather extravagant shot to a fullish ball on the off stump which swung in late. Joe Burns followed soon afterward and suddenly, 117 didn't look like the worst score in the world.
We'll keep you updated as the match progresses.