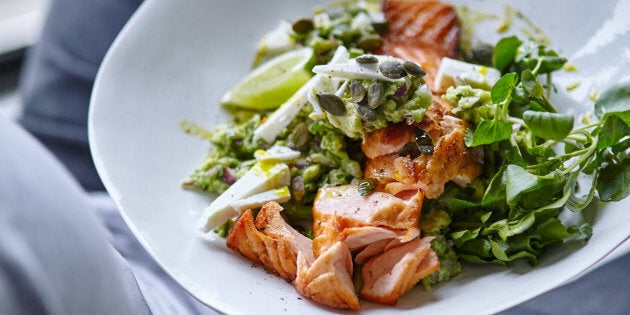 The beginning of the week always marks a fresh start -- a time where we promise a range of cleansing things, from clearing out our anxiety-inducing email inbox to committing to a challenging workout plan.
It's also when we vow to get back on the healthy eating train, but after a weekend full of delicious, greasy burgers and takeout, the concept of eating healthy food can be... off-putting and uninspiring.
Enter these quick, easy, healthy and -- most importantly -- tasty recipes from Lean in 15: The Shape Plan by Joe Wicks aka The Body Coach.
From steak burritos to sweet and sour pork, these single-serve recipes can all be made in under 30 minutes, are perfect for lunch the next day and don't sacrifice on flavour.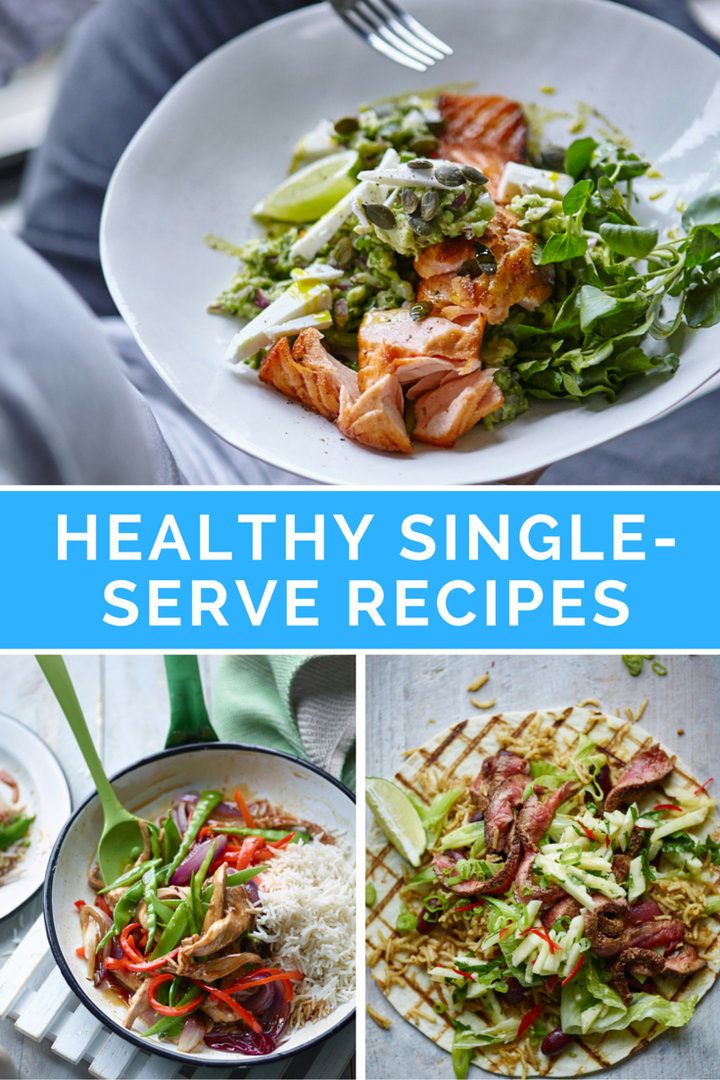 Sweet and sour pork with rice
"This is perfect for those days when you're craving a Chinese takeaway. Instead of ordering a greasy one in, give this a go," Wicks said. "It's going to taste much better and it's going to keep you lean and healthy, too."
½ tbsp coconut oil
½ red onion, sliced into thin wedges
½ red pepper, de-seeded and finely sliced
50g snow peas
250g pork fillet, sliced into 1cm thick strips
250g pre-cooked rice
1 tsp caster sugar
2 tbsp red wine or sherry vinegar
1 tbsp light soy sauce
2 tsp toasted sesame oil
2 tbsp chopped coriander, to serve -- optional
1. Melt the coconut oil in a wok or large frying pan over a high heat. Add the onion, pepper and snow peas and stir fry for one minute.
2. Throw in the pork strips and continue to stir fry for two minutes, by which time the vegetables should be softening and the pork virtually cooked. Check by cutting into one of the larger pieces of meat to make sure there are no raw pink bits left.
3. Ping your rice in the microwave, following the packet instructions -- you're almost ready to serve.
4. Reduce the heat under the wok or frying pan a little and sprinkle in the sugar. Leave it to melt in with the rest of the ingredients for about 30 seconds. Pour in the vinegar and let it bubble up, stirring to combine. Turn off the heat and stir in the soy sauce and sesame oil.
5. Pile up the hot rice on your plate, top with the sweet and sour pork and finish with a sprinkling of chopped coriander, if using.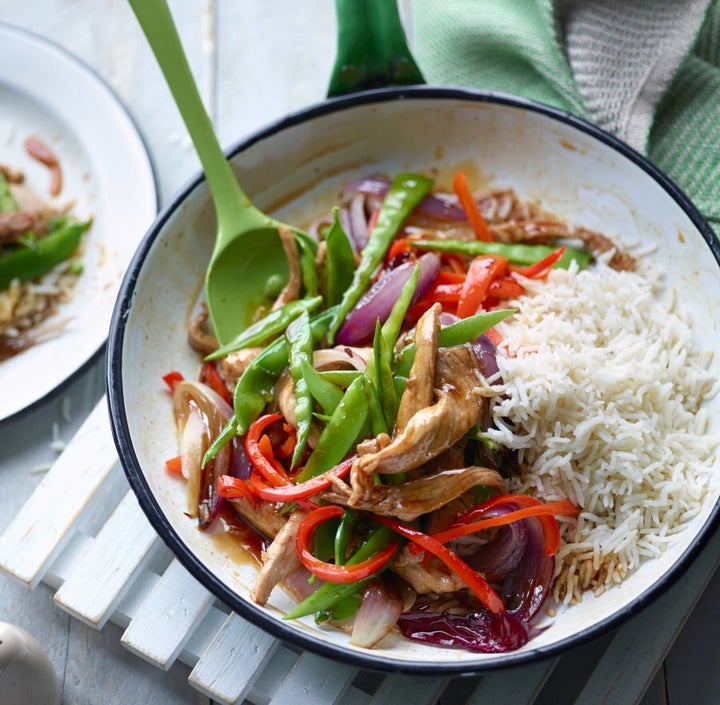 Steak burrito with pineapple salsa
We all love Mexican food for its beautiful colour and unique flavour. This quick and easy recipe uses lean steak and kidney beans for a big protein hit, while the veggies and pineapple salsa adds vibrancy and flavour. These healthy burritos are perfect for lunch or a quick dinner when you get home.
Serves one (makes two wraps).
½ tbsp coconut oil
1 x 225g sirloin steak, sliced into 1cm thick strips
5 spring onions, finely sliced
2 tsp jerk seasoning
100g pre-cooked rice
40g tinned kidney beans, drained and rinsed
2 tbsp chopped coriander
75g pineapple, chopped into 1cm pieces
1 red chilli, finely sliced -- remove the seeds if you don't like it hot
1 lime
Salt and pepper
2 large tortilla wraps
shredded iceberg lettuce, to serve
1. Melt the coconut oil in a wok or large frying pan over a high heat. Add the steak strips and stir fry for 1–2 minutes until they're nice and brown, but still a little rare. Chuck in the spring onions and jerk seasoning and continue to stir fry for one minute.
2. Next, add the rice and kidney beans, crumbling the rice between your fingers as you drop it in. Pour in about two tablespoons of water, which will bubble up and steam -- this will help warm through the rice and beans. Stir the ingredients for about two minutes until the rice is fully broken up and warmed through, separating any clumps with a wooden spoon. Remove the pan from the heat and stir through one tablespoon of the chopped coriander. Keep to one side while you make the salsa.
3. Place the remaining coriander, pineapple chunks, chilli and the juice of half the lime in a bowl along with a small pinch of salt and pepper. Mix the ingredients together until well combined.
4. Zap the tortillas in the microwave at 900w for 20 seconds.
5. Construct your wraps by piling up the rice and steak, topping with the lettuce and salsa, and then finishing with a squeeze of lime juice.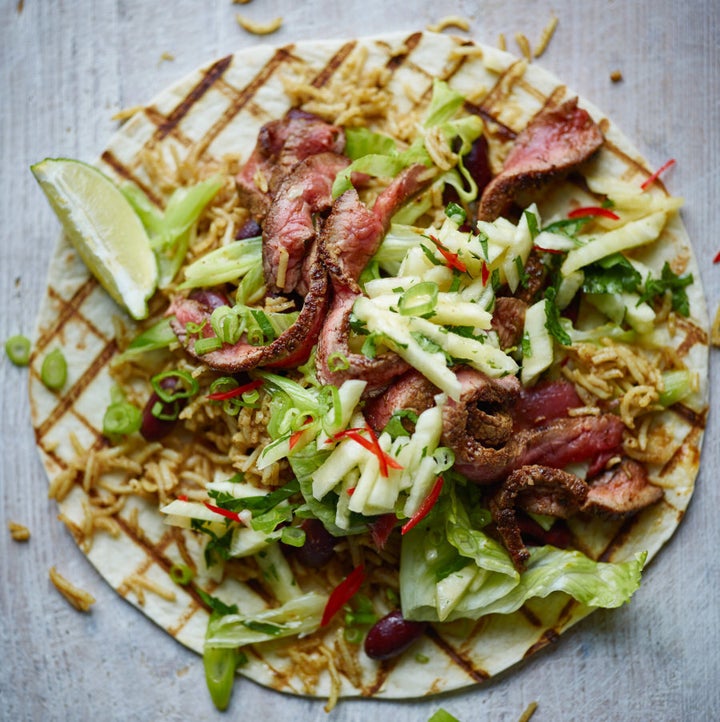 Grilled salmon with avocado, feta and pumpkin seeds
This low carb, colourful dish is brimming with healthy fats thanks to the salmon, avocado and pumpkin seeds. The creamy avocado and feta goes beautifully with the onion, sesame oil and coriander, while the pumpkin seeds add crunch.
Drizzle of olive oil
1 x 240g salmon fillet, skin on
2 tbsp pumpkin seeds
Salt, to taste
1 avocado, peeled, de-stoned and roughly chopped
¼ red onion, finely chopped
2 tsp sesame oil
1 tbsp chopped coriander
40g feta, drained
Handful of watercress, to serve
Juice of 1 lime, to serve -- optional
1. Preheat your grill to maximum.
2. Drizzle a little olive oil over the skin side of the salmon, place on the grill pan or a baking tray and slide under the hot grill. Cook for six minutes on the skin side, before carefully flipping and grilling for a further four minutes. Turn the grill off and leave the salmon to keep warm until you're ready to eat.
3. While the salmon is cooking, tip the pumpkin seeds into a dry frying pan and toast over a high heat for about two minutes, or until they start turning brown and popping. Season with a little salt and leave in the pan.
4. Using the back of a fork, break up the avocado in a bowl. Add the onion, sesame oil and coriander. Mix the whole lot together until the ingredients are well combined.
5. Slide your salmon onto a plate, removing the skin as you go. Pile up the guacamole, slice and scatter over the feta, and finish with a sprinkling of toasted pumpkin seeds, a pile of watercress and a squeeze of lime juice, if using.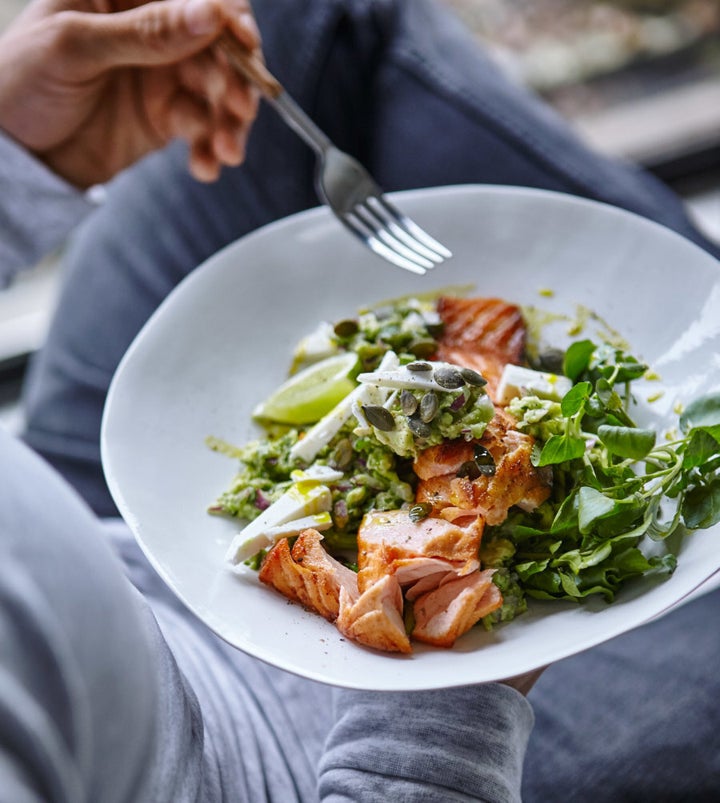 Monkfish kebabs with tabbouleh
"This tabbouleh tastes fresh and healthy, and leaving it to sit means all the flavours develop nicely," Wicks said. "If you don't have skewers, don't worry -- just grill the monkfish chunks without spearing them and cook for a little less time."
50g dried bulgur wheat
250g monkfish, trimmed and chopped into 2–3cm chunks
Drizzle of olive oil
Salt and pepper, to taste
3 tbsp chopped parsley
2 tbsp chopped mint
2 tbsp chopped coriander
1 ripe tomato, roughly chopped
2 roasted red peppers from a jar, roughly sliced
2 spring onions, finely sliced
2 lemons
Pitta bread, to serve
1. Preheat your grill to maximum and bring a saucepan of water to the boil.
2. As soon as the water has boiled, dump in the bulgur wheat and cook according to the packet instructions (about eight minutes) before draining through a fine sieve and rinsing under cold running water.
3. Slide the monkfish onto one massive skewer or two smaller ones. Drizzle with olive oil and season with salt and pepper. Grill the monkfish for 8–9 minutes, rotating a couple of times while cooking.
4. Tip the drained bulgur wheat into a bowl and add the chopped herbs, the tomato (scraping in all the tomato juice too), red pepper, spring onions, the juice of one lemon and a generous pinch of salt and pepper. Mix the ingredients together.
5. Serve up the tabbouleh with the cooked monkfish skewers on top, a final spritz of lemon juice, some grated lemon zest and pitta bread on the side.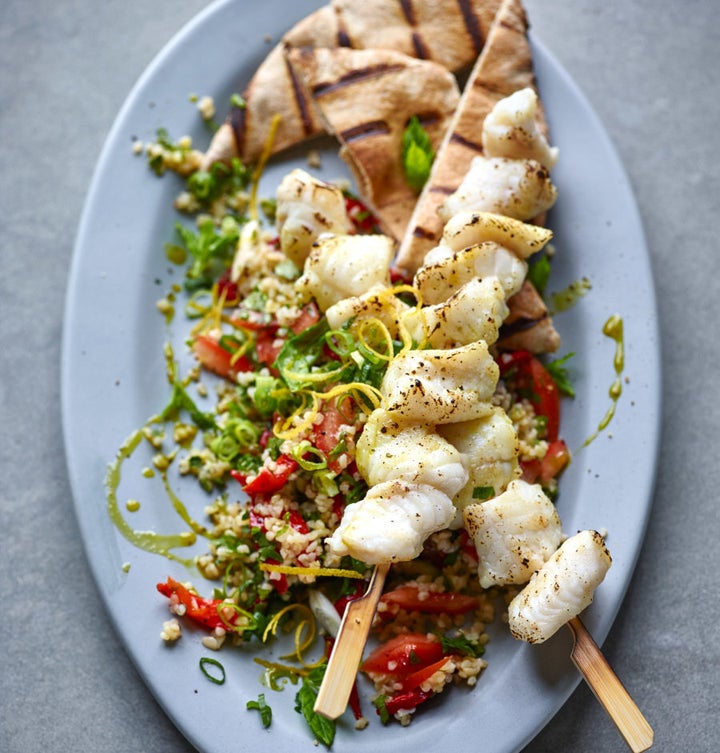 Lean in 15: The Shape Plan by Joe Wicks is published by Bluebird, RRP $34.99, out now.