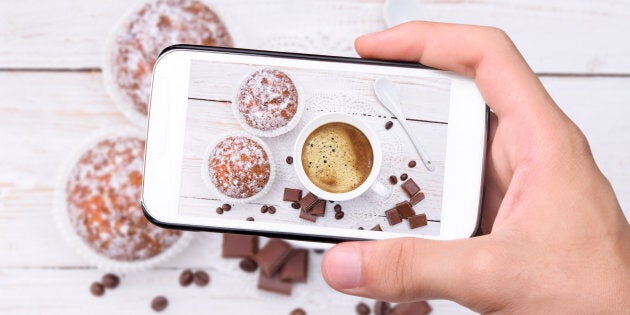 Any person with an Instagram account will have taken a photo of their dinner at some point. But, nine times out of 10, that photo will be blurry, dark and totally uninspiring.
To help you up your Instagram game, five foodies including chef Gizzi Erskine and prolific Instagrammer 'Symmetry Breakfast' have shared their top tips for taking the perfect food snap.
With these tips, which originally appeared on BBC Good Food, you'll be a pro food photographer in no time.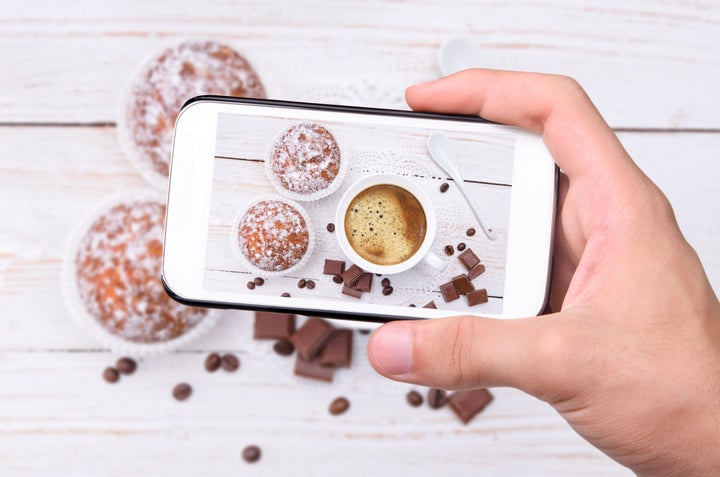 1. Chef and food writer Gizzi Erskine
Top tip: Good photography comes down to a good eye.
Many people think they're good at shooting food but few are and I think it's simply in how you see the world. I don't think it's something you can learn per se...
Instagram is a way for people to see the world through your eyes so make the set-ups as honest as they can be. When you watch the 'uber-bloggers' and 'Instagrammers' they shoot in a second as they know what they're after - it's got to come naturally to you.
My tip to make things look great is to always shoot in day light. And choose a filter that makes the food ping and not the plate or background. I like Nashville. I think it's as simple as that.
Follow Gizzi on Instagram at @gizzierskine.
2. Food and travel Instagrammer Clerkenwell Boy
Top tip: Soft, natural light is best.
Ask for a table by the window if possible and always try to shoot your photos during the day time. Decide on the style and composition of your photo: (i) top down, (ii) 45 degree angle or (iii) super close up.
Play around with negative space (the area in between and around objects) and use symmetry or the rule of thirds to structure and balance your images.
When styling your table, add elements that evoke the mood of the cuisine such as flowers, cutlery, herbs, spices or fresh ingredients.
When sharing, geotag the location so that others can find it via Google maps, and tag the restaurant or bar so others can easily connect and follow your recommendations.
Tell a story through your posts by finding your personal niche and style – you could provide a description of your favourite dish on the menu, share a recipe, or describe a personal story or memory.
Follow Clerkenwell Boy on Instagram at @clerkenwellboyec1.
3. Lifestyle vlogger Niomi Smart
Top tip: Shoot from the side.
Overhead shots of food look great, but it's also lovely to get some of the background scenery into the shot to add context, especially when you're out and about or abroad.
If you find yourself somewhere picturesque, take the shot at a slight side angle so that you can appreciate the beautiful surroundings but also have a clear view of the delicious food.
Follow Niomi on Instagram at @niomismart.
4. Baker and food writer Edd Kimber
Top tip: Edit lightly.
Instagram's built-in filters can reduce the quality of the photo rather than enhancing it, so I edit with an app called VSCO which gives you great control.
Always avoid flash - on a phone it always creates an ugly artificial look that makes the food look unappealing.
Overhead shots can be easier to take and look great on Instagram.
Most importantly, don't take it too seriously. I see people taking lighting and all manner of kit into restaurants, which seems silly to me. Instagram is meant to be fun - if you spend too much time thinking about it your feed will end up forced and generic.
Follow Edd on Instagram at @theboywhobakes.
5. Food Instagrammer Symmetry Breakfast
Top tip: Think of yourself before your audience.
Eat and cook what you think is delicious, not what you think will get likes. As long as you aim for substance over style in the content you post, you will develop your unique signature later (I promise)!
Be passionate about researching ingredients, cooking techniques and tools, but don't break the bank. An expensive piece of kit might sound like a good investment, but so is a good knife or pan.
Start small and grow over time - becoming an expert at what you do takes patience but there is always something new to learn. Be inspired but don't copy. There are lots of great accounts for home cooking, restaurants, healthy eating and so on, but establishing a point of difference takes some market research.
Finally, use the Instagram editing tools to correct, not enhance, the photo. A phone camera doesn't 'see' the world like the human eye, but there is no way that avocado was that green!
Follow Symmetry Breakfast on Instagram at @symmetrybreakfast.
Visit bbcgoodfood.com to read more.