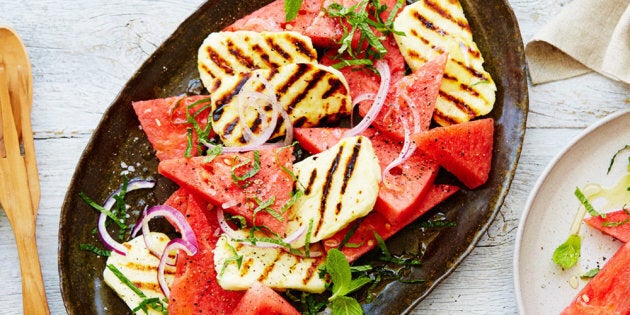 Whether you're a meat lover or an occasional dabbler, eating more plant-based meals and reducing your meat intake has enormous health benefits.
This isn't just hearsay anymore -- research shows you're more likely to be slimmer, have lower cholesterol and blood pressure and a lower risk of cardiovascular disease if you follow a vegetarian or vegan diet.
However, for many people the idea of giving up meat completely can be overwhelming and off-putting. This is why this week (August 1-8) is Meat Free Week, a friendly awareness and fundraising campaign that motivates us to "eat less meat, care more and feel good".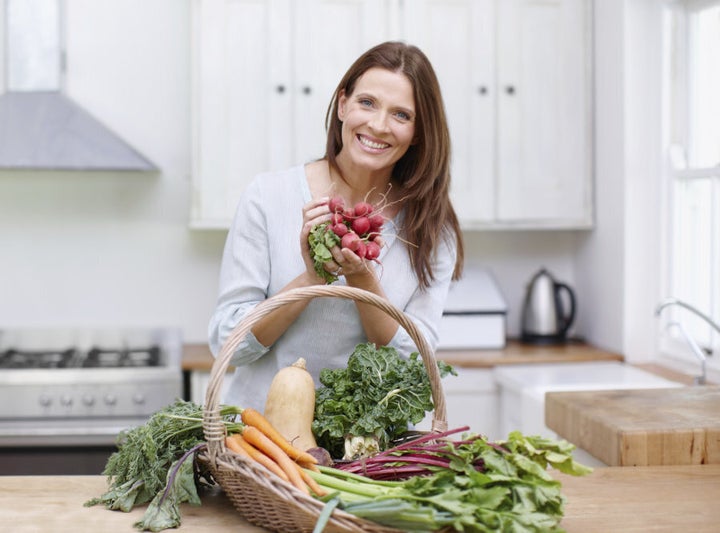 "Going meat free for one week creates a great opportunity to get people thinking about how much meat they eat and the impact consuming too much may have on their health -- not only physically, but now in light of new research, mentally," Bowel Cancer Australia community engagement manager Claire Annear said.
"Previous research has shown convincing evidence of increased bowel cancer risk with consumption of red meat (17 percent increased risk per 100 grams each day) and processed meat (18 percent increased risk per 50 grams each day)."
To help kick off the meat free week, The Huffington Post Australia rounded up some delicious and easy meat-free recipes -- from starters and drinks to dinner and dessert.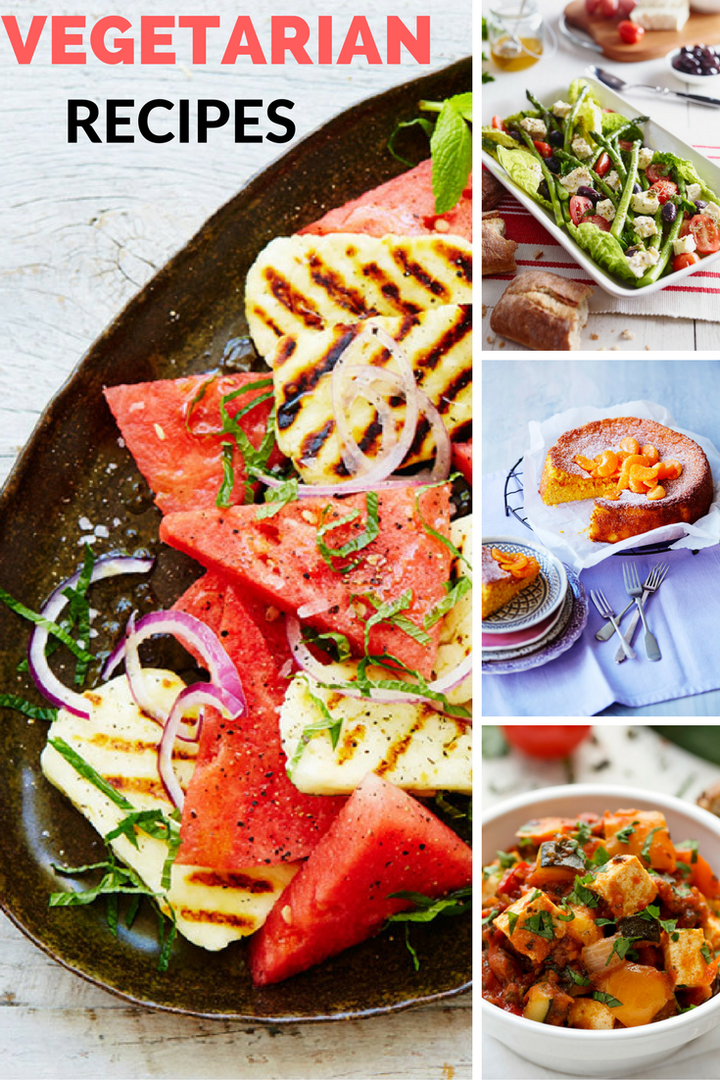 1. Beet babe smoothie
1 cup of almond, rice or soy milk
½ cup of fresh or frozen blueberries
1 cup of strawberries
1 small beetroot, peeled and chopped (can buy ready prepared variety)
1 seasonal orange, peeled and deseeded with pith removed
1 teaspoon of linseed meal
Place all ingredients into a blender and blend until smooth.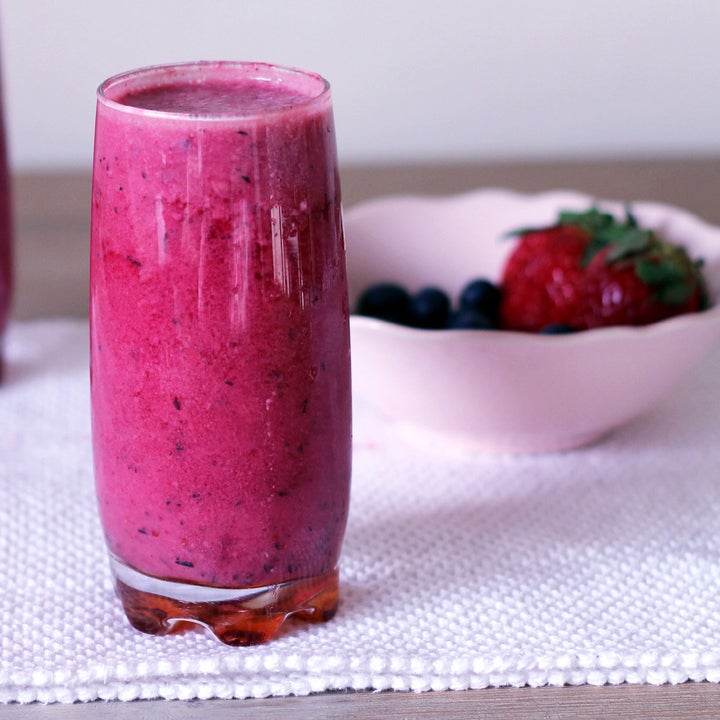 2. Green matcha chia smoothie
2 tablespoons of whey protein powder
4 teaspoons of matcha powder
1 tablespoon of chia seeds
1 cup of almond milk
2 green apples peeled, cored and chopped into small chunks
Sprig of mint
1. Soak chia seeds in almond milk overnight in the fridge.
2. Blend apples and almond chia milk in a blender until totally smooth. Add matcha powder and whey protein. Serve chilled with a sprig of mint leaf on top.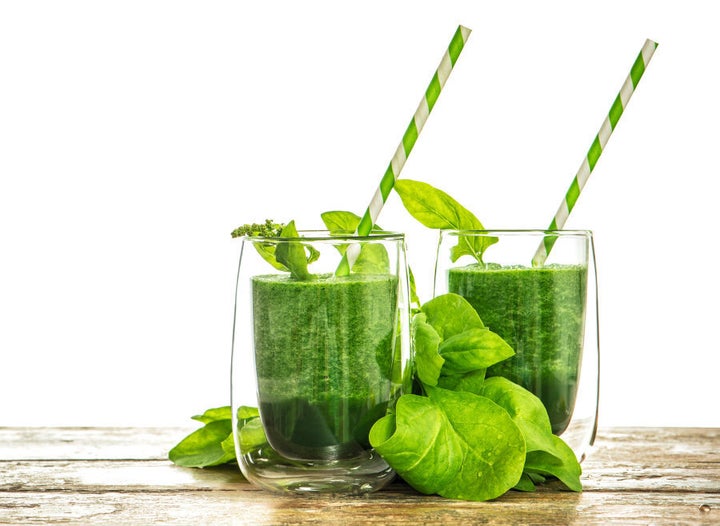 3. Watermelon, grilled haloumi and honey mint salad
200g haloumi (Greek, if possible)
1 tablespoon olive oil
Juice of 1 lemon
¼ watermelon, rind removed cut into nice wedges
2 tablespoons chopped mint
Honey to drizzle, at room temperature is best
Cracked pepper
1. Preheat the grill or hotplate on the barbecue to medium high heat.
2. Cut the haloumi into small rectangles about a finger thick, toss in the oil then place onto the hot barbecue. Cook for five minutes in total until golden and crispy on both sides. Squeeze over the lemon juice.
3. Arrange the watermelon across a flat platter and then sprinkle over the chopped mint. Top with the warm haloumi and then drizzle the honey over the top. Finish with cracked black pepper.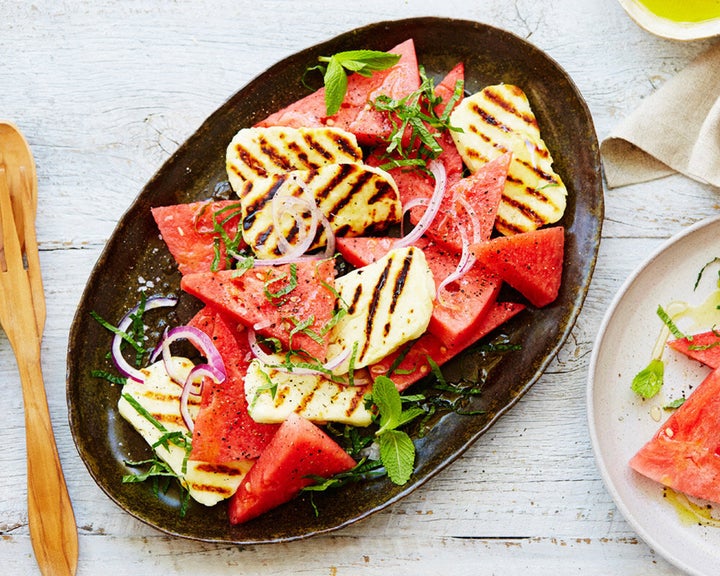 4. Asparagus, tomato and feta salad
2 bunches young asparagus, trimmed
2 tablespoons lemon juice
½ cup extra virgin olive oil
2 teaspoons dried oregano
Sea salt and freshly ground black pepper, to taste
1 baby cos lettuce
1 punnet baby roma tomatoes, halved
⅓ cup black Kalamata olives
200g Greek-style feta, cubed
Continental parsley leaves, for sprinkling
1. Cook asparagus spears in a frying pan with ½ cup water until tender, drain and refresh under cold water.
2. Shake lemon juice, olive oil, oregano, salt and pepper together in a jar to make a dressing.
3. Arrange lettuce, asparagus, tomatoes, olives and feta on a platter. Drizzle with dressing and serve with parsley leaves.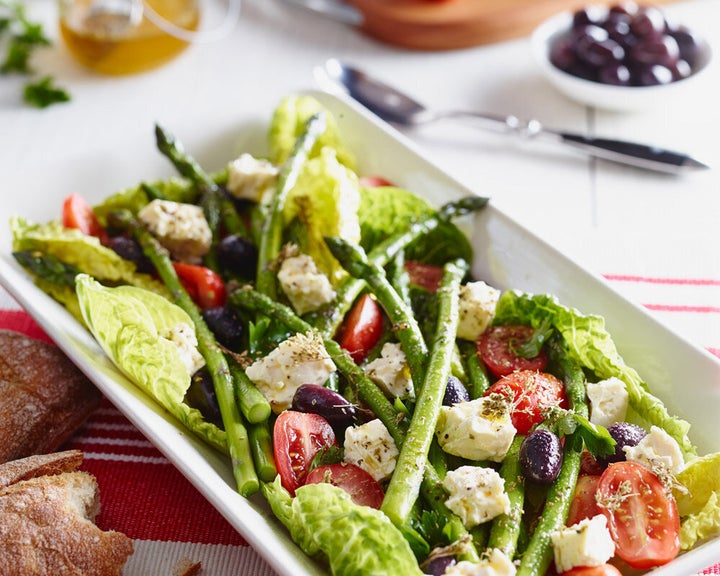 5. Italian non-meat balls
230g of tempeh
½ cup of wholemeal bread crumbs
⅓ cup of parmesan (or vegan parmesan) cheese
1 egg (or egg equivalent)
½ cup of grated onion
2 teaspoons of mixed dried Italian herbs
2 teaspoons of tomato paste
Olive oil spray
Salt and pepper, to taste
Pasta sauce of choice and four serves cooked spaghetti
2. Cook onions in a frying pan with a spray of oil until tender. Set aside to cool.
3. Place tempeh, breadcrumbs, cheese, egg, cold onion, herbs and tomato paste in a blender and blend until you have a dough type texture (add a little water if too dry or a little more breadcrumbs if too wet).
4. Roll the dough into 3cms balls and place on an oven tray. Spray with olive oil and cook for 15 minutes or until golden brown.
5. To serve, place non-meat balls on top of wholemeal spaghetti and top with pasta sauce of your choosing.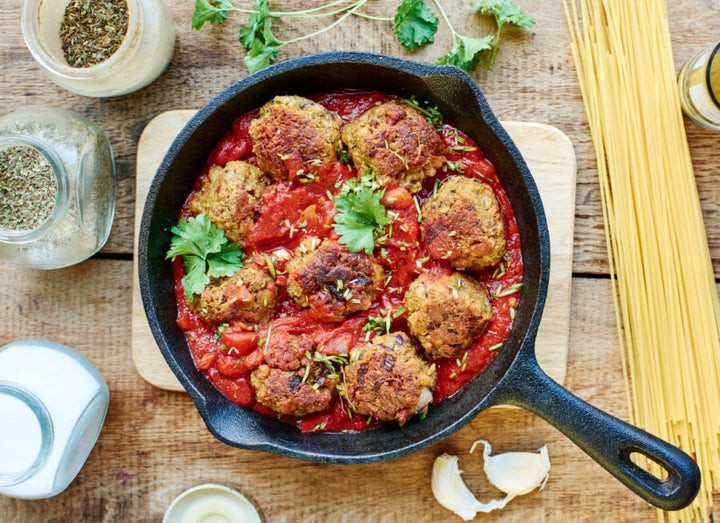 6. Massaman tossed tofu
200g plain firm tofu
700g pumpkin, peeled and chopped into small chunks
1 teaspoon of chilli flakes
1 red onion cut into chunks
1 cinnamon stick
4 cardamom pods, lightly crushed
1 tablespoon of honey or coconut syrup
1 tablespoon fish sauce
1 cup water
⅓ cup Thai Massaman curry paste
400ml can of reduced fat coconut cream
½ cup of toasted unsalted peanuts, lightly crushed
½ cup of roughly chopped coriander leaves
4 cups of boiled brown basmati rice
1. Gently heat coconut cream to a slow simmer and add curry paste, stirring for 2-3 minutes until mixed through. Add cinnamon, cardamom, fish sauce, water and onion to the coconut cream, stirring regularly. Reduce heat and cook for 10 minutes.
2. Toss pumpkin chunks in and simmer for 10 minutes, then add tofu and cook for a further 10 minutes.
3. Just before serving, remove cardamom pods and cinnamon stick and add spinach and coriander. Sprinkle some crushed peanuts and fresh coriander on top, and serve with boiled brown basmati rice.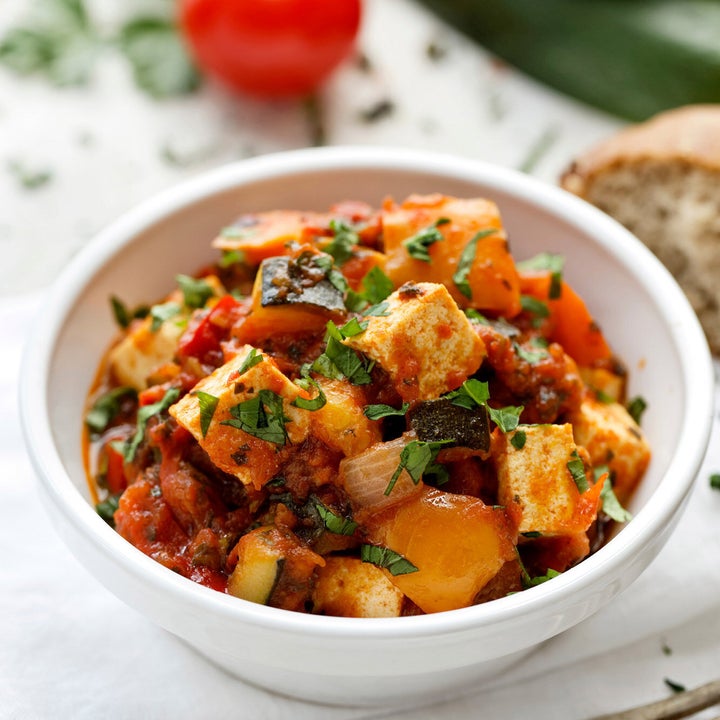 7. Mandarin and almond cake
3 mandarins
6 eggs
1 cup (200g) caster sugar
2 packed cups (340g) almond meal
1. Cover mandarins (skin and all) with water, bring to boil then simmer for one hour. Cool completely, then remove seeds and puree.
2. Preheat oven to 160°C. In a large bowl, beat the eggs and sugar together for five minutes. Fold through the puree and almond meal. When combined, pour into a paper lined 22cm cake tin and bake for 60 to 70 minutes, or until a skewer removes clean from the centre of the cake.
Optional: dust with icing sugar and decorate with mandarin segments to serve.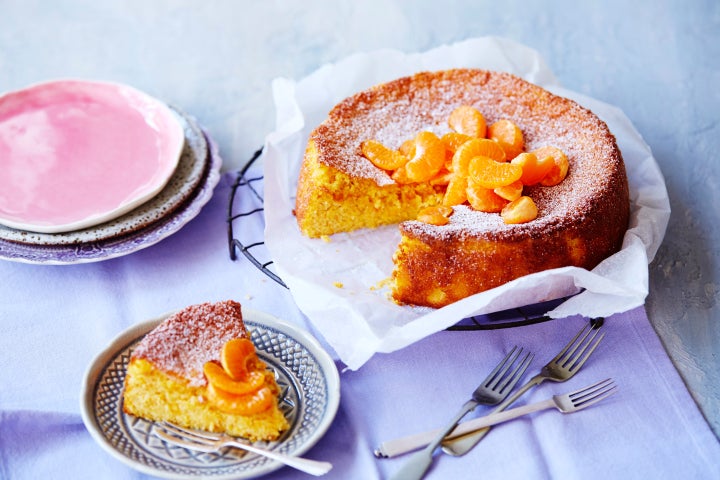 8. Mocha munchies
1 ½ cups almonds
½ cup coconut oil, melted (sit jar in hot water for 10 minutes if solid)
1-2 tablespoon pure honey
2 tablespoons cacao powder
2 teaspoon coffee granules
1 teaspoon cinnamon
1 tablespoon of cacao mixed with 2 tablespoons of coconut, for rolling
1. Blend almonds to a fine powder on high speed. Tip out into a large bowl, add all of the other ingredients and mix into a paste.
2. Form 20-25 balls and then roll each into the cacao and coconut for decoration.