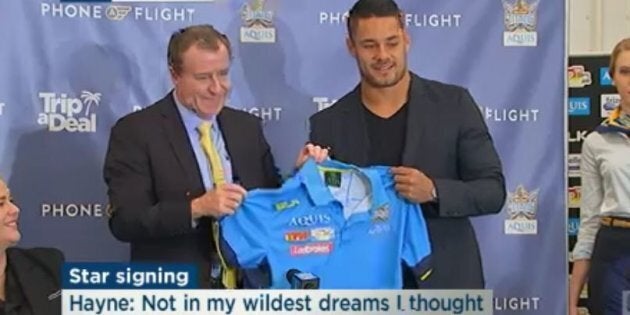 One of the most enthralling sport stories of recent times has come full circle, with code-hopping superstar Jarryd Hayne rejoining the National Rugby League -- but, in typical Hayne fashion, it's not exactly the outcome most were predicting.
Hayne confirmed he will join the Gold Coast Titans on a two-year deal, turning his back on former club Parramatta Eels. Hayne claimed that he had wanted to return to the Eels, but that there was no formal offer on the table. He will return to the field on Sunday, running out for the Titans against the New Zealand Warriors.
Hayne is thought to be signed to a massive deal worth upwards of $1 million a year, possibly making him the highest-paid player in the NRL. That would be a huge boost for the Titans this year, currently sitting seventh on the premiership ladder.
"Not in my wildest dreams I ever thought I would be up on the Gold Coast. I guess everything happens for a reason and a part of me is sad because I'm not going to go back to the club that I grew up with and loved as a kid and come through but that's the excitement as well of joining the Titans and knowing what they are about," Hayne said on Wednesday.
"It's something that it wasn't easy and I think at the end of the day I wanted to play footy this year. The way that the board is - the way things have gone this year, couldn't get something done, it's sad and it hurts me just as much as I know it hurts the fans down there."
Hayne claimed that no formal offer had been made by Parramatta.
"There was speculation they tabled an offer but none of that got brought to me formally. It was disappointing. I sat down with Brad [Arthur, Parramatta coach] and we spoke about the future and and for me, I thought always saw myself at Parra," he said.
"I always wanted to go back to Parra. I was waiting, I was waiting, I was waiting... At the end of the day, I had to make a decision and it's torn me apart and it was tough emotionally but I think deep down it's the right one and I think in the coming days when I'm around the guys and getting the boots back on, that will settle and I will be able to smile and move forward."
Hayne released a statement through his apparel company's Twitter page, further detailing the issues he faced while hoping to re-sign with the Eels.
NRL CEO Todd Greenberg welcomed Hayne's news.
"Jarryd left Rugby League with our support to pursue a dream – and I have no doubt the fans will be eager to see him return," Greenberg said in a statement.
"In the end it was Jarryd's decision but we certainly wanted to see him in the NRL rather than another code."
After his thrilling and shock defection to the USA in 2014 to play gridiron with the San Francisco 49ers, Hayne briefly set the NFL world on fire with a series of surprising performances before ending the season on the bench. Hayne quit that code this year to give rugby sevens a shot and push for a spot with the Fijian Olympic team. That, too, did not work out and Hayne was widely expected to rejoin the NRL with his old club, the Parramatta Eels.
That he will sign with the Gold Coast will be a shock to most fans, especially after commitments to re-sign with the Eels if he ever returned to the NRL. Hayne himself said as much in February.
"Like I always said, if I ever came back I'd go to Parra if they wanted me," he told Triple M.
"That was always something I said from the start. It's funny when you see media outlets say I'm doing this and I'm doing that."
In a media release at the time of Hayne's 2014 NFL move, Parramatta said "Hayne has signed a 'lifetime agreement' with the Eels, so if he chooses to return to the NRL, he will come back to Parramatta without question".
However, a series of recent scandals plaguing the Eels club -- including salary cap breaches, the sacking of the club's board over governance issues around the cap breaches, and several incidents where Parramatta players have attracted the attention of police -- may have swayed Hayne's decision.