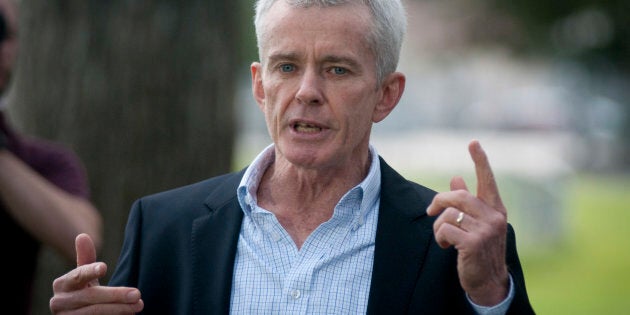 One Nation's Malcolm Roberts, announced on Thursday as a senator for QLD, was elected to parliament with just 77 first preference personal votes, while two of Nick Xenophon's candidates in South Australia didn't fare much better.
As we finally found out on Thursday who would get a seat in our new Senate, the Australian Electoral Commission also released the data around how those people got elected. We've got 30 from the Coalition, 26 from Labor, nine from the Greens and a crossbench of 11, and as the AEC points out, some of that crossbench recorded very low personal votes.
But before we go any further, it's important to point out that the personal vote means very little in the end game of getting elected -- this is just an interesting bit of trivia.

In the Senate, most voters only vote above the line for a party, not below the line for a specific candidate, so it is theoretically possible for a candidate to get zero personal votes but to get elected to the Senate if their party as a whole gets enough votes. This is what has happened in this election.
According to the AEC, One Nation's Malcolm Roberts got just 77 votes in QLD. That's seventy-seven. How did he get elected, you might ask? Because One Nation's ticket got almost 230,000 votes -- that's over one full quota, which means that their first-placed candidate (that's Pauline Hanson) was automatically elected, and with the leftover bit of the quota plus preference flows, their second candidate (Roberts) got elected too.

It's a number the Courier Mail noticed too, as they splashed it on their Friday front page.
Roberts wasn't the only candidate to make it into the Senate with a surprisingly low personal vote. Despite Nick Xenophon's massive popularity in South Australia, and the fact he got enough votes to drag two more of his candidates into the Senate with him, those other candidates got very small numbers of personal votes too.
Skye Kakoschke-Moore received 129 votes to her name in SA, while Stirling Griff got just 103 votes for himself. They started out with 0.0016 of a quota and 0.0013 of a quota respectively, but after the Nick Xenophon Team's ticket got a whopping 204,505 votes and 2.5 quotas alone, preferences and the rest helped all three over the line.

According to records kept by the AEC, these are the lowest personal votes for elected senators since at least 2004. Wayne Dropulich was elected to the Senate in WA in 2013 with just 108 first preference personal votes, but this result was overturned after a court appeal and he was not elected again at a special election in 2014. In 2010, Labor's Glenn Sterle was elected to the Senate in WA with just 156 first preference personal votes.
Of course, the minor parties are not the only ones getting senators elected with only a handful of votes. As a comparison, Labor's Alex Gallacher also won election in SA despite just 330 personal votes to his name, thanks to the ALP itself winning three quotas in the election; while Liberal senator Chris Back won election in WA, with only 430 votes, thanks to the Liberals winning 4.9 quotas alone;
But of course, that's the rules of our Senate system -- it's not so much about a candidate's personal popularity, more about the popularity of their party, and it's often that candidates who receive votes numbering just a few hundred see themselves made senators because of the big vote for their own party.