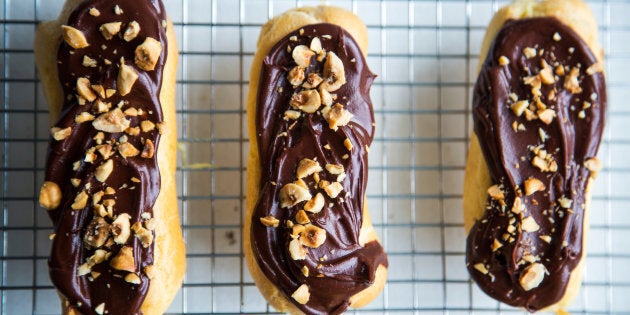 Ahhh, the weekend. The time where we swap out our tight pants for trackies, our business shoes for Uggs and our alarms for sleep ins.
The weekend is also the perfect time to make every dessert your oven (and stomach) can possibly handle.
To help you get started, The Huffington Post Australia rounded up the best desserts -- we're talking sticky toffee pudding, chocolate eclairs, Eton mess, raspberry tart and a chocolate and peanut butter ice cream sundae. Yes, please and thank you.
If you haven't preheated your oven already, get onto it. Now.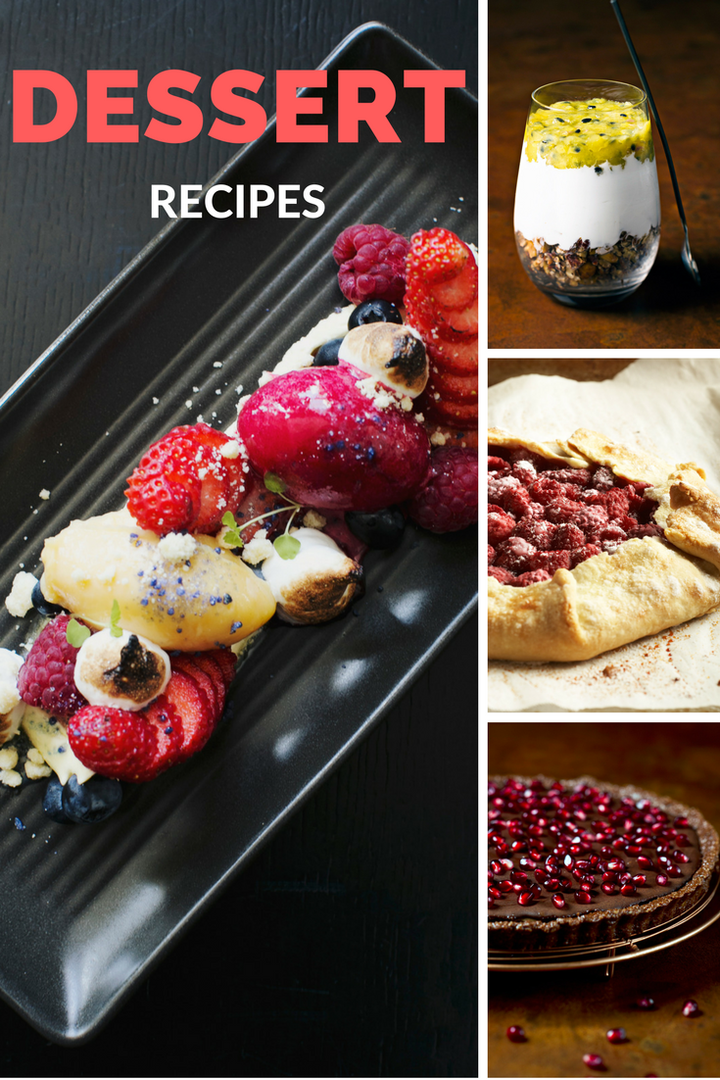 1. Chocolate hazelnut eclairs
60g butter
130ml (½ cup) water
80g (¾ cup) plain flour, sifted
3 large free range eggs
6 large free range egg yolks
120g (⅔ cup) sugar
50g (⅓ cup) cornflour
450ml (2 cups) milk
1 vanilla pod
50g butter
100g (⅔ cup) good quality dark chocolate
50ml (¼ cup) cream
50g butter
75g (½ cup) roasted hazelnuts, roughly chopped
1. Preheat the oven to 220˚C and line two large baking sheets with parchment paper.
2. For the choux pastry: place the butter and water in a saucepan, and bring to a steady boil until the butter is melted. Remove from the heat and add the flour, beating with a wooden spoon until a dough comes together. Place back over the heat and beat the dough in the saucepan for about 40 seconds. Remove from the heat and set aside.
3. Beat the eggs in a small bowl. Add the eggs a little at a time -- beat thoroughly with a wooden spoon until the egg is completely incorporated after each addition. You are looking to have a consistency that will hold its shape when piped. It should be smooth, shiny and just about fall from the spoon. You might not use all the eggs.
4. Using a spatula, scoop the dough into a large piping bag fitted with a large round piping nozzle and pipe 10cm lines on the lined baking sheets, leaving about 4cm in between each line to allow for spreading. Brush each one with a little leftover beaten egg.
5. Place in the oven, reducing the heat to 190˚C, for approximately 25 minutes until they have risen and are golden and crisp. Transfer to a wire rack and use a sharp pointed knife to pierce three holes on the underside of the buns. Allow to cool completely before filling.
6. For the crème pâtissière: split the vanilla pod in half and scrape out the seeds. Add this to a medium saucepan with the milk and place over a medium high heat. Bring to the boil and then turn off the heat. Scoop out the vanilla pod.
7. While the milk is coming to the boil, place the sugar, cornflour and egg yolks in a large mixing bowl and beat with a whisk until thick and pale.
8. Pour the hot milk into the bowl, whisking quickly and continuously until it is smooth and incorporated. Pour the mixture back into the saucepan and place over a medium heat beating continuously until it has thickened.
9. Transfer the crème pâtissière to a cold bowl, create a flat surface with the back of a spatula and wipe the top with a little butter (this will prevent a skin forming). Cover directly with cling film and allow to cool completely.
10. For the chocolate glaze: melt the dark chocolate in a bowl set over a saucepan of hot water. When the chocolate has melted remove the bowl from the heat and gently stir through the cream. Fold in the butter until you have a shiny, spreadable chocolate glaze.
11. To assemble the eclairs, fill a piping bag (fitted with a small round nozzle) with the crème pâtissière and pipe into the holes on the underside of the choux buns. Spread the chocolate glaze over the top of each eclair and sprinkle with the roasted hazelnuts. Serve straight away, or the eclairs will keep for 1-2 days in the fridge.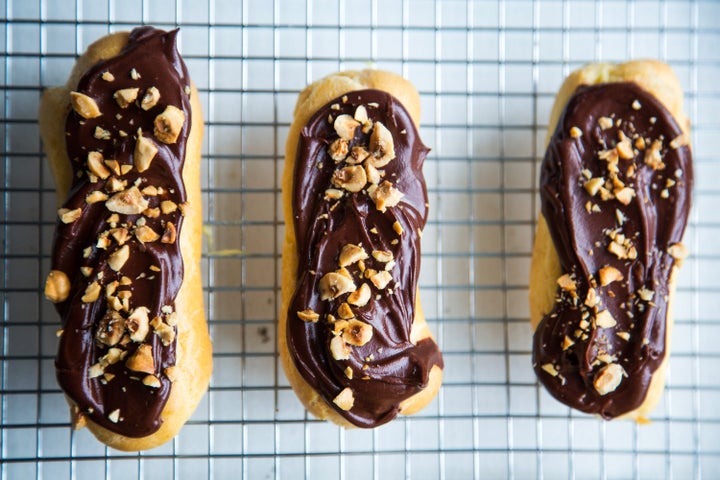 2. Eton not so messy
100g egg white
200g castor sugar
1 tbsp dried blueberry powder
½ tsp red wine vinegar
Pinch of salt
5 egg yolks
100g castor sugar
110ml lemon juice
125g unsalted butter
Rind of half a lemon
100ml sour cream
100ml cream
½ vanilla bean
40g milk powder
40g flour
12g corn flour
25g castor sugar
2g salt
55g melted butter
20g milk powder, plus extra
90g white chocolate, melted
1. For the blueberry meringue: whisk egg whites and salt with electric beaters until the mixture comes to stiff peaks.
2. Whisking on high, gradually add castor sugar one tablespoon at a time in intervals. Make sure sugar is dissolved between each interval. When all sugar is completely incorporated, add in blueberry powder and vinegar. Whisk until well combined, then place into a piping bag and store in the fridge.
3. For the lemon curd: in a mixing bowl whisk yolks, sugar and lemon rind until light. Add lemon juice, then place mixture in a saucepan. Stirring constantly, cook mixture on medium heat until it comes to the boil. Remove from heat.
4. For the crème chantilly: whisk all ingredients with electric mixer until mixture resembles whipped cream. Store in fridge.
5. For the white chocolate crumble: combine milk powder, flour, corn flour, sugar and salt. Add melted butter and combine. Bake in 120°C oven for 20 minutes.
6. Place the crumble mixture into a bowl and add extra milk powder mix with a wooden spoon until combined. Add white chocolate, stirring until combined. Allow to cool.
7. To serve: Spoon a little of the lemon curd on to a plate and, using the back of the spoon, smear the curd across the plate. Pipe some blobs of meringue on plate and using blowtorch lightly burn them on the plate. Scatter some seasonal berries over the curd. Quenelle a spoonful of the crème chantilly on top. Finish with violet crystals, white chocolate crumble and baby mint.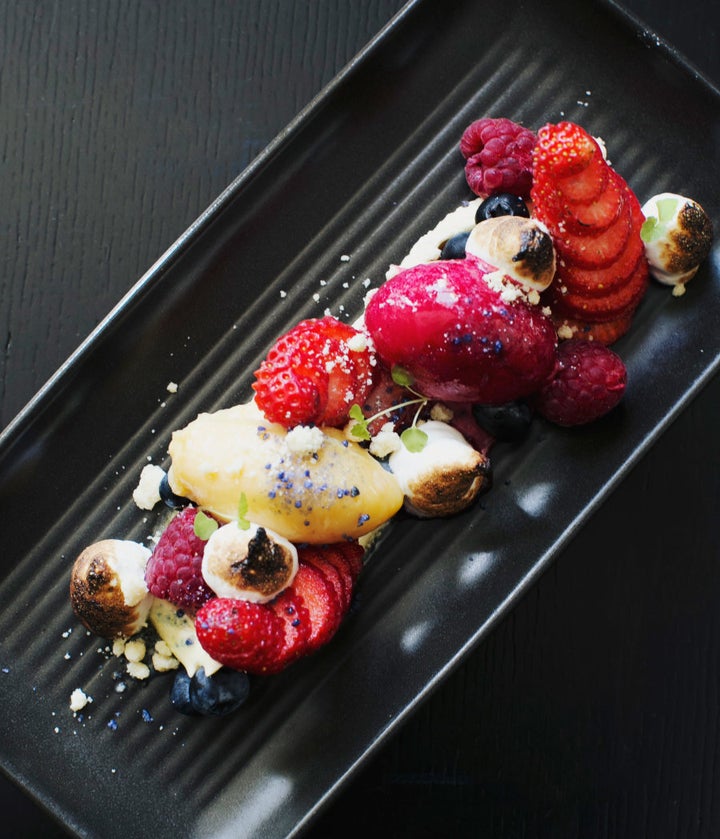 3. Sticky toffee pudding
340g butter, softened
340g castor sugar
340g chopped dates
340g plain flour, sifted
290ml water
6 eggs
2 tsp bi-carb soda
2 tsp baking powder
125g butter
500g brown sugar
1 litre cream
200g walnuts
300g castor sugar
300ml water
Pinch of Chinese five spice
Salt, to taste
1. For the pudding: place chopped dates and water in a saucepan and bring to boil. Add bi-carb, stir and remove from heat. Let it stand until cooled to room temperature.
2. In a mixing bowl, whisk butter and sugar until pale and fluffy. While whisking on high, slowly add eggs one at a time to butter mixture until all eggs are incorporated.
3. Sift together flour and baking powder. Gently fold flour mix into butter and egg mix. Mix date mix into flour mix and stir until thoroughly incorporated.
4. Place into lined baking tray or individual ramekins and bake at 160°C for 40 minutes or until a skewer comes out clean.
5. For the butterscotch sauce: place all ingredients in a large pot and bring to boil. Reduce liquid until thick and dark brown in colour.
6. Remove from heat, add an extra 250ml of cream and blend with a stick blender for one minute or until well combined.
7. For the candied spiced walnuts: place sugar and water into a saucepan, bring to boil. Add walnuts to sugar syrup and reduce heat to a simmer. Continue to cook until liquid has reduced and there is little water left. Strain walnuts and place them on a tray in fridge to cool.
8. Toss walnuts in extra castor sugar so they are lightly coated and shake off any excess sugar. Deep fry walnuts in small batches at 170°C until golden and bubbles have almost stopped. Remove from oil and drain on clean metal trays. While still hot, sprinkle with five spice and salt. Cool.
9. Serve pudding with plenty of butterscotch sauce, some spiced walnuts and a generous spoon of double cream.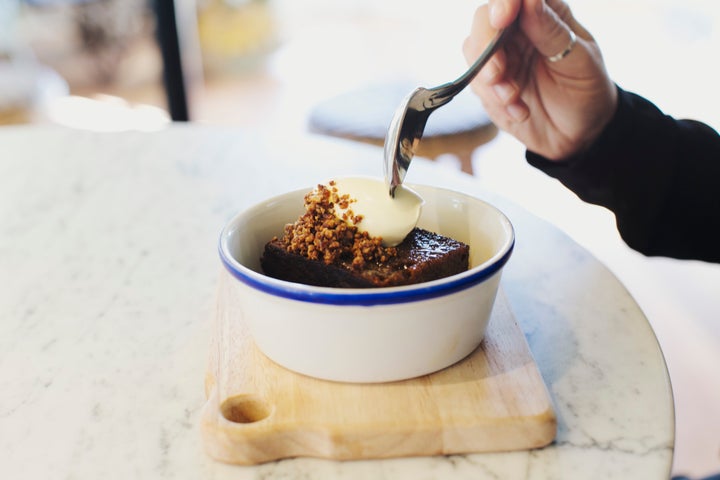 4. Passionfruit parfait
40 pecans, chopped
40 macadamia nuts, chopped
2 tbsp coconut oil
2 tbsp honey
2 passionfruit
1 tsp gelatine
1. For the nut crumble: melt the coconut oil and honey in a frying pan. When bubbling, add the nuts, stirring to combine. Pour the mixture onto a piece of baking paper and set aside to cool. Once cool enough to handle, chop the nuts finely. Set aside.
2. For the passionfruit jelly: scoop the pulp out of the passionfruit into a small bowl. Mix the gelatine with ¼ cup hot water until well combined. Pour the water into the passionfruit pulp and stir to combine. Chill slightly.
3. To assemble: place the nut crumble in the bottom of four glasses. Divide the coconut yoghurt evenly between the glasses then top with the passionfruit jelly. Place in the fridge for one hour or until set.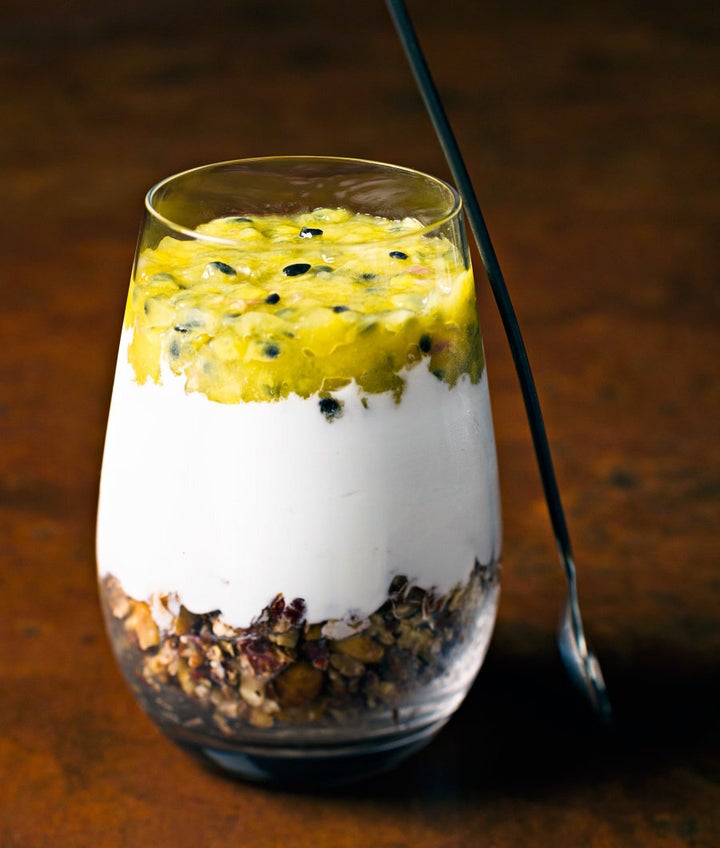 5. Rustic raspberry tart
1 cup all-purpose flour
¼ tsp salt
6 tbsp cold unsalted butter, cut into medium chunks
1 large egg yolk (reserve white)
3-5 tsp ice water
2 cups raspberries
3 tbsp sugar
2 tsp cornstarch
1. To make crust: Heat oven to 220°C. In food processor, whirl together flour and salt. Add butter to processor, pulsing just until mixture resembles coarse meal. Add egg yolk and water, one teaspoon at a time, and process just until dough clumps together and begins to form a ball.
2. Set two pieces (each about 30 x 38cm) plastic wrap on work surface. Lightly dust each with flour. Gather dough and press into a flat disk about 15cm wide. Set disk in centre of one piece of wrap. Set remaining plastic wrap, floured-side down, on dough. With rolling pin, roll dough evenly into about an 28-30cm round. Occasionally turn round over, lift wrinkled plastic wrap, pull smooth and replace. Continue rolling as needed.
3. To fill tart: peel off top sheet of wrap and invert onto 5 x 38cm baking sheet lined with cooking parchment. Remove remaining plastic wrap, distribute berries in centre of pastry, leaving about a 5cm border.
4. In a small bowl, mix sugar and cornstarch. Sprinkle three tablespoons mixture evenly over fruit. Gently fold edges of pastry over berries, pleating edges to fit -- leave an opening of 10-15cm wide in centre. Brush pastry with reserved egg white from crust. Sprinkle pastry lightly with remaining sugar mixture.
5. Bake tart on the bottom rack of the 220°C oven until crust is golden on bottom and juices bubble -- 25 to 30 minutes. Cool on pan at least 15 minutes. While still warm, with wide spatula loosen tart from pan especially where juices have leaked out. Transfer to serving platter and serve warm or cool. Cut in wedges. Dust with powdered sugar, if desired.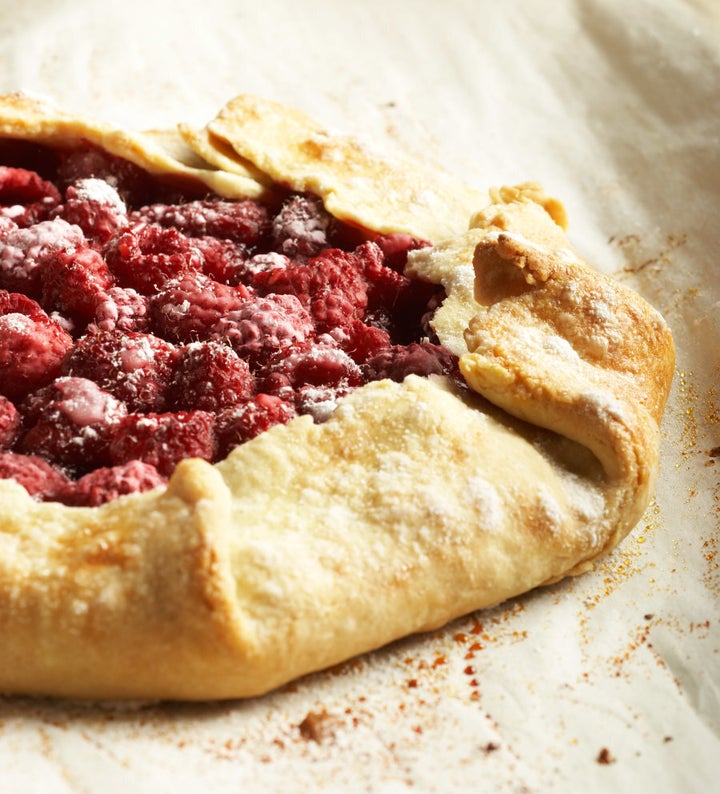 6. Chocolate, strawberry and peanut butter ice cream sundae
200g dark chocolate buttons
200ml cream
250g peanuts, roasted
170g sugar
90g butter
2 tbsp glucose
2 pinches bi-carb soda
½ tsp salt
115g castor sugar
250ml cream
90g crunchy peanut butter
125g castor sugar
50g unsalted butter
½ tsp salt
1 egg
45g flour
40g cocoa
Vanilla ice cream, strawberries
1. For the chocolate sauce: place cream in a saucepan and bring to boil. Remove from heat and add chocolate, stirring slowly. Stir until combined. Serve warm.
2. For the salted peanut brittle: combine sugar, butter, glucose in a saucepan and cook on a medium heat until golden brown. Remove from heat and stir in peanuts, salt and bi-carb (be careful as the bicarb will react and make the caramel expand).
3. Quickly pour brittle onto a metal tray to cool. When cooled smash brittle up with the back of a spoon.
4. For the peanut butter caramel: place sugar in a saucepan and place on medium heat. Cook until sugar starts to caramelise and shake pan slightly so sugar doesn't burn on outside (do not stir!). When sugar has turned a dark golden colour slowly add cream (be careful not to burn yourself as it can be quite reactive). Once cream is incorporated add peanut butter and bring to boil. Once boiled, remove from heat. Serve warm.
5. For the chocolate crumble: cream together butter, sugar and salt until light and fluffy. Add egg and beat until combined.
6. In a separate bowl sift together flour and cocoa, and add to butter mixture.
7. Spread mixture on to a baking paper lined tray and bake at 180°C for six minutes. Reduce temperature to 90°C and cook for another 20 minutes or until dry. Allow to cool, then break mixture up into soil like consistency.
8. To serve: place a couple of scoops of vanilla ice cream in a bowl and top with chocolate sauce, peanut butter caramel, salted peanut brittle, chocolate crumble and diced strawberries.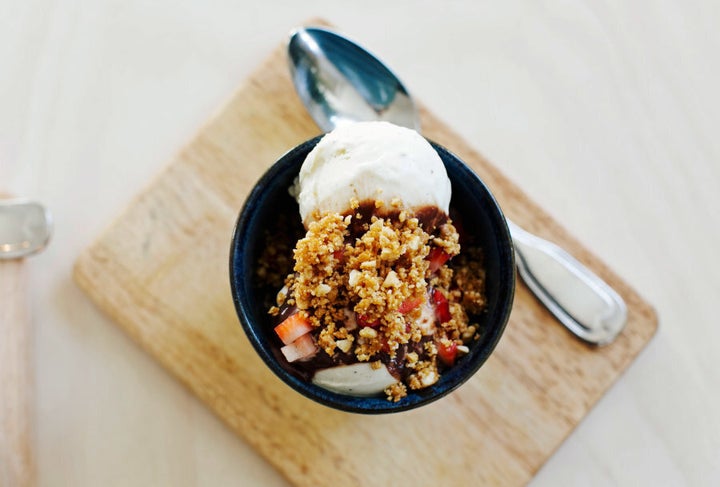 7. Chocolate and pomegranate tart
1 cup macadamia nuts
50g butter
2 tbsp raw cacao powder
½ tsp stevia
Coconut oil, for greasing
1 avocado
1 cup coconut milk
¼ cup raw cacao powder
½ cup honey
1 tsp vanilla powder
½ cup coconut oil, melted
½ cup raw cacao powder
4 tbsp coconut milk
½ - 1 tsp stevia
½ cup pomegranate seeds
1. Lightly grease a large fluted loose base pie dish with coconut oil.
2. Place the ingredients for the base in a food processor and blitz until well combined. Transfer into the pie dish, then using your hands, flatten out to cover the base and sides. Refrigerate until firm.
3. Meanwhile, make the filling. Place all of the ingredients for the filling in a food processor or blender and blitz until very smooth and creamy. Pour into the set base and return to the fridge.
4. Once the filling has firmed, make the topping. Mix the melted coconut oil with the cacao powder, coconut milk and stevia. Stir to combine and remove any lumps. Pour over the filling and refrigerate until set.
5. Remove from the fridge 10 minutes before serving and sprinkle with pomegranate seeds. Cut with a very sharp knife. This dessert is very rich and decadent so only thin slices are required.