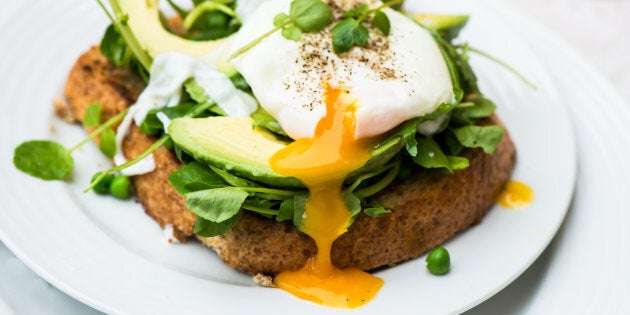 Whether you're living abroad, saving for a trip, waiting for your trip to start (we're not jealous or anything) or you simply have wanderlust, getting excited about all the food you're going to eat is part of the fun.
It goes without saying that travelling demands new, local foods to be eaten, but sometimes you just want your Aussie food fix -- and we don't mean from those tacky American Australian themed restaurants.
We're talking smashed avo, actually palatable coffee (yes, we're proudly coffee snobs), perfectly poached eggs and that friendly, sunny cafe vibe we all know, love and miss overseas.
Here's where you can get your Aussie food fix around the world.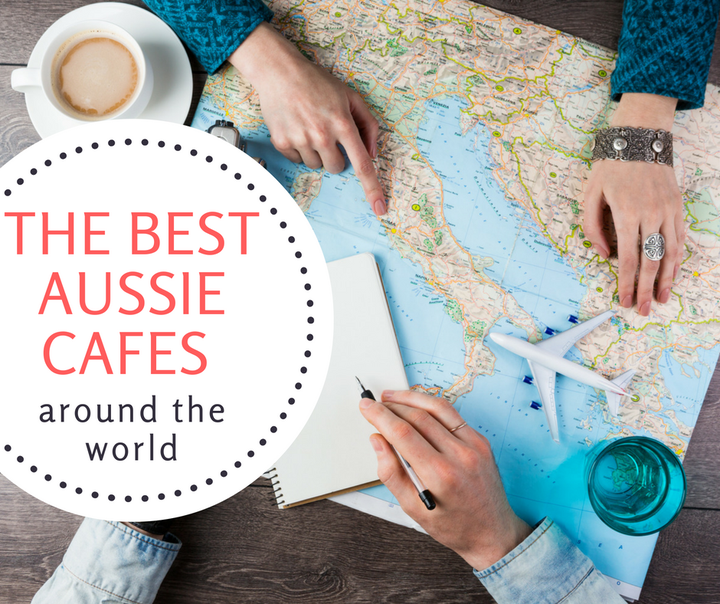 U.S.A
Unsurprisingly, tonnes of Aussies have travelled to the vast U.S. and called it home. Thankfully, they've also brought their coffee and egg poaching skills and founded many a cafe boasting classic Australian menus.
Bluestone Lane, New York.
Bluestone Lane is an Australian-style coffee and café fare influenced by the renowned coffee culture hub of Melbourne. On the menu you will find avo smash with cherry tomatoes, feta, sunflower sprouts and poachies (bless their hearts), a bacon and egg roll, and house-made granola with yoghurt and fruit. If that doesn't awaken a sense of equal parts pride and hunger, we don't know what will.
Little Collins, New York.
Little Collins is a beautiful cafe that embodies the spirit of the bustling street in Melbourne after which it's named. On offer are crafted coffees (as you would expect) and Aussie mains like toast with vegemite, avo smash, Bircher muesli, banana bread, chicken schnitzel sandwiches and more.
Celebrity chef Curtis Stone has teamed up with his brother, Luke, to open the highly anticipated Hollywood restaurant, Gwen, named after their maternal grandmother. The Aussie duo have created a fine-dining restaurant that even comes complete with a European style butcher shop.
If you're hungover, abroad and craving a meat pie with tomato sauce, you might want to saunter over to Bronzed Aussie, a quick-serve Australian bakery and coffee shop specialising in pies and desserts. Think sausage rolls, plain meat pies, spinach and feta rolls, Thai chicken pies, lamingtons, fish and chips, and chicken, bacon and mushroom pie. They even have a few vegan options and breakfast pies. BREAKFAST PIES.
Paramount Coffee Project, L.A.
Take away the homesick blues (or just your Aussie food cravings) with Paramount Coffee Project, brought to you by a trio of folks from Australia. You'll be pleased to see on the menu: hotcakes, eggs benny, soft scrambled eggs on toast, granola, avo smash, shakshuka with runny eggs, proper coffee and even a vegemite and butterscotch milkshakes. Oh, lordy.
London
If we had a dollar for every Aussie expat in London we'd be able to afford property in London. Luckily, some of those beautiful souls have gone and brought a bit of Australia with them in the form of delicious Australian food haunts. Here's what's on offer.
Bill Granger first opened a restaurant in Sydney's Darlinghurst in 1993 and, over 20 years later, his legendary breakfasts have become so popular that you can find the good, fresh food all the way in London (and Seoul, Tokyo and Honolulu). Open for breakfast, lunch and dinner, Granger and Co.'s brekkie fare include ricotta hotcakes with banana and honeycomb butter, scrambled eggs and sourdough toast, and sweet corn fritters with roast tomato, spinach and bacon.
This exposed-brick cafe is all about artisan coffee and a delicious all-day menu. We don't know about you, but the sound of ricotta waffles with smoked bacon and balsamic waffles, and French toast with orange mascarpone and hazelnuts makes us want to fly over just to enjoy.
Paris
In between stuffing your face with macarons, baguettes, cheese, wine and croissants, you may get the hankering for an Australian feed. Here's where you can get your fix.
This gorgeous restaurant is the perfect place for international friends to meet and eat. Set in the middle of Boulevard St Germain, Loulou' serves both Australian dishes like burgers, sandwiches and fish and chips, as well as Parisian brasserie specials.
This cafe is the result of a Frenchman and Australian combining their coffee roasting and brewing forces. The minimalist, trendy Café Coutume is a major player on the specialty coffee scene, and they also serve a variety of breakfast and lunch items.
This Aussie-inspired cafe serves up amazing coffee, quiches, salads, fresh juices, smoothies, sandwiches and house-made cakes and scones. The owner, a Frenchman who visited Sydney to work as a barista, has brought back the unique coffee skills and made it his own.
Bali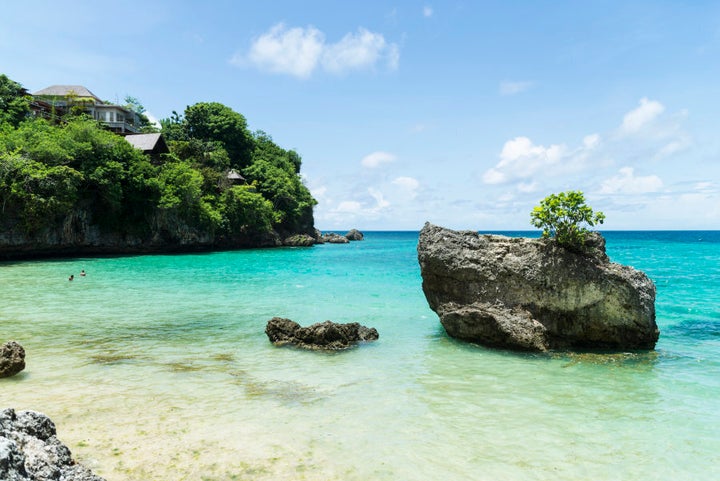 While only a six hour plane journey away, Australian travellers are often after their favourite (slightly cheaper) breakfast classics. So, while you're at your yoga retreat ommm-ing or vegging out by the pool, a Aussie-inspired cafe or restaurant is just around the corner.
The Spicy Coconut, Seminyak.
This little vegan warung is a refreshing break from the hustle and bustle. The lovely Australian owner and her small team serve a mouthwatering pancake stack with tropical fruit, smoothie bowls, scrambled tofu, smashed avo, chia pudding and super fresh smoothies. The cafe even has a resident dog which they rescued from the streets.
Effortlessly cool (and always buys) Sisterfields represents the iconic cafe culture of Australia, serving all-day breakfast, brunch and lunch alongside a delicious range of coffees, cakes and pastries. Coffee art, good vibes and fresh, quality food is aplenty.
You know a cafe is Australian when the breakfast menu is all day. Revolver is all about using organic fruits and vegetables where ever possible, whether it's in their droolworthy burgers, acai bowls, baked eggs, sliders or ricotta hotcakes. Oh, and they serve great coffee, of course.
Singapore
Toby's Estate is well known in Australia and is a coffee staple in many cafes here and in New York, so it's only natural for the coffee experts to open their doors to Asia, with the launch of its flagship cafe and roastery in Singapore. Aside from goooood coffee, the cafe menu also boasts items like croissants with scrambled eggs and honey bacon, and French toast with espresso bacon and egg benny.