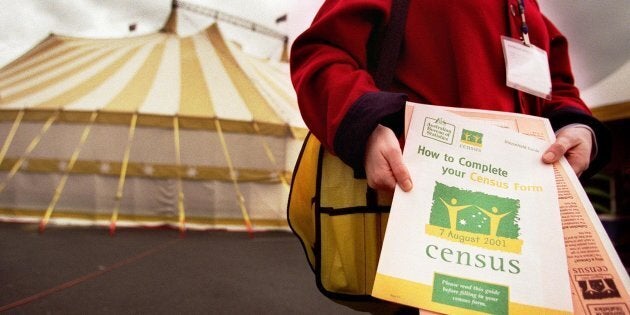 The Australian Bureau of Statistics has pitched into a last-minute charm offensive to encourage Australians to fill out the Census on Tuesday night, amid concerns over data privacy.
The ABS has organised for the Sydney Opera House to be lit green on Census night, to represent the "digital and environmentally friendly approach".
It will also distribute 1100 'I Heart Census' outfits to newborn babies in hospitals, to remind their parents that all family members must be counted. It was a "fun way to remind parents to include their newborn baby", the ABS said.
But charm aside, the agency is facing widespread concerns over data privacy, as it prepares for the first time store names and addresses for four years instead of 18 months in a move it says will improve its research.
Privacy advocates maintain the Australian Bureau of Statistics cannot guarantee security of the data, amid reports the ABS has formally discussed plans to crossmatch people's private details to "make new products".
The ABS has tried to explain how the data will be handled, citing legal protections available to citizens.
"It's the bread and butter of our business and has been for a long time. One of the key things we do is take names and addresses away from Census data and isolate it," Census project manager Duncan Young told The Project last week.
"Census data with names and addresses have been electronic in the ABS since the 1980s. Technology and computers to process the Census is not new at all."
Former NSW Deputy Privacy Commissioner Anna Johnston is concerned about the heightened privacy and security risks of either accidental loss or malicious misuse of stored names and addresses.
But she says, a more deliberate invasion of privacy begins with the creation of a Statistical Linkage Key (SLK) to link an individual's data to other sources.
"... Until the ABS reverses its decision to match Census data about individuals with other datasets about individuals, I am not going to answer the Census questions at all," she said.
"I am sorry, Your Worship. I don't like being forced to choose, because I believe Australians deserve to have both good quality statistical data for government decision-making, AND their privacy respected. But on Tuesday night, I will choose privacy.
"The Census should be a national snapshot, not a tool for detailed data-linking on every individual. Now convict and fine me if you disagree."
The NSW Council for Civil Liberties warned opinions on how the Government may use the information could cause false information to be provided, from income bracket to religion.
"We now have some politicians calling for discriminatory action against people of a particular faith, for example. It wouldn't be unreasonable for them to think twice (before filling out the survey)" president Stephen Blanks said.
The Victorian Council of Civil Liberties, Liberty Victoria, recognises both the opposition in the community and an individual's right to control how their personal information is used.
"Liberty notes, however, that a failure to comply with Census requirements, and in particular an individual and specific directive from the ABS that a person must complete the census form, may incur a financial penalty," Liberty said in a statement.
"Before embarking on such a course, therefore, Liberty recommends that any person considering non-compliance, should obtain appropriate legal or other advice as to how to minimise the risk of incurring any consequential penalty."
The ABS said the case for anyone not completing the Census would be considered on an individual basis and may be referred for prosecution and subsequent fine of $180.