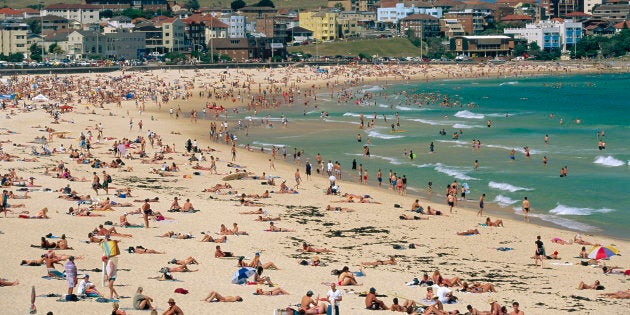 So the night of August 9th is almost upon us and you've been hearing noise around the Census for the past week, leaving you with only more questions.
Should I boycott it? Does it really risk my privacy? How long is it going to take? What are the real changes this Census?
Well, The Huffington Post Australia has made things really easy for you because we spoke to The Census Guy, also known as Duncan Young -- or officially Head of the 2016 Census Program -- to get all the answers.
You can watch the video here but if you don't have 21 minutes spare (yes, you will need slightly more than that to fill out the Census), here's what you need to know.
The Census comes around every five years and it is essentially a snapshot of Australia on August 9. Our first Census was in 1911. It was created to provide an accurate understanding of the country's population to support and govern decision making, Young told HuffPost Australia.
The Census collects data to deliver statistics which help provide a context for decision making and funding around community issues such as housing, transport, education, industry, hospitals and the environment.
Who uses the Census data?
Census data is collected by the Australia Bureau of Statistics (ABS) and the statistics collected are freely available on the ABS website for anyone to use.
(Don't worry, it doesn't include your names and addresses, but we'll get to that part later.)
The data is then used mostly by the Federal Government, state governments, local governments, businesses and the media.
"[Local governments and businesses] use data about suburbs to try and decide where they should build a new supermarket or what language services they should offer," Young told HuffPost Australia.
The ABS occasionally charges organisations or companies for data, if asked for a particular set of statistics not readily available on the website.
"If a government department asks for user surveys or data on a particular subject, that can be paid for but they only get the statistics, not the data collected," Young told HuffPost Australia.
What has changed from the last Census? Why does it need to know my name this time?
The Census has always asked for your name. The big difference this year is the names won't be held on the system for 18 months, but for four years instead.
Young said there are three main reasons behind asking for names.
"Firstly, names have always meant that people fill out the forms more accurately," Young told HuffPost Australia.
"Secondly, the Census always ends up missing people in a population and counting some people twice. We always do a quality study after the Census where we go back out to 50,000 homes. And names are an important part for us to be able to correct the census data through a post and remuneration survey.
"Thirdly, what we do with Census names is we can create anonymous 'linkage keys'. 'Linkage keys' can be used to help us bring together Census data with other data that the ABS holds in order to give it an even richer picture of Australia."
Can you explain exactly what a 'linkage key' is?
"The ABS uses a one way encryption process from name to an encrypted key, so it's a one way process. You can't go back from the key to name," Young told HuffPost Australia.
"And the reason we do that isn't because we have to do that. It is the best way to keep the data secure and to reserve privacy through the process."
So if you have my name and address, how do I know my privacy is protected?
Young said the ABS has never been successfully hacked, and the independent organisation legally has to protect its data.
"The ABS will never sell personal data onto third parties. It would be completely illegal," Young told HuffPost Australia.
"The law says that the ABS can never release information which will identify people, and that includes courts, tribunals, police forces. That information, once it is in the ABS will never be released.
"When we process the Census [into the ABS] we take the names and addresses away from other Census data and isolate it. So that no one within the ABS can see them both together."
Young also said the best practice and technical solutions services have been used to protect the information. This includes the best government agencies, but Young said all services are independently reviewed and tested to ensure protection.
If you still have concerns about your privacy, you can find out more on exactly what the Census will and won't do with your personal information here.
So how long is the Census going to take to fill out?
It depends on the size of your family. The last Census print form took about 37 minutes for an average family to fill out. The online form took about 35 minutes to fill out.
Young said more than one million people have already completed the Census, which is only taking on average 26 minutes to complete online.
To fill out the Census online you need a code which should have been sent to your address.
What happens if I don't have an online code to fill out the Census?
Some areas may not have received a code in paper form yet. If you haven't received yours DO NOT call the call centre today, because it's really busy and it will take too much of your time.
"Wait until later in the week because there's not a fine for doing the Census later," Young said.
"If you don't have your code, call up then and we can send you a code via sms or email, or we can send a paper form by priority post. You just need to do [the Census] as soon as possible when you receive it."
What are the penalties if I boycott the Census or simply don't fill it out?
The penalties are up to $180 dollars per day for not filling out the Census completely and accurately. You have until mid-September so don't stress if you can't fill it out on Tuesday night.
"Ultimately, if someone is going to be penalised it goes through the Director of Public Prosecutions and then they'll make a decision on what penalties are required," Young said.
"A few less than 100 people in the last census needed to be penalised."
If you're an international student or temporary worker, you still need to fill out the Census. If you're an Australian out of the country on August 9, you don't need to fill out the Census at all.
As Young said, it's a snapshot of Australia on August 9.
So for all on home soil it's probably definitely worth finding 26 minutes to fill it out.