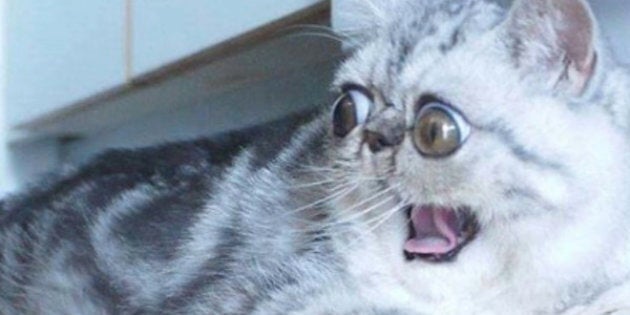 Your cat is probably cute, but it's definitely not as cute as Herman.
Look at this face.
Herman, born on February 27, 2016, is an Exotic Shorthair kitten rapidly gaining popularity for his unusually large eyes. The eyes are so massive that this nugget looks perpetually scared.
Herman lives in Copenhagen with his owner, Shirley. She says on Herman's Instagram that, contrary to other reports, "he can in fact close his eyes but it's not a comfortable resting position and he therefore sleeps with them slightly open."
Shirley said she has to listen to his tiny kitten snores in order to tell if he's napping or not, according to Metro. She also indicated that his eyes do get watery during the day and she has to clean them fairly often.
When Herman was born, he had to be hand-fed because he couldn't put on weight in his first few weeks of life. Shirley says that as a result, he is extremely comfortable around humans, according to Telegraph.
"He is both a special cat due to his peculiarly big eyes giving him a funny but sweet look and due to his loving nature," she told the site.
Other reports have indicated that cats like Herman who are born with large eyes can sometimes be diagnosed with spontaneous lens luxation later in lie. As of now, vets say that Herman is "perfectly healthy." Thank goodness.
Herman, anytime you want to come to America, you can stay with us.