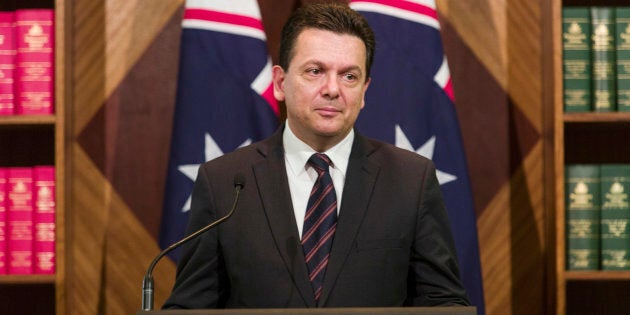 A renewed push to repeal sections of the Racial Discrimination Act is likely to have trouble getting off the ground after it was rejected by Senate powerbroker Nick Xenophon.
The rejection comes after a push by independent and One Nation senators to alter the law and remove prohibitions on offending or insulting someone because of their race -- a move they argue protects free speech.
Over the past few days Liberal Democrat senator David Leyonhjelm, One Nation senator Malcolm Roberts and Victorian senator Derryn Hinch gave their backing to repealing the sections of the law on free speech grounds.
But on Monday Nick Xenophon, whose NXT party would likely need to be convinced to support the change for it to pass, rejected the idea.
"When you have both the Jewish community and Arab community on a unity ticket, in the same room, saying 'we think these amendments are reckless', then you know this is an area that we shouldn't go down," he told the ABC.
"A lot of people are afraid to speak up," Roberts said over the weekend.
"We have to remove this so we can have a decent discussion on the actual issues," Roberts said.
He denied removing section 18c had the potential leave minority groups hurt and humiliated.
"Not at all," Roberts said.
"You can call me short, you can call me fat, you can call me a Queenslander, you can call me a Cain Toad, whatever you want to call me -- the only person who decided whether I'm upset is me."
Last week Hinch told the Melbourne Press Club he also backed the changes, and told journalists he had discussed it with conservative Liberal senator Cory Bernardi.
"It is freedom of speech. You can't say 'bugger Voltaire' if you really believe it," Senator Hinch said.
"You can't go marching the streets and say 'Je suis Charlie' and then say 'you can't have that and you can't say that, it's offensive'. Of course it's offensive."
With Labor, The Greens, NXT and independent senator Jacqui Lambie opposing changes to 18c, the proposed altering of the Act is unlikely to pass the Senate, where Labor holds 26 seats, the Greens nine seats and NXT three seats.
On Monday Labor leader Bill Shorten called on Malcolm Turnbull to rule out changes to 18c, and said the Prime Minister had left the senate hostage to claims from the crossbench.
"What Mr Turnbull needs to do today is say that 18c and freedom of speech and the protection against hate speech are not up for negotiation," Shorten said.
"This shouldn't be a matter which drags on."
The Arab Council Australia told The Huffington Post Australia Xenophon's stance was "heartening."
CEO Randa Kattan said the Council is open to talking to members crossbenchers and government MPs about its concerns.
"We're concerned about the push," Kattan said. "We will continue to campaign for it to be dropped again."
"Leadership is about preserving national unity on the essentials and that is why I have taken this position," Mr Abbott said at the time.