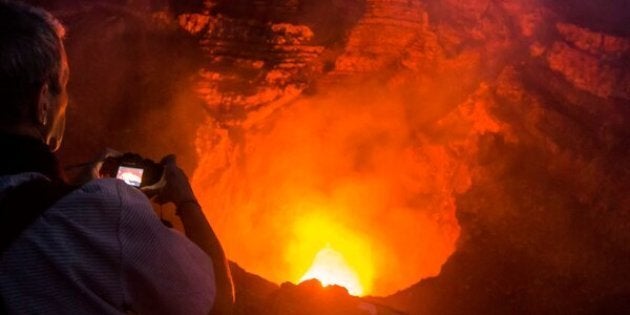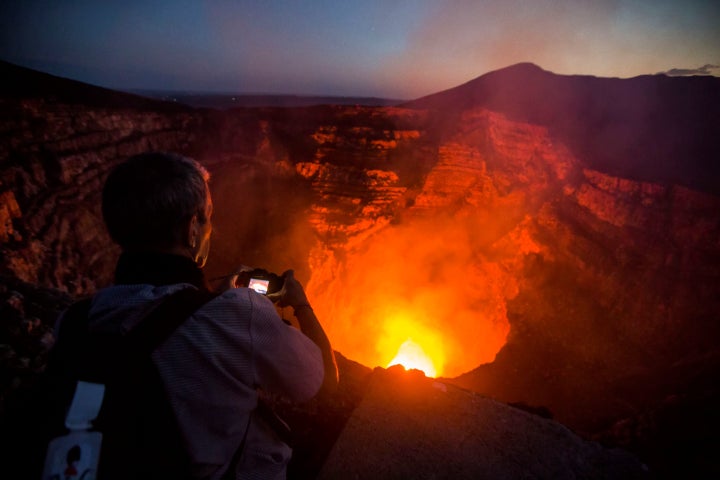 The "Mouth of Hell" is coming online.
Thanks to General Electric and filmmaker Sam Cossman, Masaya Volcano, one of the most active volcanoes in Nicaragua, may soon be connected to the internet.
GE has partnered with Cossman, who's made a name for himself as a "volcano diver," and the Nicaraguan government to install dozens of Wi-Fi sensors inside Masaya, located about 13 miles outside the capital Managua.
The goal? To monitor the volcano's activities in real time and better predict when it might next erupt.
Masaya poses "a real danger," explained volcanologist Guillermo Caravantes in a video posted to GE's Facebook page Friday. If there's a large eruption, "we could potentially have millions of lives at risk. It could happen at any time and the problem is, we are not able to predict when this could happen or what sorts of signs from the volcano" scientists should be looking out for.
Getting Masaya online, he said, could be a game-changing solution.
Over the next few days, Cossman, Caravantes, and a team that includes riggers and a former astronaut will be descending up to 1,200 feet inside Masaya to install more than 80 sensors and to test the Wi-Fi to ensure it works.
Each sensor will gather real-time environmental data, including Masaya's temperature, gas levels, gravity and atmospheric pressure.
Once the sensors are in place, the data will be collected on Predix, a GE-owned open-source database. From there, anyone ― from volcanologists to local residents to interested members of the public ― can peruse the data.
"The goal is essentially to install all these sensors and create the most effective early warning system in the world," Cossman told The Verge.
This technology has potentially enormous applications for volcanology at large, Caravantes said.
"The long-term goal is to connect all volcanoes," he said. "This would be fantastic. Like doctors, we'd be able to monitor the vital signs of the volcanoes in real time."
GE and Qwake, Cossman's media company, have been using Snapchat, Instagram and other social media to document the Masaya expedition. Scroll down to see some of the photos and video captured at the volcano to date.