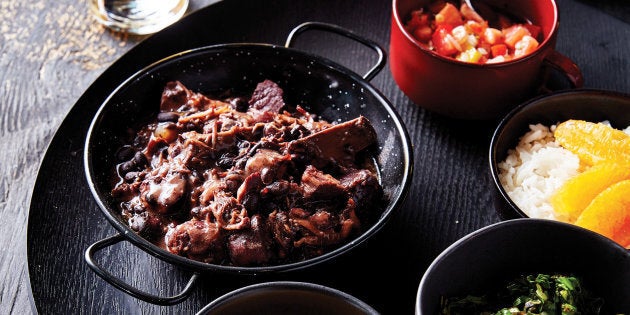 To accompany your Rio Olympic watching and help keep the torch flaming, what better time is there to indulge in a few Brazilian recipes? These vibrant, traditional recipes from Braza by Brazilian author and chef, Andre Felicio, are packed with authentic Brazilian flavour, with a strong focus on barbecue.
Each recipe is all about simple ingredients and methods that result in meals with plenty of punch. A few Brahma beers to accompany them is of course obligatory.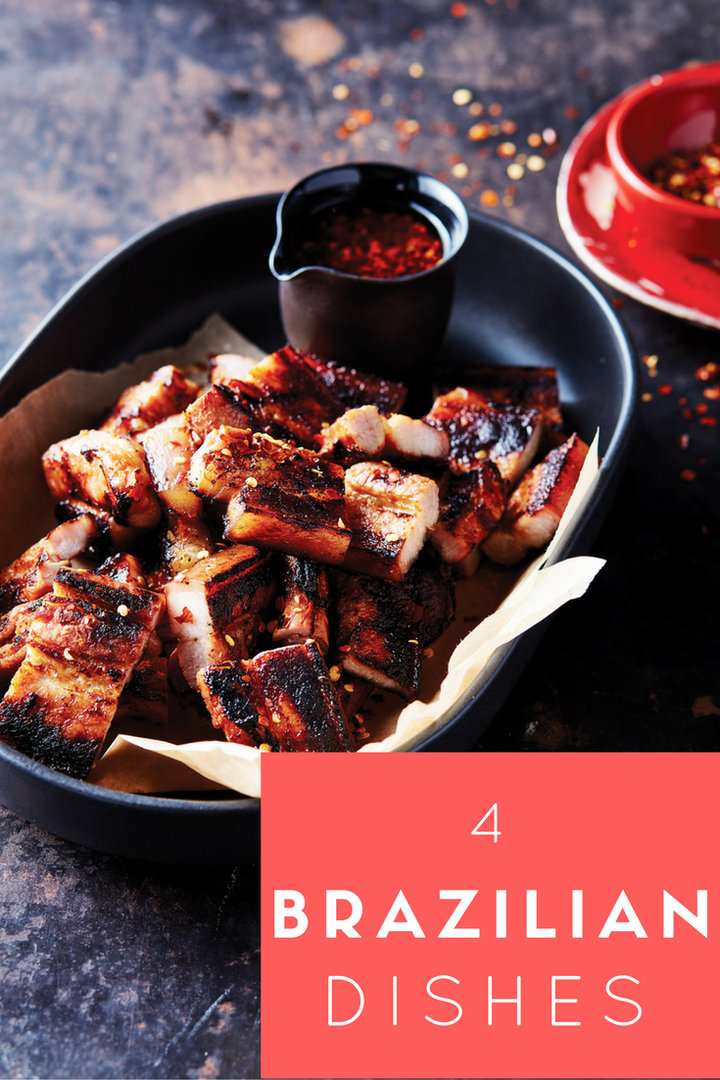 Beef ribs with chimmichurri (Costela de tira com chimmichurri)
"These beef ribs are cut through the bone to get strips. Also known as 'assado' in Spanish-speaking countries, this is a simple and delicious recipe to get your barbecue started," Felicio said. "Be careful as sometimes the assado can get a bit to thick."
1kg beef ribs 'strips'
1 tablespoon vegetable oil
Pinch of sea salt
Pinch of cracked black pepper
Chimmichurri (see below)
1. Ask your butcher to cut your beef ribs into 2cm thick pieces, creating the 'strips'. Preheat the barbecue to medium heat.
2. Place the beef ribs on a seasoning tray and sprinkle with the vegetable oil, salt and pepper.
3. Place the ribs on the barbecue grill and cook for about 30 minutes on each side or until well done. I recommend you cook this piece of meat well done, as it tends to be tough when cooked any other way. Brush the ribs with the chimmichurri while cooking.
4. When done, leave to rest for 10 minutes, then cut into pieces leaving one bone on each piece and spread the rest of the chimmichurri over the top. Enjoy!
Chimmichurri
"This is a very simple recipe to make," Felicio said. "This sauce can be served on the side, or can be brushed on meat while it's cooking on the barbecue. Perfect with lamb."
4 tablespoons chopped Italian (flat leaf) parsley
4 tablespoons chopped coriander
2 tablespoons chopped oregano
1 garlic clove, chopped
¼ teaspoon roasted cumin seeds
30ml red wine vinegar
100ml extra virgin olive oil
1 teaspoon flaked chilli
½ teaspoon salt
1. Place all of the ingredients in a glass bowl and mix well. Refrigerate overnight to infuse.
Variation: Instead of oregano, use four tablespoons mint and reduce the coriander to two tablespoons. Then you can call it a minted chimmichurri.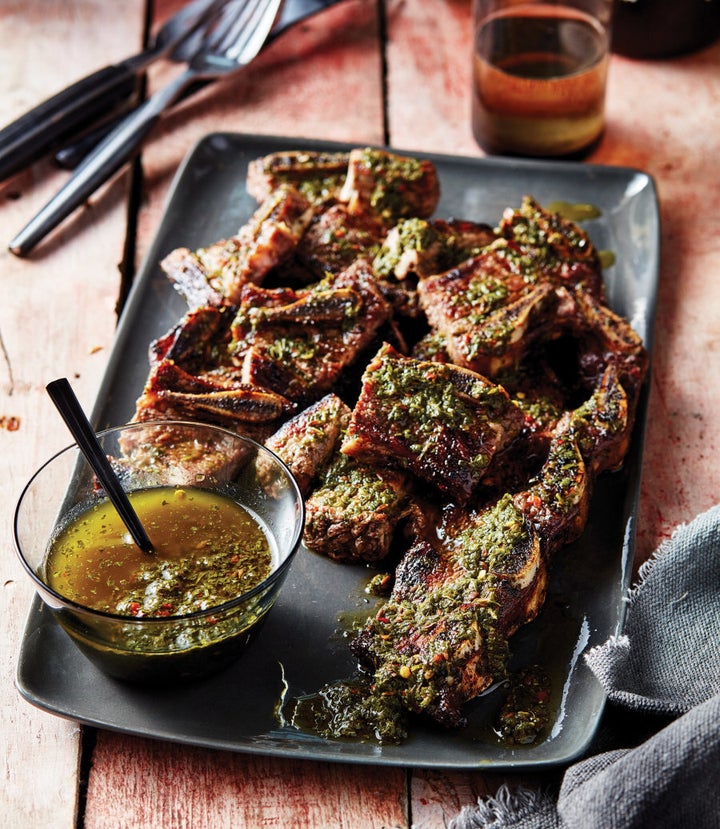 Feijoada 'completa'
"This is probably one of the most popular and traditional Brazilian dishes," Felicio said. "It is traditionally served every Wednesday and Saturday lunchtime and has been on the menu since the 1850's."
500g black beans
400g dried salted meat
200g thick bacon slices
200g chorizo smoked
200g calabresa sausage
200g black pudding sausage
200g pork belly smoked
200g pork leg
500g pork ribs smoked
3 bay leaves
2 garlic cloves, chopped
1 brown onion, finely diced
2 tablespoons chopped Italian (flat leaf) parsley
1 bird's eye chilli, chopped
1 tablespoon salt
1 teaspoon black pepper ground
To accompany you will need:
White rice
Tomato salsa
Chinese broccoli
Malagueta chilli sauce
Oranges, peeled and cut into segments
1. Cut the dried, salted meat into small pieces. Place the black beans in a pot with double the water, and add the dried salted meat. Change the water at least four times every three hours.
2. Dice the bacon, pork belly and pork leg. Cut the sausages into small pieces. Cut the pork ribs, leaving one bone on each piece. Add half of this meat to the pot.
3. Place the pot with the black beans, dried meat and water on the stove adding another litre of water. Add the bay leaves. Bring to the boil. Make sure you mix it occasionally using a flat, wooden spoon, trying to scrape the bottom of the pot to stop it from burning. Once boiling, reduce the heat, cover and simmer for 1½ hours.
4. After 1½ hours, set the bacon aside and mix in the rest of the meat and cook it for a further 1½ hours.
5. Towards the end of the last 30 minutes, get a frying pan, heat up some vegetable oil and cook the bacon, onion, garlic, parsley and chilli for 10 minutes. Using a ladle, add some black beans from the big pot into the frying pan. Use the wooden spoon to roughly mash the beans, creating a thick sauce.
6. Add the salt and pepper and return the mixture to the big pot. Mix and simmer for a further 15 minutes. Serve with white rice, tomato salsa, farofa basica, chinese broccoli, malagnueta chilli sauce and orange segments.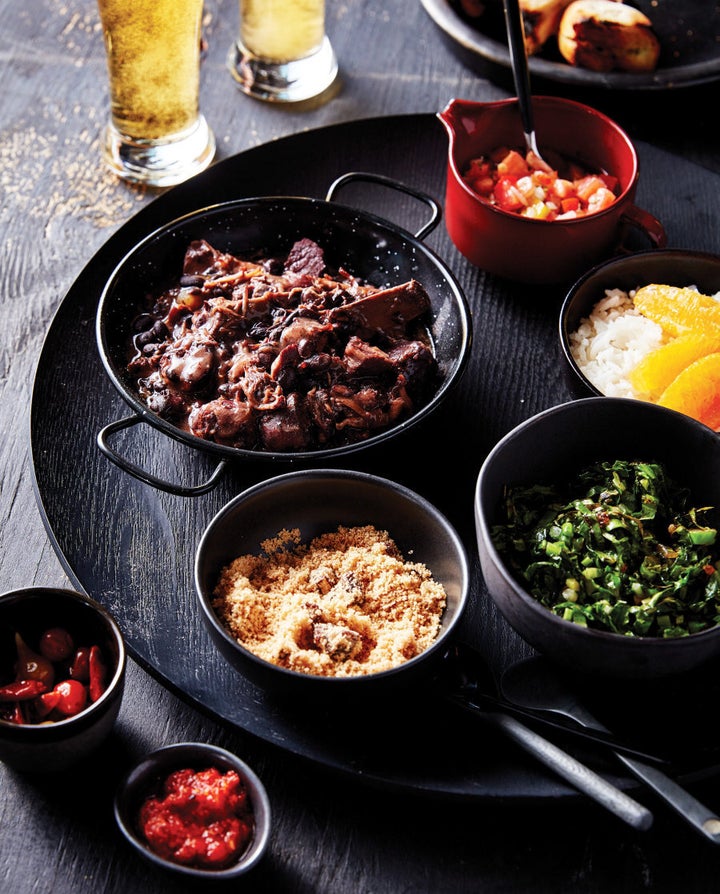 Four cheese crunchy rice with eggplant salsa (Arroz crocante com cuatro queijos e vinagrete de berinjela)
"This is something I once ate in Brazil and, because of its intense flavors, I never forgot it," Felicio said.
Traditional Brazilian white rice
2 tablespoons grated parmesan cheese
2 tablespoons grated provolone cheese
2 tablespoons cream cheese
2 tablespoons blue cheese
4 tablespoons extra virgin olive oil
1 small onion, diced
1 garlic clove, chopped
1 tomato, diced
1 yellow capsicum, diced
1 eggplant, diced
100ml white wine vinegar
1 tablespoon parsley, chopped
1 tablespoon salt
1 tablespoon cracked black pepper
200g semi-dried tomatoes
1. Preheat the oven to 180°C. Lightly grease an 18cm round loose-bottomed baking tin (with removable base) with oil.
2. Mix the cooked rice with all four cheeses and using your hands, start spreading the rice on the base and sides of the tin, creating a sort of rice bowl. Bake for 15 minutes.
3. To make the eggplant salsa, heat the olive oil in a saucepan over medium heat. Add the onion and garlic and cook until the onion is soft. Add the tomato, pepper and eggplant and cook for about 15 minutes, or until the eggplant is soft. Add the vinegar and parsley and season with the salt and pepper.
4. Leave to cool a little and add it to the 'rice bowl'. Finish by placing the semi-dried tomatoes on top. Garnish with parsley if you like.
Note: this is absolutely perfect with any type of meat, even seafood.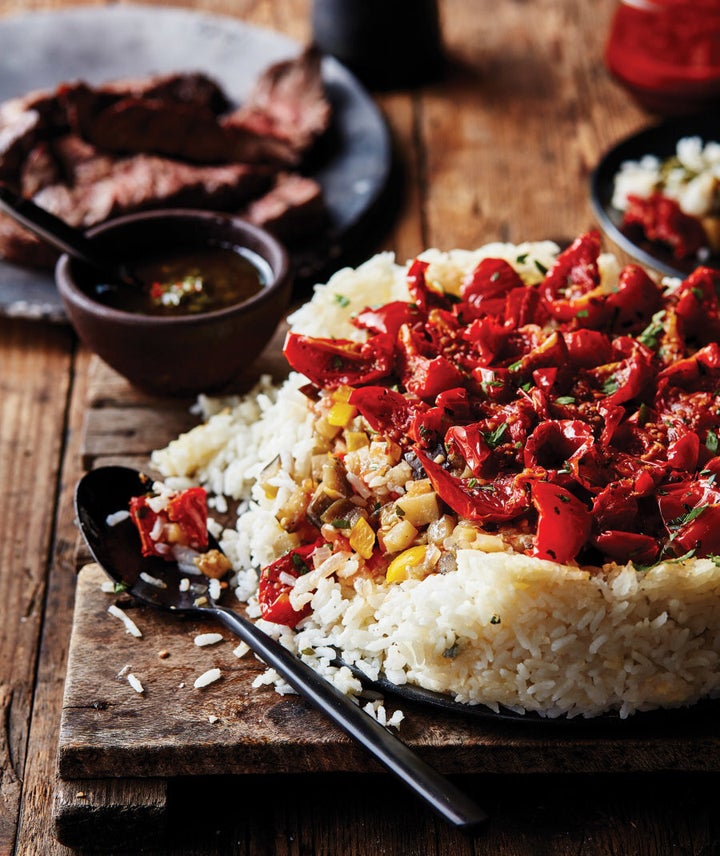 Pork belly strips (Pancetta fatiada)
If you're a pork belly fan this pancetta fatiada is for you, which is packed-full of fragrant smoked paprika, garlic, honey and lime.
"This is delicious with the Brazilian rice," Felicio said.
1 tablespoon crushed garlic
75ml honey
1 lime, juiced
2 tablespoons soy sauce
1 tablespoon olive oil
1 teaspoon smoked paprika
6 cloves
Pinch of sea salt
Pinch of cracked black pepper
2 tablespoons extra virgin olive oil
2 tablespoons honey
3 tablespoons soy sauce
1 lime, juiced
1 teaspoon flaked chilli
1. Cut the pork belly into 1cm strips.
2. In a separate bowl, combine the marinade ingredients and whisk well. Pour the marinade mixture over the pork belly and refrigerate overnight.
3. To make the sauce, combine all the ingredients and whisk well.
4. Place the pork belly slices on the barbecue grill. Cook them for about 20 minutes on a low–medium heat, turning often. Keep a good eye on them as they might catch on fire.
5. Cut them into smaller pieces, drizzle with the sauce or simply dip each piece into the sauce.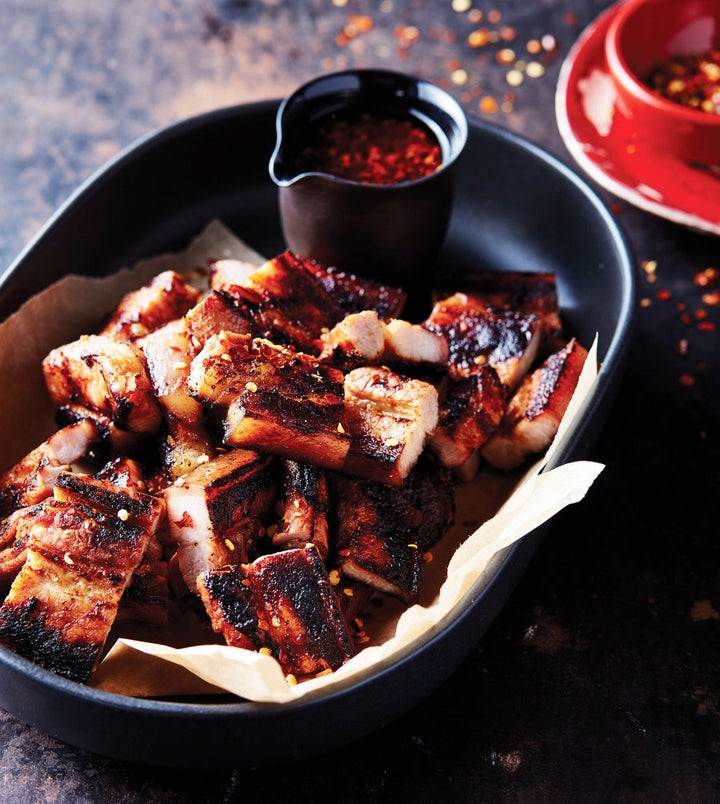 Braza, New Holland Publishers RRP $45.00 available from all good bookstores or online.