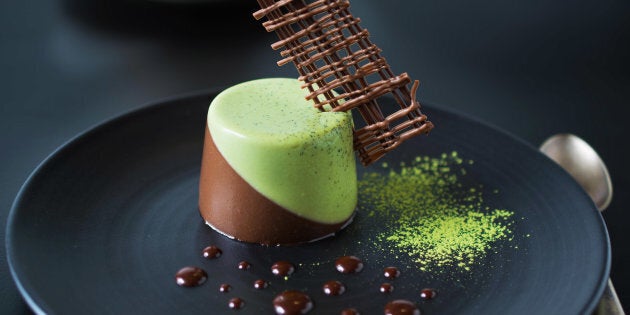 Now is not the time to argue over whether milk chocolate, mint chocolate or dark chocolate is better (it's semi-dark chocolate, obviously) -- it's the time to appreciate, make and eat arguably the most decadent chocolate desserts of all time.
Yep, these ridiculous chocolate recipes by Lindt are almost too pretty to eat. Almost.
Imagine chocolate and matcha panna cotta, rich black velvet cake and double chocolate biscotti with chocolate dip. Drooling yet?
Well, bulk buy some chocolate and channel your inner pastry chef because things are about to get dangerous. Very dangerous.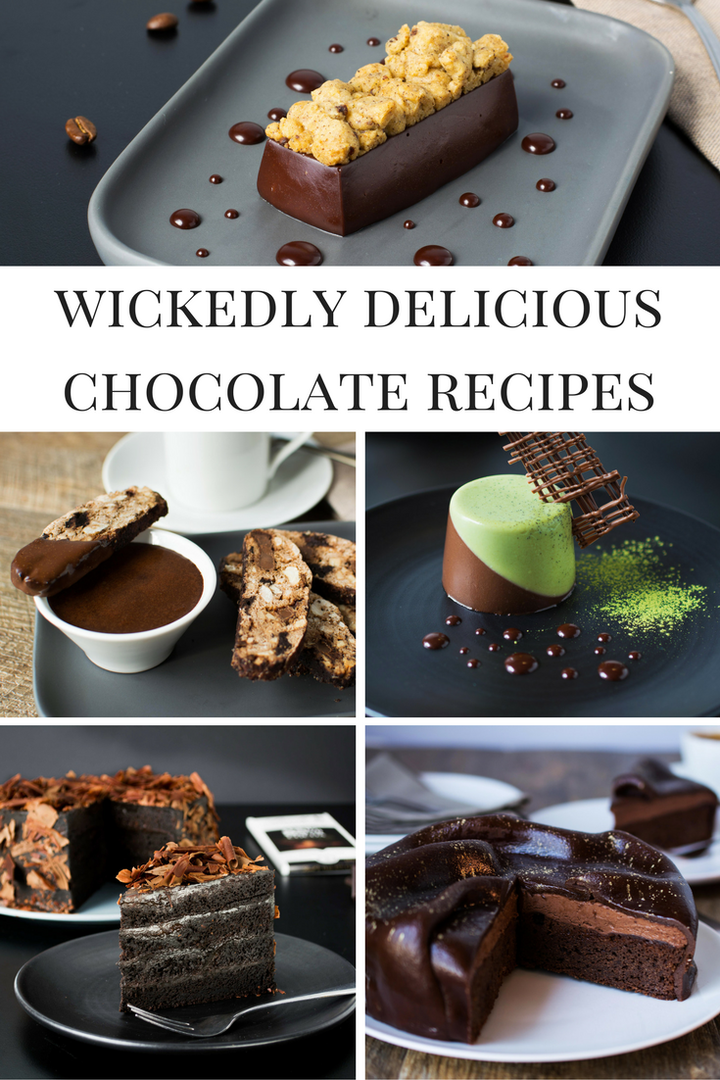 1. Black velvet cake
120g butter
240g 85 percent dark chocolate
100ml canola oil
230g brown sugar
3 eggs
220g cake flour
1 tsp baking powder
1 tsp baking soda
50g quality cocoa powder
280g buttermilk
200g sour cream
Black food colour gel (optional)
Icing (best prepared the day before):
200ml cream
100g buttermilk
130g 85 percent dark chocolate
100g 70 percent dark chocolate, plus extra for decoration
50g butter
A little liqueur, to baste the cake (optional)
1. For the cake: preheat the oven to 170°C.
2. Gently melt together the butter and the chocolate and allow to cool.
3. Place sugar into a large bowl and sift in the cocoa powder, flour and raising agents.
4. Whisk the eggs until light and pale. Mix into the dry ingredients.
5. Stir in the cooled chocolate mixture, oil, buttermilk, sour cream and colour, if using.
6. Divide mixture into two greased 18cm cake tins and bake for around 45 minutes or until a skewer comes out clean. Set aside to cool.
7. For the icing and assembly: bring the cream and buttermilk to the boil. Pour over chocolate and blitz until smooth using a stick blender. Blend in the butter and allow to rest, covered with clingfilm overnight at room temperature.
8. To assemble: cut each cake into half horizontally and baste with a little liqueur, if using.
9. Stack the cake slices, applying a generous covering of icing between each layer, saving some icing for the outside.
10. To finish, mask the outside of the cake with icing and cover with shavings.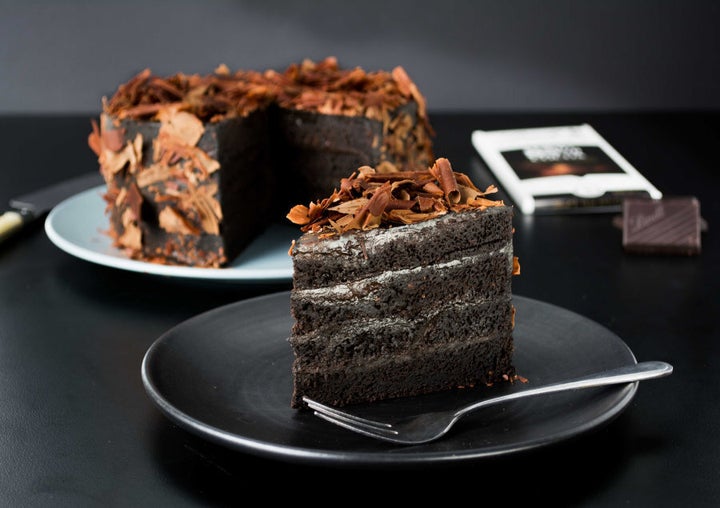 2. Chocolate and matcha panna cotta
250ml cream, pure and 35 percent fat
250ml full fat milk
100g raw caster sugar
5 leaves gelatine, gold grade
100g dessert 70 percent chocolate, melted
35ml milk
4-5g quality matcha powder
1. Soak gelatine in ice water.
2. Combine cream, full fat milk and sugar in a small saucepan on medium heat. Bring to the boil. Once boiling, take off the heat.
3. Squeeze excess water from gelatine and stir into the hot cream mixture until dissolved.
4. Split mixture, flavouring one half with the chocolate and then adding the extra milk and mixing in the matcha for the other half.
5. Grease some dariole moulds and half fill with the matcha mixture. Place in the freezer for 10 minutes to speed up the setting process, until firmed.
6. Top with the chocolate mixture. Allow to set fully in the fridge (best overnight).
For the angled look, the mould will need to be on an angle for the first layer. To achieve this, place the moulds into a muffin tray on a 45° angle. Then fill in the first mixture and allow to set before topping up.
To release the panna cotta, gently pull it away from the sides to let some in some air. It will fall onto the plate once overturned.
Alternatively, briefly dip the outside of the mould in some hot water.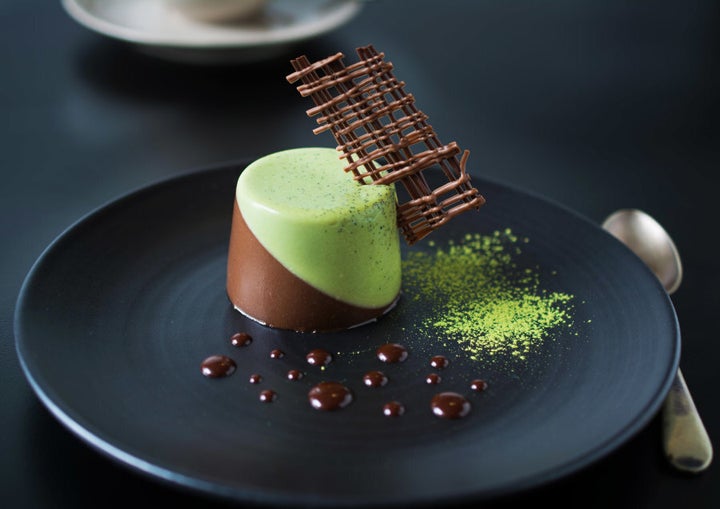 3. Excellence arabica and blue cheese ganache topped with coffee crumble
130ml water
5g instant coffee
10g custard powder
450g caster sugar
175ml cream
220g Arabica chocolate
25g butter
60g blue cheese
55g butter
30g raw caster sugar
75g flour
2 tsp ground coffee beans
Pinch Salt
1. To make the coffee custard: combine the water and instant coffee in a saucepan. Mix a small amount of the coffee liquid with the custard powder (to create a slurry), place back in the saucepan and bring to the boil. Create a smooth custard and set aside covered with clingfilm.
2. Make a ganache by combining the cream and the chocolate in a bain-marie. Mix in the butter and the blue cheese. Lastly, mix in the coffee custard.
3. Place the custard into moulds and allow to set fully in the fridge.
4. For the crumble: mix the butter and caster sugar until combined and mix in the dry ingredients. Combine to form a dough and push through a cooling rack to create the crumble.
5. Bake crumble at 170°C, either on a paper lined tray or, for a sharp edge, in a mould for around 10-15 minutes or until just golden brown.
6. To serve: top each ganache with some crumble.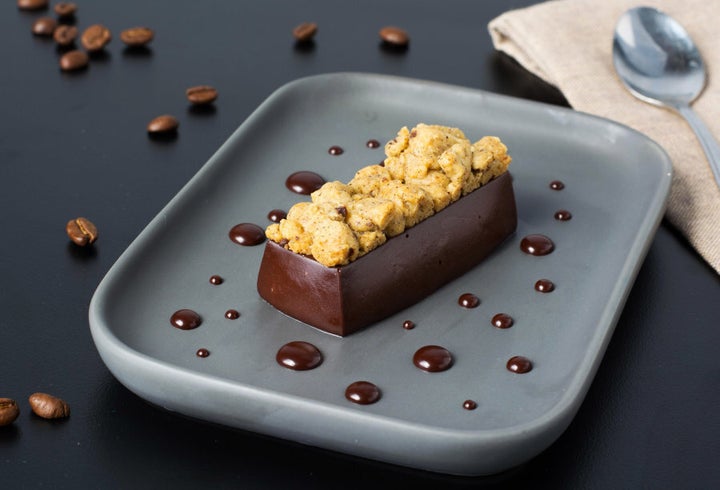 4. Chocolate gateau-généreux
150g 70 percent mild chocoate
45g 70 percent mild chocoate, grated
150g butter, unsalted
115g brown sugar
3 eggs
½ tsp vanilla bean paste
150g almond meal
5g baking powder
Pinch Salt
125g 70 percent mild chocoate, cut into small pieces
165ml cream
20g caster sugar
30g glucose Syrup
30ml water
2½ leaves gelatine, gold grade
400g marzipan, icing or modelling chocolate
About 50g cocoa powder, sifted
A little oil, to shine
Edible gold dust
1. For the cake: Melt together the 150g of chocolate and the butter. Set aside to cool slightly. In a bowl, whisk the brown, eggs and vanilla until light and pale.
2. Mix together the almond meal, baking powder, salt and grated chocolate.
3. Gently fold the cooled chocolate butter mixture into the egg mixture and then fold in the dry ingredients.
4. Place in a greased 20cm springform and bake at 175°C for around 30 minutes or until a skewer comes out clean. Cool completely.
5. For the truffle mousse: lightly whip the cream and set aside.
6. Combine the sugar, water and glucose in a saucepan and bring to the boil. Soak the gelatine in ice cold water and once bloomed, dissolve in the hot syrup. Pour over the chocolate and mix to a smooth ganache. Lastly, fold in the whipped cream.
7. Place mixture on top of cooled cake and place in freezer.
8. To finish: mix the marzipan or icing with the cocoa powder to the desired chocolate colour. Roll out thinly and loosely place over the cake while still frozen. Lightly brush with a little oil for shine and dust with gold dust.
Note: good quality marzipan gives this cake a delicious almond flavour but can easily be substituted with icing or modelling chocolate from cake decorating shops.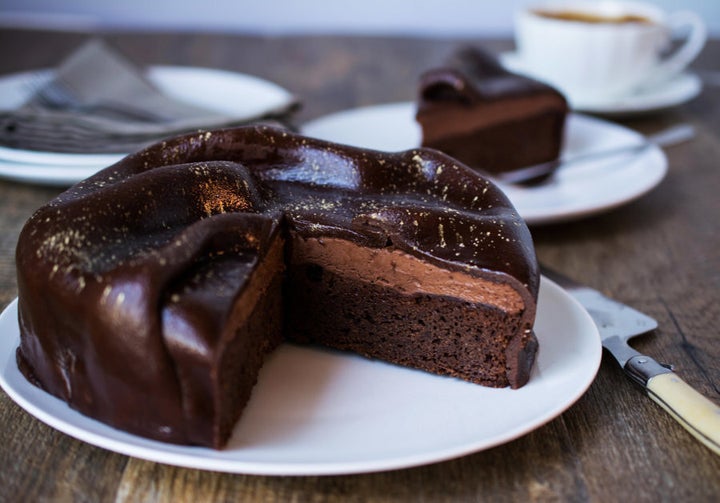 5. Double chocolate biscotti with chocolate dip
150g plain flour
150g raw caster sugar
Pinch salt
45g almond slivers
30g hazelnuts chopped
1 tsp little vanilla bean paste
Pinch of mixed spice
1 whole egg
1 egg yolk
50g 70 percent dessert chocolate, in chunks
50g premium milk dessert chocolate, in chunks
Cocoa powder, to dust
160ml milk
25g honey
100g premium dark dessert chocolate
45g 70 percent dessert chocolate
1. Preheat the oven to 180°C.
2. Place flour, sugar, salt, nuts, vanilla, spice into a large bowl. Mix in the egg and yolk and work in by hand to form a dough. Lastly, mix in the chocolate chunks.
3. Form a log on a baking paper lined tray, dusting lightly with cocoa powder.
4. Bake at 180°C for around 15 minutes or until cooked through. Cool.
5. Using a serrated knife, cut the biscotti around 3-4 mm thick and place back on the tray flat. Dry at 150°C for a further 15-20 minutes or until dry and crisp.
6. For the dip: warm up the milk and honey in a small saucepan. Add the chocolate and mix until melted. Serve with biscotti.
Note: You can easily replace the nuts with your favourite mix.