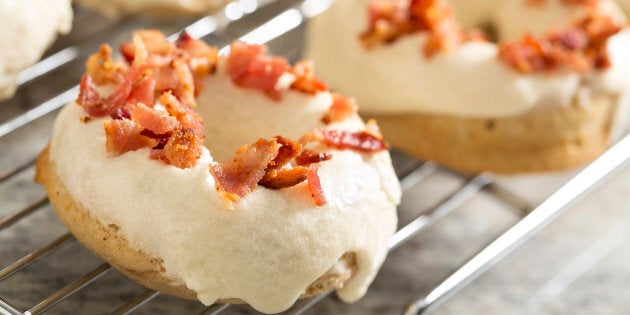 The first meals you think of when someone says 'bacon' is probably a big breakfast with eggs, or an egg and bacon muffin, or maybe even waffles with maple syrup.
But there's much more to bacon than the obvious breakfast fare. In recent years, bacon has evolved from its egg marriage and sneaked its way into all sorts of dishes, both sweet and savoury.
To learn all about bacon and delicious bacon pairings, we spoke to Mitch Edwards from Australian Pork who works extensively with chefs and food service for everything pork and bacon.
"I think there's a whole lot of reasons why bacon works and why it's so popular," Edwards told HuffPost Australia. "One of them is because it's about fun and joy. It's overtly not a health food -- it's something we have to treat ourselves, whether that's daily or weekly."
Another reason is bacon's unique and versatile flavour, which is why it's becoming more and more used in sweet foods, as both the star and an undercurrent to bring out other flavours.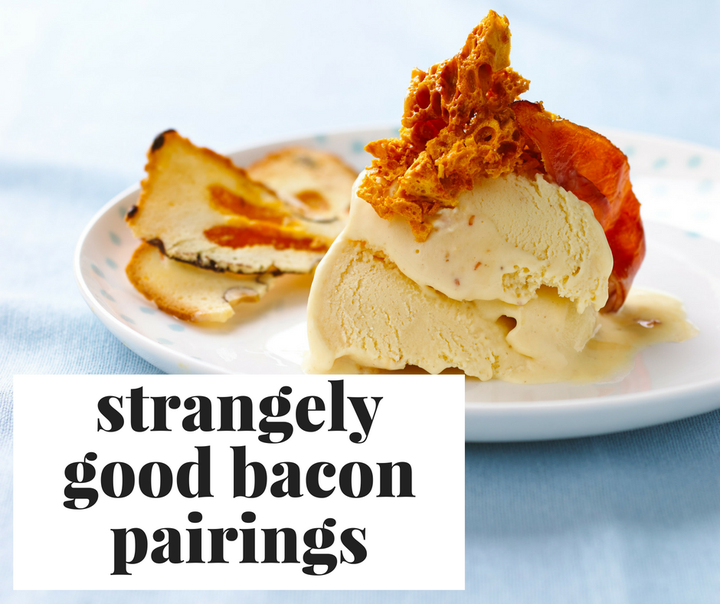 "The fact that it's a fun food means you can translate it to fun within dishes," Edwards explained. "For a dish that doesn't carry a lot of flavour, bacon can be a secret ingredient or vessel to lift the flavour, with its salt, smokiness and hint of fat."
However, our obsession to add bacon to everything we possibly can isn't new, and it didn't start in Australia.
"I think Americans have unwittingly doing trendy things with bacon forever, with their bacon with waffles and maple syrup," Edwards said. "I think, like we do here in Australia, we translate things and don't put boundaries on ourselves. Australian chefs are cheeky in their food like they are in their personalities.
"There's so many fun things you can do with bacon, whether that's savoury or sweet."
Here are some surprising foods that pair with bacon.
1. Ice cream and bacon
The saltiness of bacon lends itself perfectly to ice cream, helping to bring out the flavour and amplify the sweetness.
"Just experiment. Bacon isn't about lecturing people, it's about having fun. It's the chocolate of meats," Edwards said.
2. Chocolate and bacon
"There's always savoury but there's a lot of sweet dishes that translate, as well," Edwards said.
"We've worked with chefs who make fun, crazy bacon dishes like chocolate coated candied bacon which combines the sweet, fattiness and salt."
3. Jam and bacon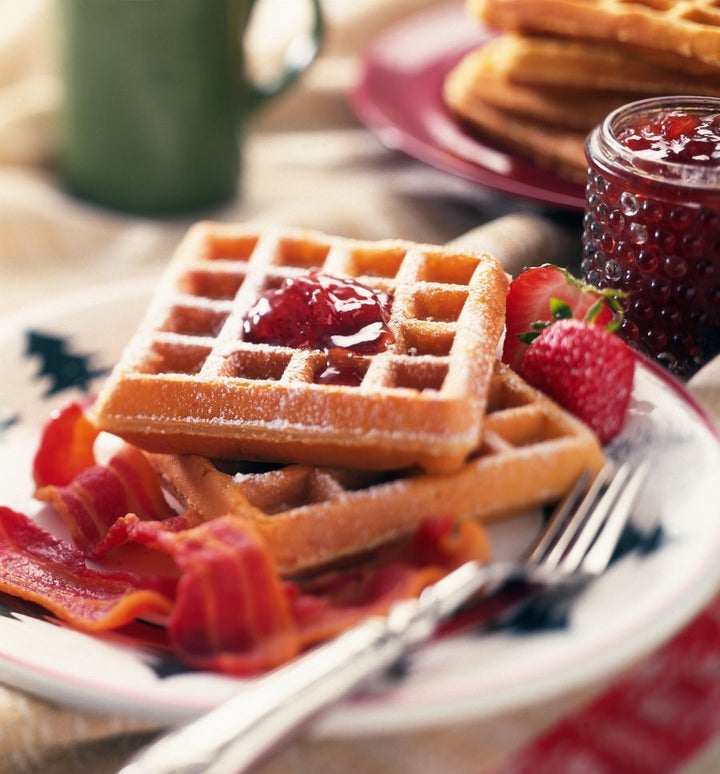 Much like the classic maple and bacon pairing, the sweetness of jam brings out the flavour of bacon and vice versa. Next time you have waffles, give it a go.
4. Doughnuts and bacon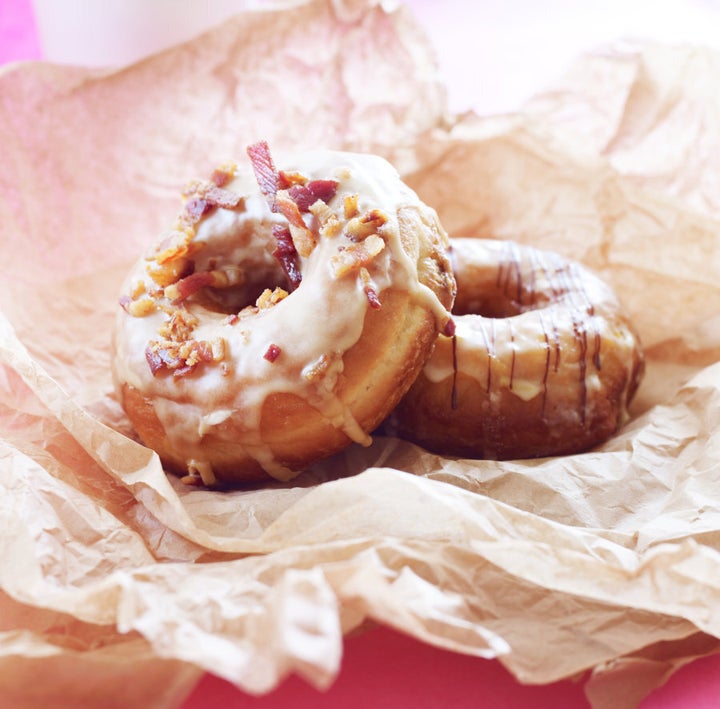 You only need to have one bite of a bacon doughnut to know how well this combo works. The light, fluffy, buttery doughnut is definitely the right vessel for a sprinkling of bacon.
5. Macarons and bacon
Pfft, move over pistachio and lavender, it's time for bacon macarons with maple buttercream.
6. Peanut butter and bacon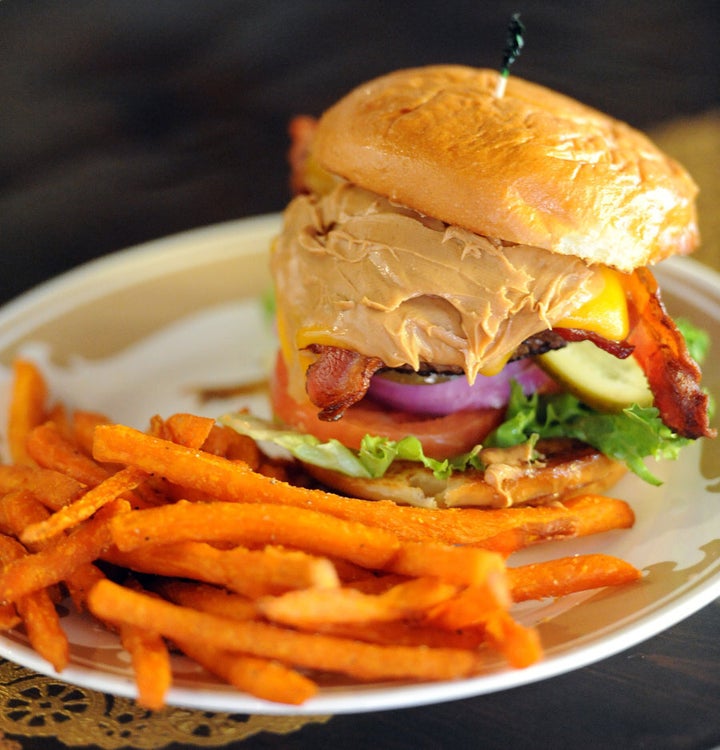 If you've ever had this combo on a burger, you'd know what we're talking about. The creamy, nutty peanut butter with the salty bacon... it just works.
7. Dried fruit and bacon
Try wrapping a Medjool date, fig or prune with bacon and experience the flavour explosion. It's sweet meets salty meets fatty meets smoky.
8. Cocktails and bacon
Have we lost you yet? If you're a bacon lover and wondering how you can sneak the salty stuff into drinks, give cocktails with bacon a whirl.
9. Milkshakes and bacon
Why stop at cocktails when you can have bacon shakes. BACON SHAKES. With an obligatory drizzle of maple syrup.
10. Chips and bacon
Amp up your chips and tomato sauce with the addition of crispy bacon -- or, perhaps even chips wrapped in bacon. Winning.