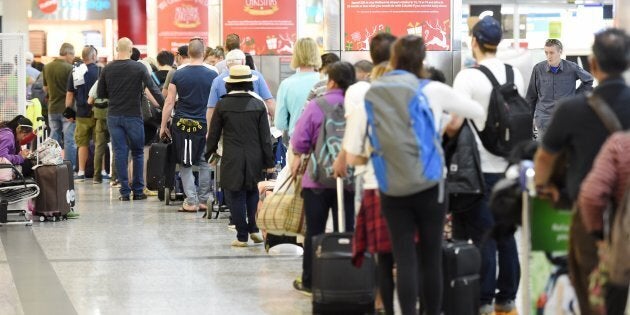 Australians planning on flying overseas on Friday may face delays, with Border Force staff on strike for the next 24 hours.
Border Force Staff have been in a three-year industrial dispute with the Coalition government over negotiations for a new enterprise bargaining agreement.
"All they want is to hang on to their existing pay and conditions," Nadine Flood, National Secretary of the Community and Public Sector Union, told the Today show.
"We have immigration and border force staff who face losing $2900 per year, they haven't had a pay rise since 2013. They want to hang on to what they've got, and get the Prime Minister to give them someone to talk to."
The CPSU says about 100,000 public sector workers remain without new enterprise agreements.
ABF Assistant Commissioner Clive Murray said the Department is making arrangements to minimise the impact on travellers.
It is understood all eight of Australia's international airports will be affected.
"If you are going overseas or returning to Australia on these dates, we advise you to arrive at the airport early," Murray said.
"We aim to provide the best service we can and will continue to maintain our protection of Australia's borders through contingency arrangements."
Flights may be affected on Saturday morning, Murray said.
He said the Department expects to be in a position to re-commence Enterprise Agreement negotiations shortly, and is committed to negotiating the "best possible" Enterprise Agreement outcome for its staff.