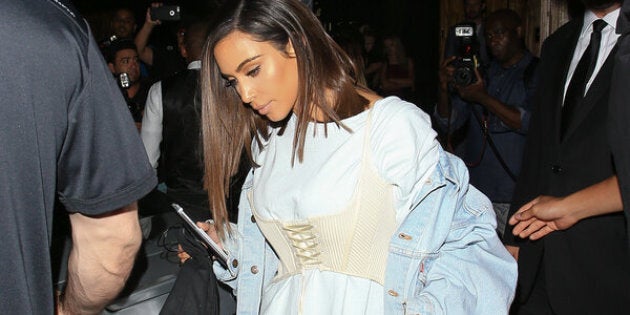 If you're one of the many people who've been equal parts confused, delighted and intrigued by Kim Kardashian's recent affinity for wearing corsets over oversized T-shirts, then this one's for you.
There are a few things Mrs. West is rarely seen without: a great contour, perfectly coiffed hair and an outfit worth talking about. But who's been the inspiration behind this corset obsession?
"It's my husband," she told The Huffington Post. "He literally puts together these outfits and they just seem to work and look really cute. I just take his T-shirts, they're not mine, so that they're the right oversize, and lace up one of the corsets over it. It's just super cute and different and just easy and effortless. I don't want to overdo it but I like so many looks that I'm just like whatever, I'm just going to wear it until I get tired of it."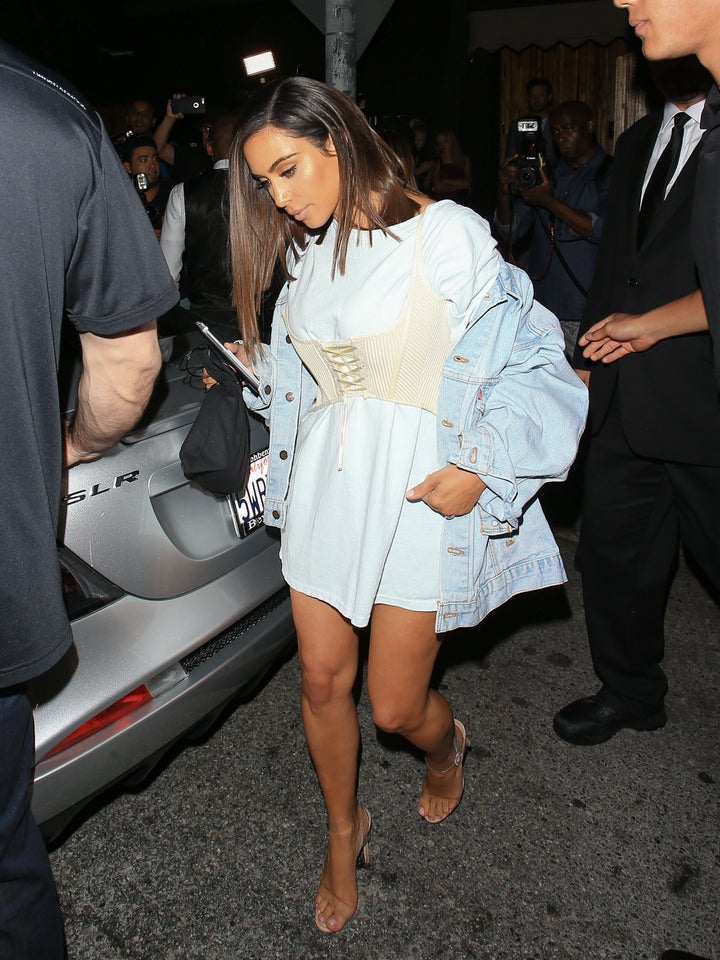 There you have it, folks. A not-so-shocking explanation for a trend we're sure to be seeing way more of in the future. And we'll be seeing it thanks to her endless selfies that she takes with her LuMee phone case.
She partnered with the selfie-friendly, front-lit case company back in January and recently collaborated on a sleek, new marble patterned case for the brand.
The case itself, which she told The Huffington Post is one of those "products I've seen where I'm like 'This is so genius, I'm so pissed I didn't come up with this concept'" is a mainstay on Kardashian's social media channels, and is even in part responsible for her recently upped Snapchat game. "I feel like I snap so much more because I have it," she said.
Of course, the queen of selfies uses that flattering, dimming LED lighting to capture her always enviable, mostly professional but sometimes DIY glam, too. Kardashian told The Huffington Post after working with so many different makeup artists, she has been able to figure out the things she can do well herself and the things she just needs to leave to the pros.
"I know my lane. I can really do mascara and curl my lashes and I'm really good at contouring. I'm not as good on myself at shadows and liners and all that, but if I just want a dewey look that is still chiseled, I'm good," she said.