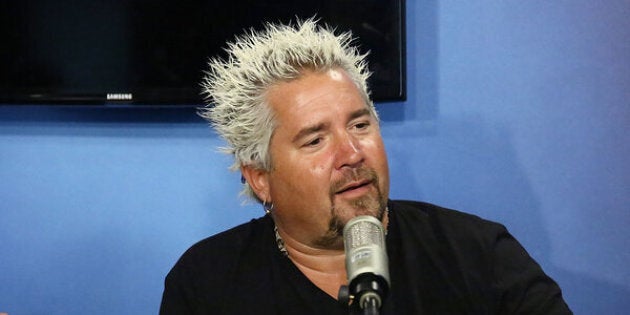 Like the 2014 viral image before it, this visual trip to flavor town ― uploaded to Reddit by user thelegitlemur after she originally posted it on her company's website― is merely a result of Photoshop and wishful thinking. But a real change could soon be a reality, if Fieri's wife has her way.
Fieri recently told CBS that contrary to popular belief, he "didn't do [his spiky blonde] look to be on TV" and doesn't "keep the look because I'm on TV." In fact, this man is in charge of his hair's own destiny, declaring he doesn't "do anything that I 'have' to do."
But his wife joins the millions of other people in America hoping for change: "There's been quite a few conversations between me and my wife; she'd like to see my hair brown again," he said. "So who knows what will happen."
What will he do? Shave it all off? Keep the spikes? Go back to the long hair he used to have? We can't see that last one going so well, what with all those big messy bites and all.
Meanwhile, until he decides, we can only stare at this mock-up from Reddit and shudder.