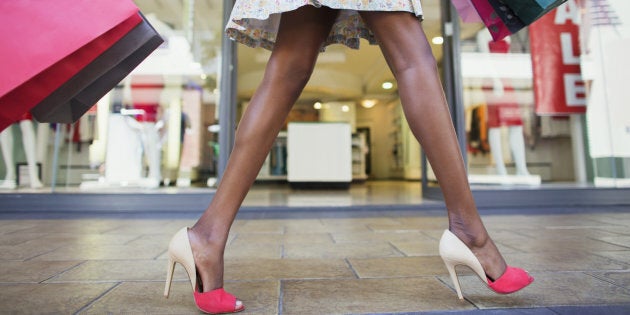 In a world where fast fashion rules and going a month without buying something new is a rarity, Salvos "Fashion with a Conscience" campaign couldn't come sooner.
Kicking off on Monday to support National Op Shop Week, the campaign encourages Aussies to jump on the slow fashion movement by reusing, recycling and reinventing their wardrobe pieces.
"'Fashion with a Conscience' is about opening people's mind to the idea that maybe you don't need to buy that new top, maybe you can hit an op shop and see what they have," Faye De Lanty, eco stylist, fashion commentator and Ambassador for Salvos Stores told The Huffington Post Australia.
"It's about being mindful with your fashion dollar," De Lanty said.
Customers in QLD, NSW and ACT can enjoy a 50 percent discount at all Salvos stores on Monday August 22 and De Lanty said she hopes the campaign will encourage those who may not have been keen op shoppers in the past.
Did someone say discount?
"In the past there was the perception that op shopping was predominantly about retro and vintage and a place you might go to get a party costume, but what you'll see across our stores and boutiques is that it's really fashion forward."
"We work really hard to make sure that the things that hit the floor are what you would see in the main retail stores," De Lanty said.
Each year, Salvos Stores divert 15,000 tonnes of clothing and household items per year from landfill.
"When you choose slow fashion you're not only helping people that are less fortunate but you're preventing that from going to landfill -- and that's what happens quite quickly with fast fashion," De Lanty said.
A Stylist's Guide To Op Shopping

Always look for the fashion fundamentals; denim, leather, white t-shirts, black jackets, little black dresses, little white dresses, khaki, neutral tones.

"They form the basis of our wardrobe and they're the pieces that we can mix and match and reuse time and time again," De Lanty said.

When you go op shopping, treat it like a normal shopping experience. Look for pieces that you really need, that you'll really wear and are good quality.

"Have an idea in mind of what you want. Just because it's inexpensive doesn't mean you should buy a bunch of stuff, it goes back to that idea of being mindful," De Lanty said.

Become friends with your local op shops, get to know when they receive new donations.

Have a good tailor on speed dial. "Maybe the Chanel jacket you found has boxy shoulder pads, though all it may need is a simple alteration," De Lanty said.