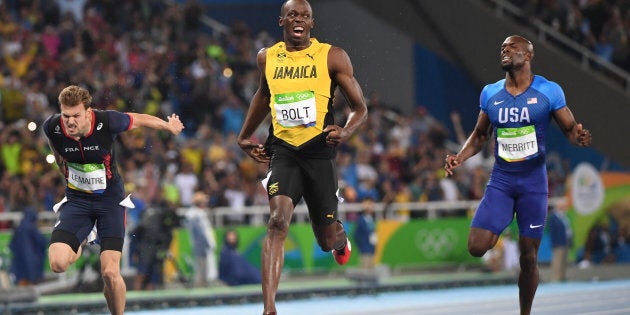 RIO DE JANEIRO -- Usain Bolt has won the 200m final at the Rio 2016 Olympics in his most dominant performance in a big race in years.
He started brilliantly by any standards and simply increased his lead throughout, finishing in a time of 19.78 as the crowd chanted "Usain Bolt, Usain Bolt, Usain Bolt".
"I don't need to prove anything else. What else can I do to prove to the world I am the greatest?" Bolt asked after the race. Safe to assume it was a rhetorical question.
Incredibly, no man had ever won the 200m twice in succession at the Olympics before Bolt erased that that little piece of history with his wins in 2008 and 2012.
It goes without saying then, that no man had won three. Let alone three straight 200m titles in addition to an unprecedented three straight 100m titles, which Bolt wrapped up four nights earlier.
Bolt had been his usual playful self in the semi finals, looking over and smiling at rival runner Andre de Grasse of Canada (who took bronze in the 100m).
He came out for the final to a roar so loud, it completely drowned out the stadium music which had been blaring away all night between races. The song, as far as you could tell in the few moments before the sound was crushed, was Welcome to the Jungle.
In this jungle there was only one predator. The rest were prey.
There was the boogie on the start line. The kisses to the crowd. The nods. Like he knew what would happen before it did. Because he did. Because we all did.
The rain came down about 20 minutes before the final, leaving the track slick. But not as slick as the 29-year-old Jamaican, who was already the greatest sprinter of all time before this race, but is just a little greater now.
He doesn't set records anymore. The world record in this event is 19.19. He just sets stadiums alight with his deeds. Andre De Grasse took silver and Christophe Lemaitre of France took bronze.
Bolt will go for the triple triple in the men's 4 x 100m relay on the final day of track and field competition.
"I am trying to be one of the greatest. Be among Ali and Pele," Bolt said on a fabulous evening in Rio. As mentioned, he's there already. The Jamaican was already the most popular man in town, but he will have won a few extra friends after comparing himself to Brazil's greatest footballer.