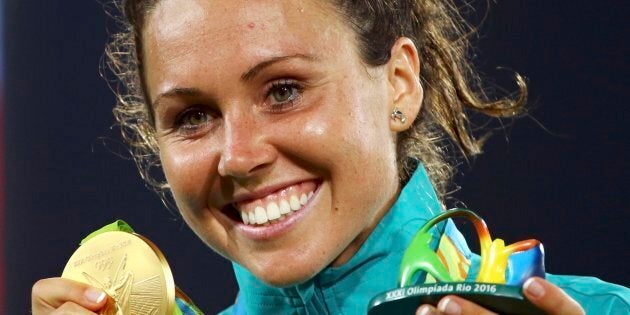 Chloe Esposito has won surprise gold in the women's modern pentathlon, after the Sydney-born athlete surged from seventh overall after the first three events.
Esposito clinched first place in a thrilling finale, claiming gold with a Olympic record of 1372 points ahead of silver medallist Elodie Clouvel of France and Poland's Oktawia Nowacka.
Earlier, Esposito, 24, launched herself into medal contention with the show jumping, earning 284 points, for a total of 809 points, just 8 behind the competition leader Oktawia Nowacka of Poland.
Medal favourites the London gold medallist Laura Asadauskaite failed to finish the show jumping round after her horse refused four jumps, while the Beijing champion Lena Schoneborn also suffered the same fate. This put them out of medal contention.
Esposito's win comes after a solid Rio 2016 campaign with a strong start in fencing on Thursday, achieving 19 victories and 16 defeats.
It was a big turnaround for the Camden-born athlete, with fencing previously having been Esposito's poorest discipline. But after her seventh-place finish in London 2012, she moved to Hungary with her father and coach, Daniel, to work specifically on fencing. What a move.
The modern pentathlon comprises fencing, 200m freestyle swimming, show jumping, and a final combined event of a 3200m run and pistol shooting. It's the event in which Australia's Rio chef de mission, Kitty Chiller competed at the Sydney 2000 Games. Chiller was seen screaming in an unusually animated fashion throughout the event.
This is Australia's eighth gold medal of the Rio 2016 Olympics and lifts us from tenth to eighth on the medal tally.
Esposito told reporters in Rio the shock win was still sinking in.
"I'm over the moon, I can't describe how I'm feeling at the moment, it has not really sunk in, I'm so so happy," she said.
"I was just thinking I want to enjoy this and see what I can do."
She paid tribute to all her supporters who had helped her along the way.
"It's not just me, it's everyone around me, all my family, my friends, everyone has helped me," Esposito said.
"I hope a lot of young people want to get into pentathlon .. it's such a great sport."