In the end, it was not quite the walkover Australia had hoped for. But Jared Tallent still won a fantastic, gutsy silver medal behind Slovakian Matej Toth in the 50km men's race walk at the Rio 2016 Olympics.
Tallent was the defending Olympic champion. He finished second in London but was awarded the gold medal at a ceremony in Melbourne just before the Rio Games after the Russian who beat him was disqualified for doping offenses.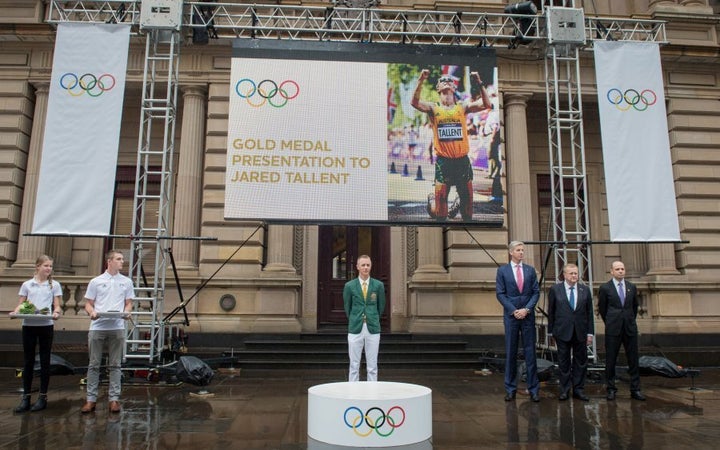 That made Tallent one of only seven male track and field gold medallists in Australia's Olympic history. He now owns a total of four Olympic medals across three Games -- a gold, two silvers and a bronze.
"I'm at my peak," Tallent told The Huffington Post Australia on the eve of flying out to Rio to defend his title. He wasn't wrong. Tallent looked so strong out there on a hot day in Rio, with temperatures touching 27 degrees before midday.
He walked his own race for the first half of the gruelling three-and-a-half-hour event. Canadian Evan Dunfee made a breakaway, but the pack hauled him in.
He made his move with 10km to go.
And within a couple of kilometres, he had established a really handy lead.
With a couple of kilometres to go, things were getting nervous.
The Slovakian world champion then caught and passed our man with not much more than a kilometre to go, even as Australia urged him to hang on.
Tallent looked in incredible pain in the final stages, but held on for silver before collapsing on the road. His little legs and huge heart had given all they had.
"I wanted to win," the exhausted Tallent said afterwards. "That was the main aim after what happened in London.
"I gave it everything, but probably went a little bit too early. At the 40km mark I was feeling really good, so I thought I'd put in a big lap and try to make the break then. But I really paid for it with about 4km to go."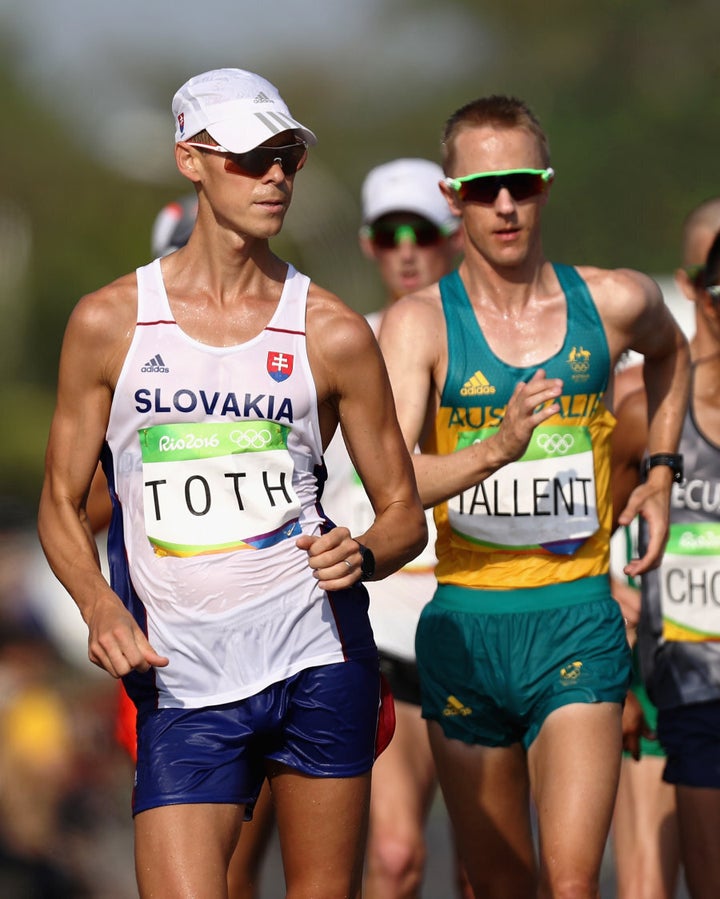 Matej Toth won in a time of 3:40:58. Tallent was 18 seconds back, with Japan's Hirooki Arai in the bronze medal position, a further eight seconds behind.
"When Matej caught me with about a lap to go, I just had nothing in the legs. Just couldn't hold on," Tallent said.
So it wasn't the gold medal Australia had craved from our largest athletics team since the Sydney Olympics, but it was still something pretty special. Without being in the least boastful the 31-year-old originally from Ballarat had said he was in good form. He talked the talk and walked the walk. But the winner was just a little too good.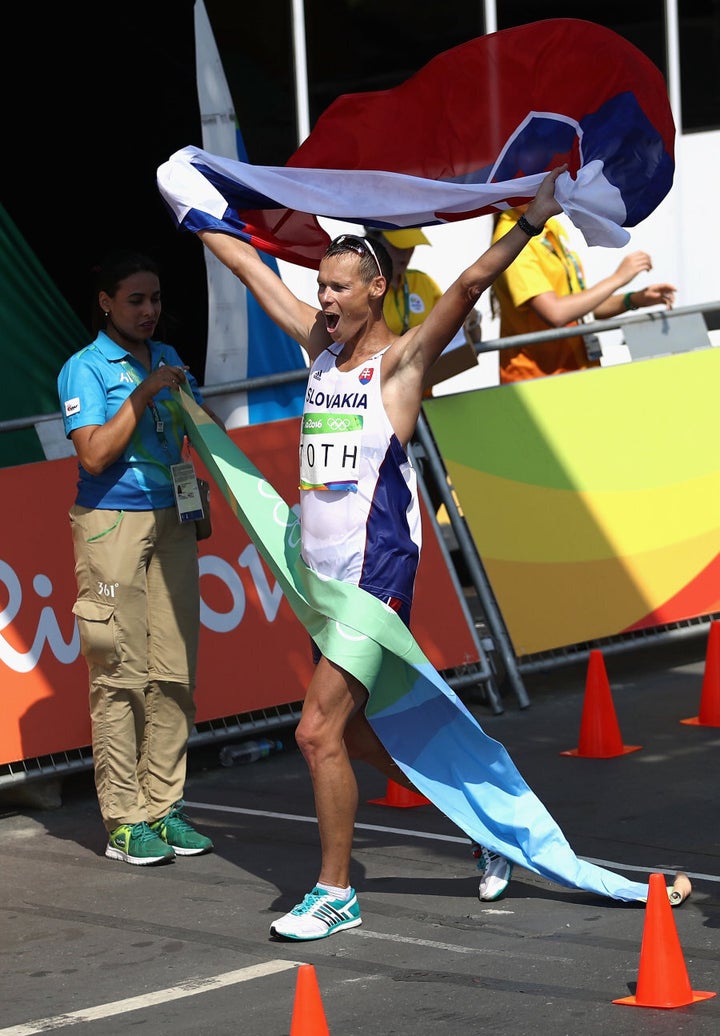 And there's every indication he's not done yet in his Olympic career.
"50km, three Olympics in a row, three Olympic medals, so I'm pretty stoked. It's a bit of history. It's something I'm very proud of. Hopefully I can come back in four years' time and get another gold medal. I'll aim for that," he said.
"I'll just keep going until I can't keep it up anymore."
The gold medal will be celebrated long and hard in Slovakia. Toth is a four-time Olympian who despite being world champ, had never won a medal of any colour at the five-ringed circus.
Australia's other competitor, Chris Erickson, finished 10th.