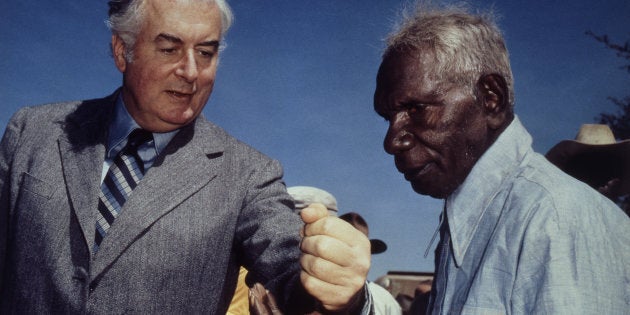 Thousands of people have joined a re-enactment of the Wave Hill Station Walk-Off, a landmark protest for Indigenous rights that occurred 50 years ago today.
In 1966, 200 stockmen, house servants and their families walked off the Wave Hill Cattle Station in protest of unequal pay and appalling living and working conditions for Aboriginal workers.
The protest action by Gurindji people of the Northern Territory eventually lead to a new land rights act and the partial return of land to Indigenous people.
The historic event is being commemorated at a three-day Freedom Day Festival at the top end.
People walked with banners as they marched -- many of them descendants of the Gurindji people while others witnessed the protest 50 years ago.
Earlier in the day, a series of speakers addressed those present, including Gurindji elders who were involved in the Walk Off.
However, when the Indigenous Affairs Minister Nigel Scullion spoke, a small crowd turned their back and called out, "Always was, always will be, Aboriginal land".
Speaking at the ceremony, Opposition leader Bill Shorten said: "They were fighting power, privilege, money, racism."
"It makes us all better Australians because of this."