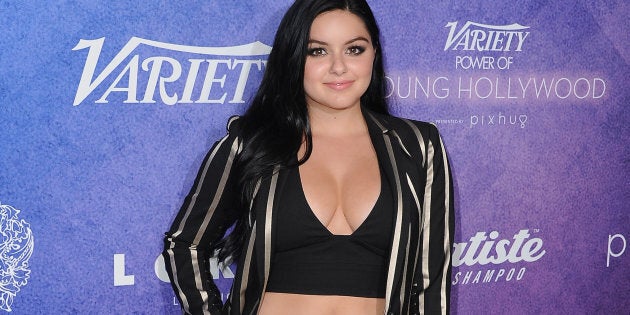 This just in, folks: Everyone has a butt.
And actress Ariel Winter isn't afraid to show hers off — she just wants you to stop talking about it.
"Everybody is so hyped up on the fact that I post photos where my butt's out. It's a butt. Everyone has a butt," she told Entertainment Tonight on Tuesday. "I don't think it's crazy."
"I'm not going to fight with someone on my Instagram that tells me they don't like my outfit or I should put my butt away," the 18-year-old continued. "I'm sorry you think I should put my butt away, but just unfollow me."
But while she may be catching some flak for showing off her backside now, dealing with body shamers isn't anything new for the "Modern Family" star.
"So trashy and unrefined. You look like a porn star. What's happening to you? Oh I guess you just realized you had boobs? 2.4 billion other women on this planet have boobs too," another troll commented.
However, despite the hate, the star didn't back down and responded to the naysayers via Twitter.
"Dear sorry body-shamers," she tweeted. "I looked HOT in that dress. And if you hate it, don't buy it. But please get a hobby. XOXO Ariel #EmbraceYourBody"
Luckily, Winter has some great women in her life to look up to that have taught her to be proud of her body, she also told ET.
"I really had the greatest opportunity to have some wonderful role models, especially Sofia Vergara," Winter shared. "Working with a curvy beautiful woman that everybody looked up to and loved the way she looked… that was my inspiration to move forward and accept myself because that's what matters."