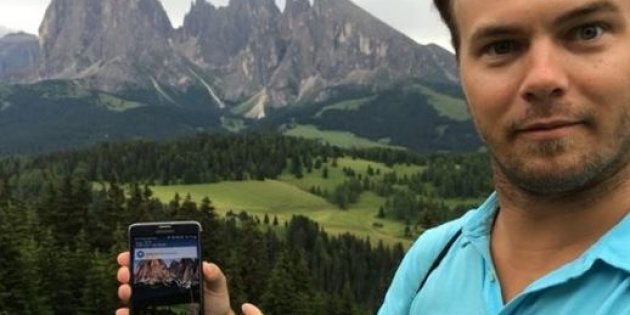 Sometimes, life can be as pretty as a picture. Literally.
Jarrod Robertson from Birmingham, Alabama, was at the top of a ski lift in the Italian municipality of Kastelruth when he realized the view before him miraculously matched the phone background he'd had for two years.
Robertson recently shared his story on Reddit along with a picture of himself holding his phone against the IRL Dolomites mountain range landscape. Social media users were understandably impressed.
Trippy, right?
The Redditor, who lived in Italy for about 6 months, told The Huffington Post that before moving there, he searched for picturesque mountain towns to visit, found a pic featuring a gorgeous view and made it his phone background before trekking out to see it in all its glory.
He knew the mountain range featured in the photo and that the picture was taken somewhere around the Seiser Alm area in Northern Italy, but didn't have much information beyond that. Still, he set out to find not only the mountain but the exact view in the shot.
His first attempt was unsuccessful. Instead, he discovered the municipality of Santa Cristina Gherdëina, where he ended up taking his family months later. It was following their visit to the village that Robertson's family took the fateful ski lift. And this time, he wasn't even looking for the scenic landscape.
"When we got to the top of the lift I COULDN'T BELIEVE MY EYES!" Robertson said of the moment he saw the mountains Langkofel and Plattkofel in the background. "I was freaking out, taking pictures with the same dumb look on my face that my brother finally captured in a picture once I had settled down some."
Now, the Redditor's background is of Patagonia and he definitely plans on scouting out that view sometime in the future.