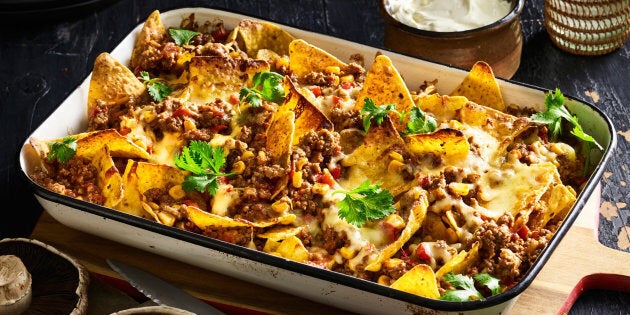 You either love mushrooms or you really, really hate them (we promise you, though, you just haven't had them properly).
Aside from their versatile flavour, mushrooms contain B vitamins and are high in vitamin D and folate. Mushies also contain 'umami', a rich, meaty and brothy taste that adds depth and bulk to dishes.
While mushrooms pair perfectly with meat, they also make a hearty addition to meat-free, plant-based meals.
For those who are mushroom obsessed (and to convert those who aren't), The Huffington Post Australia rounded up five delicious recipes for Monday right through to Friday, so you can sneak in those delicious fungi at any time.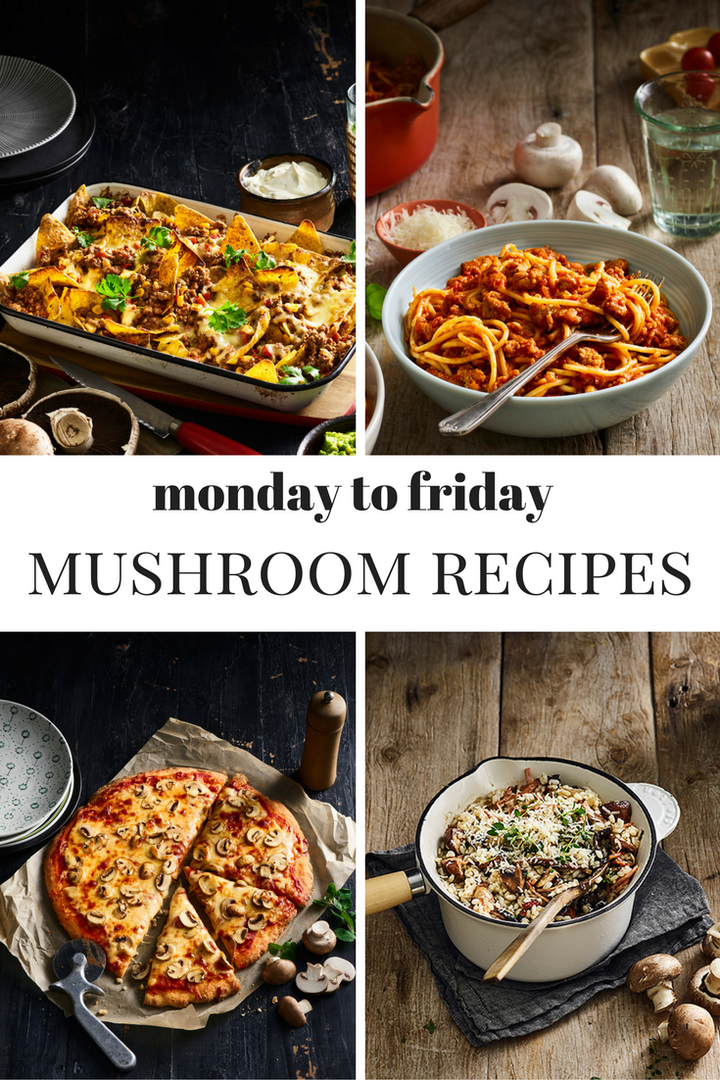 1. Monday triple decker nachos
Who said nachos was a weekend meal? These triple decker mushroom and pork nachos are full of flavour thanks to fresh coriander, guacamole, corn and Mexican spices like paprika, while the corn chips add crunch factor. And don't forget the cheese.
200g cup mushrooms
2 portabella mushrooms
1 tbsp olive oil
1 red onion, finely chopped
2 garlic cloves, crushed
1 red capsicum, chopped
1 x 400g can corn, drained and rinsed
¼ cup tomato paste
1 tbsp harissa
1 tsp ground coriander
1 tbsp brown sugar
1 tsp paprika
300g pork mince
300g corn chips
250g grated cheese
1 bunch coriander, leaves picked
1 avocado, stone removed, peeled
Juice of 1 lemon
Sour cream, to serve
1. Place all mushrooms in a food processor and blend to form a paste. Heat oil in a fry pan over high heat. Add mushroom, onion, garlic, capsicum, corn, tomato paste, harissa, sugar and spices. Cook for six minutes until softened and beginning to caramelise. Add pork mince and use a spoon to break it up. Cook for a further six minutes, stirring frequently until cooked through and mince is coated in sauce.
2. Combine avocado and lemon juice in a bowl, using a fork to mash together. Season and set aside.
3. Preheat a grill on high. Place half the corn chips in an oven safe dish, cover with a third of the cheese. Place under the grill for three minutes. Add half the mince then layer with the remaining corn chips and half the remaining cheese. Grill for a further three minutes. Finish with remaining mince and cheese and grill for four minutes until golden and the cheese is melted.
4. To serve, top cheesy nachos with avocado, coriander leaves and sour cream.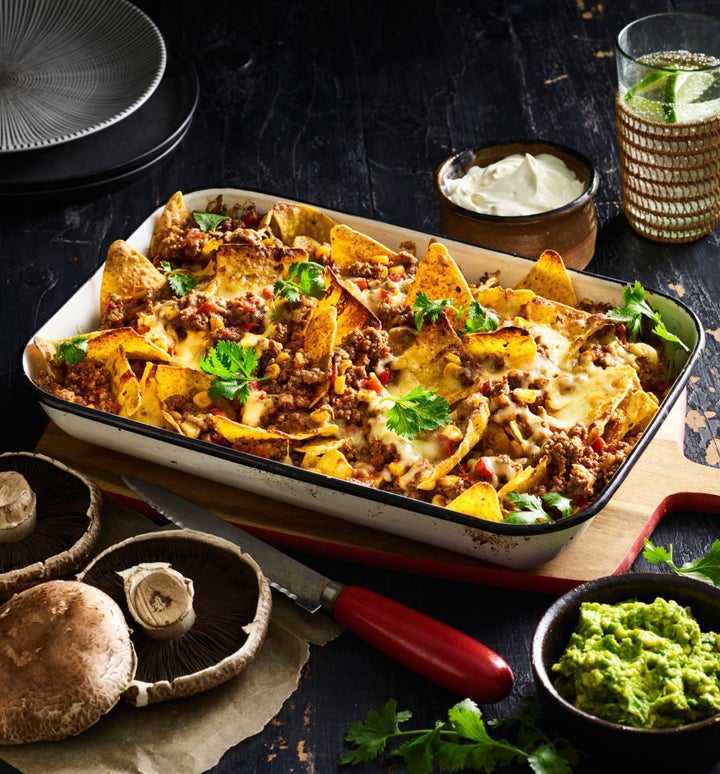 2. Tuesday pork sausage spaghetti bolognese
If you're bored of plain mince bolognese, it's time to try spag bol with mushrooms and pork sausages. The mushrooms and herby sausages complement each other, while the garlic and parmesan add another level of flavour and depth. If you're vego or vegan, try subbing the sausages for brown lentils. Yum.
400g cup mushrooms
1 brown onion
2 garlic cloves
2 tbsp olive oil, extra for drizzling
300g pork sausages in natural casing (Cumberland, Italian or pork and fennel)
¼ cup salt-reduced tomato paste
1 cup tomato passata sauce
300g spaghetti
Basil leaves and 20g parmesan, to serve
1. Heat a large non-stick fry pan over high heat. Place mushrooms, onion and garlic in a food processor. Process to form a thick paste. Add mushroom mixture to the hot pan, squeeze sausage meat out of the casings and cook for six minutes.
2. Add tomato paste to mixture and cook for a further four minutes. Reduce heat, add tomato passata and simmer for a further two minutes.
3. Meanwhile, bring a large pot of water to the boil and cook pasta to packet instructions. Strain and set aside.
4. Add pasta to sauce and serve with basil leaves and shavings of parmesan.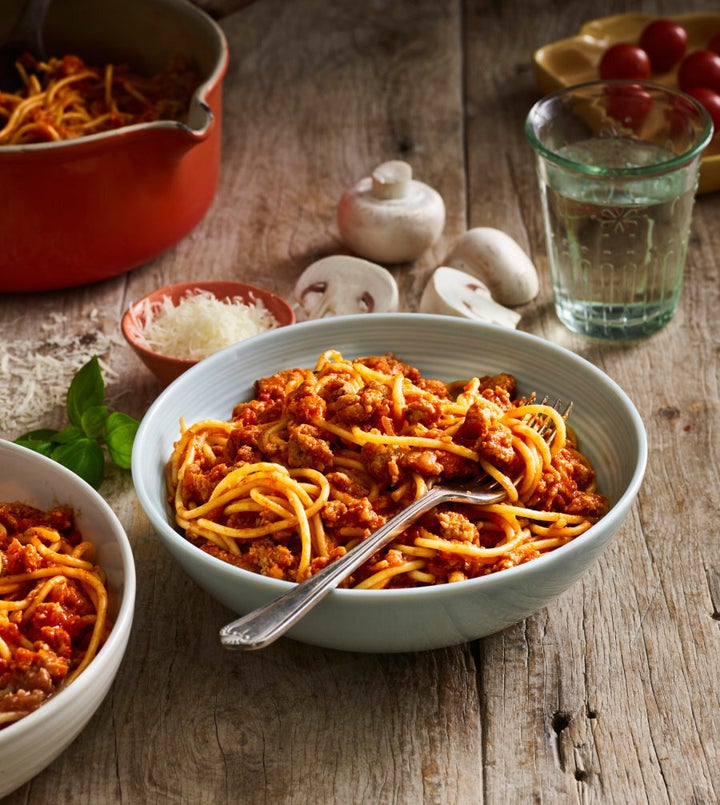 3. Wednesday mushroom and bacon risotto
This simple one-pan wonder pairs mushrooms with crispy bacon and fresh thyme, arguably the best mushroom combo ever.
1 litre chicken stock
2 bay leaves
1 bunch thyme
4 rashers bacon, sliced
25g butter
1 tbsp olive oil
1 brown onion, finely diced
2 portabella mushrooms (150g), sliced
100g Swiss brown mushrooms, quartered
1½ cups arborio rice
⅓ cup (85ml) white wine
Parmesan, to serve
1. Place stock, bay leaves, thyme and 250ml water in saucepan over high heat bring to the boil. Stir to break up thyme. Pour into a bowl and set aside.
2. Heat bacon in a non stick fry pan over medium heat and cook for four minutes or until golden. Remove with a slotted spoon and set aside.
3. Add butter and oil to the pan and stir until the butter melts. Add onion and cook for three minutes to soften. Add sliced mushrooms and rice. Cook, stirring for four minutes until coated and glossy. Add wine and stir until absorbed. Add stock 1½ cups at a time, stirring until absorbed between additions until rice is al dente (this should take about 25 minutes).
4. To finish, stir in remaining butter and divide between bowls. Return bacon to pan to warm through. Toss through with any remaining thyme leaves from stock bowl and scatter over bowls with parmesan to serve.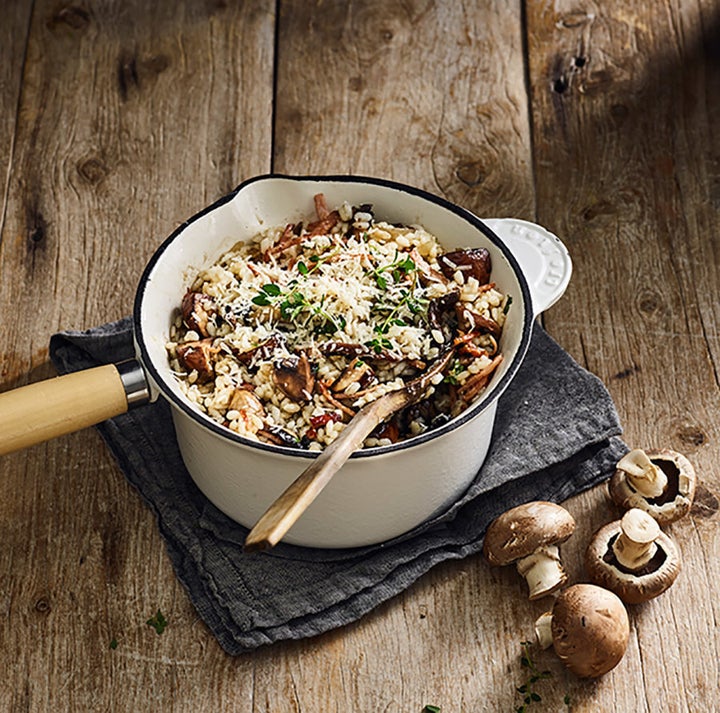 4. Thursday spicy chilli con carne
Best served with guacamole and brown rice, this delicious chilli con carne is a quick, easy dish full of mushrooms, Mexican spices and beans. If you like it hot, a kick of cayenne pepper takes this chilli con carne to new levels.
2 tbsp olive oil
1 red onion, finely chopped
250g finely chopped flat mushrooms
1 bunch coriander, stems finely chopped, leaves picked
400g beef mince
1 tbsp tomato paste
1 tbsp ground cumin
1 tbsp smoked paprika, plus extra for sprinkling
¼ tsp ground cayenne pepper
2 x 400g can crushed tomatoes
1 x 420g can kidney beans
Sour cream and steamed rice to serve
1. Heat oil in a large deep sided fry pan over medium heat. Add onion, mushrooms then add chopped coriander root and cook for 4-5 minutes until softened.
2. Add mince and cook for five minutes to brown slightly. Add tomato paste and spices. Stir to coat the meat and cook for two minutes to caramelise slightly. Add tomatoes, kidney beans and one cup of water; bring to the boil. Reduce heat to medium-low and simmer for 15 minutes until thickened slightly. Season to taste.
3. Serve with rice, coriander leaves and sour cream sprinkled with extra paprika.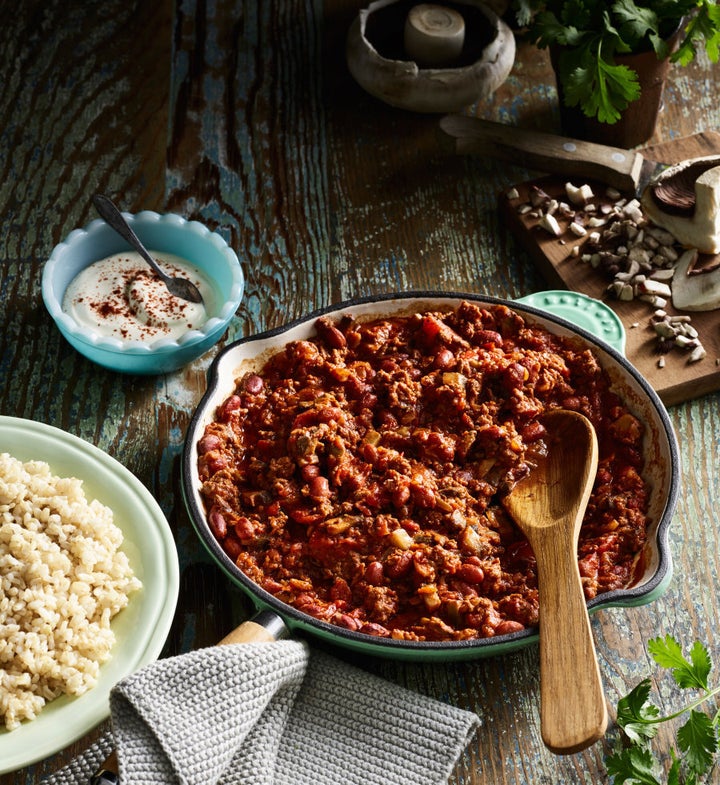 5. Friday cheese and mushroom pizza
Friday isn't Friday without a slice (or six) of pizza, especially when it's topped with gooey cheese and salty mushrooms. This pizza base is made from scratch but if you're time-poor (or lazy), feel free to buy a pre-made base.
300g self raising flour, plus extra for dusting
300g Greek yoghurt
1½ tsp baking powder
¼ cup olive oil
1 garlic clove, finely grated
⅓ cup tomato passata sauce
200g pizza cheese
100g button mushrooms, sliced
1. Preheat oven to 220°C fan forced.
2. Place flour, yoghurt, baking powder, one tablespoon of olive oil and one teaspoon salt in a food processor. Pulse until it forms a dough. Place dough on a floured surface and form a ball. Roll out with a rolling pin to form a 30cm circle.
3. Combine garlic and oil in a small bowl, then season with salt and pepper. Brush some of the oil over the pizza tray. Cover with dough and brush with more oil. Add passata to remaining oil, mix and use to coat the dough. Top with cheese then mushrooms.
4. Bake in the oven for eight minutes. Switch the oven to grill and cook for a further two minutes, or until golden and the cheese is bubbling. Slice and serve.