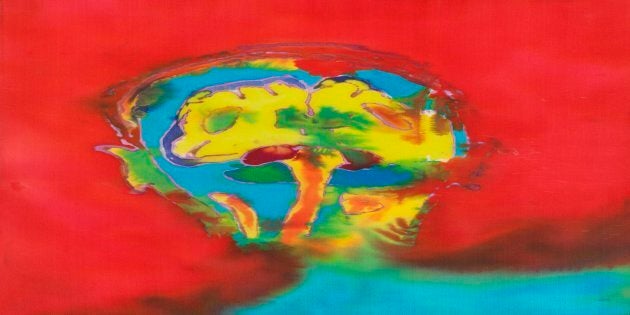 Shortly after Elizabeth Jameson was diagnosed with multiple sclerosis (MS) in 1991, she became obsessed with the inside of her mind.
Jameson would undergo brain scan after brain scan to track the progress of her disease, a process that unlocked what she calls "a deep fascination with the architecture of the brain." Confronted with a slew of magnetic resonance images, or MRIs, she was able to see exactly what her "imperfect" brain looked like. "Frightening, yet mesmerizing," the colorless images helped her to come to terms with an otherwise perplexing chronic illness, which would eventually render her quadriplegic.
Still, there was something missing in those scans.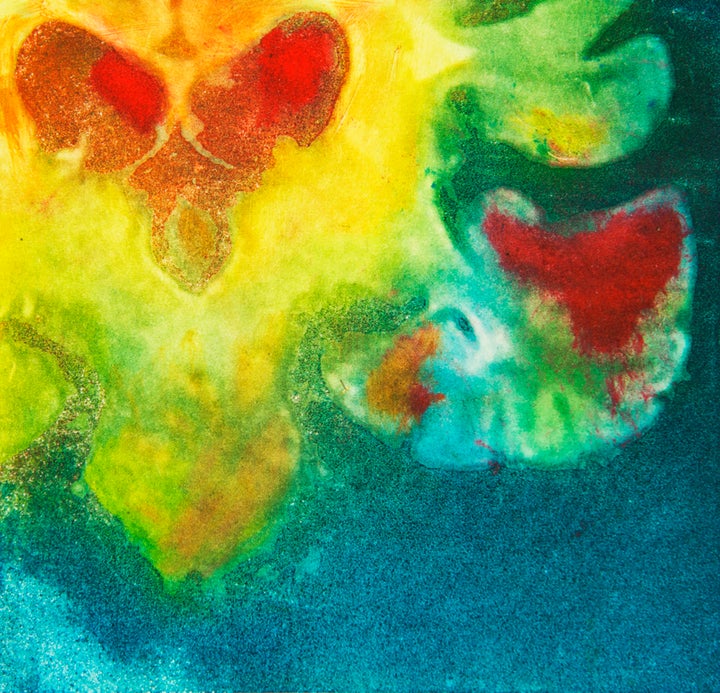 Her scans originally appeared as stark black-and-white visualizations, reflective of the clinical environment from whence they came. With little other color or dimension to illustrate her complicated experience with MS (though some MRIs do reflect the pigmentation of contrast agents), these "portraits" of her brain seemed incomplete. So Jameson, based in San Francisco, set out to change that.
With no background in art, she began using her brain scans to celebrate her mind, reinterpreting the images that represented her ever-changing understanding of living with a progressive disease. In the process, she became an artist. "In many ways, art has become my voice," she explained in an email interview with The Huffington Post.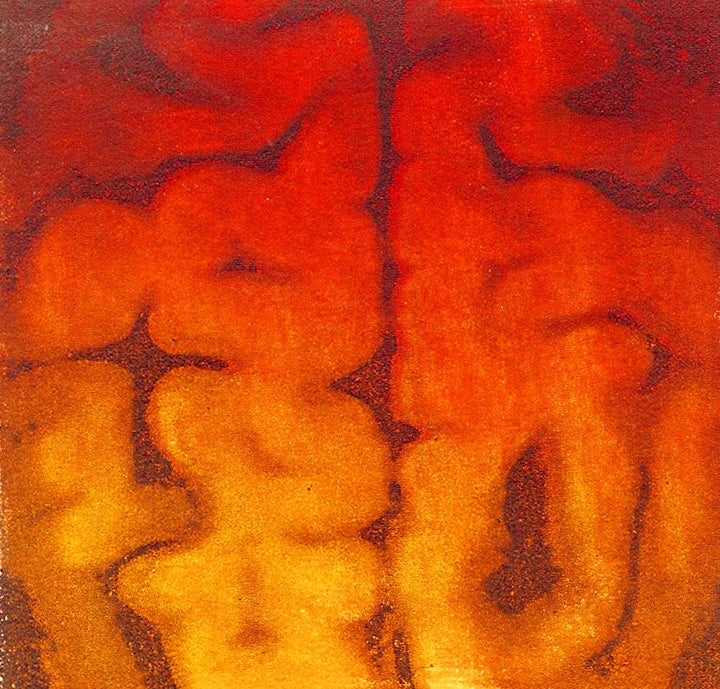 Jameson's art includes silk paintings and copper etching prints, most of which use brain scans as their jumping off point. Washed in rainbow hues, her work functions as a kind of self-portraiture. Instead of carefully sketched brows or laugh lines, her self-portraits feature axial views of the cerebellum and coronal views of the brain stem. Based on her actual MRIs, the new images are meant to inspire and motivate doctors, patients and loved ones impacted by disease. They are meant to provide visualizations that are "interesting and fascinating, not repulsive or frightening."
"Inspired by the brain's ability to change and adapt, my work exists in the spaces between science and art, between society and disease," Jameson said. "I aim to expand the conventional definition of portraiture by challenging viewers to question what it means to be flawed ― to be human."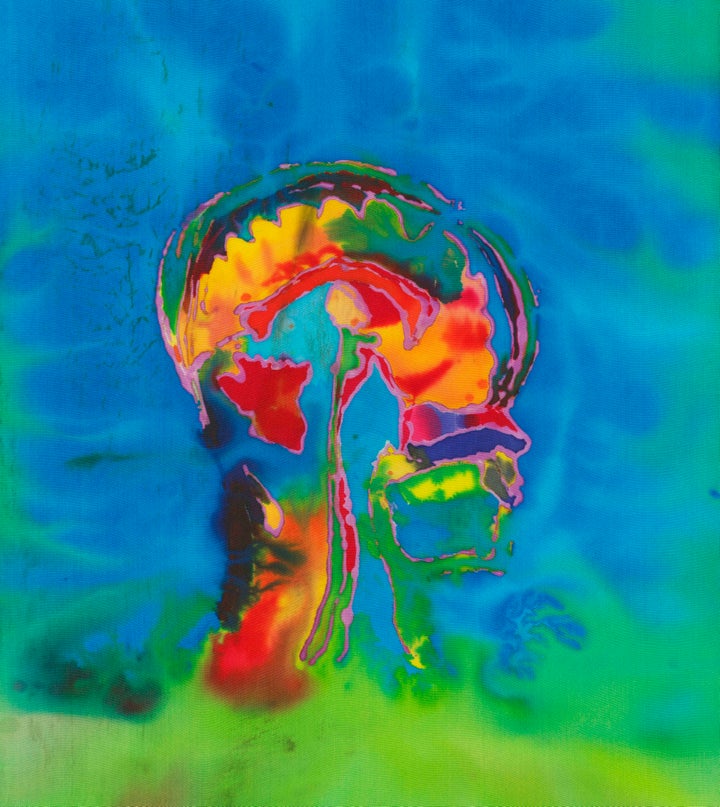 Before she became an artist, before she was diagnosed with MS, Jameson was a Stanford-and-Berkeley-educated civil rights lawyer who represented vulnerable populations in their efforts to gain access to medically necessary healthcare. After a lesion in her brain left her temporarily unable to speak and quadriplegia prevented her from practicing law, she transformed into what she calls a "public interest artist."
Since she began making her unconventional self-portraits, Jameson says that she has felt driven by a strong desire to to find beauty in medical images. "Utilizing color and new forms of technology, I transform these images to challenge how researchers and clinicians see their work and to reshape how patients can come to terms with disease," she reiterated.

Jameson's stunning artworks, made with the help of assistants, are not purely educational, nor are they purely aesthetic. As she emphasizes, they "invite" viewers to ask questions about illness from a place of curiosity and intrigue, rather than aversion or alarm.
"I do not work for profit but to advance conversations about what it means to have and to celebrate imperfection of the body," she added. "Over the years, as I have seen positive responses from various communities, including patients, healthcare providers, scientists, and the general public, I have been inspired by the power artwork can have to [...] deepen the narrative around chronic illness. This is my core of mission, to create artwork that invites social engagement and encourages conversations."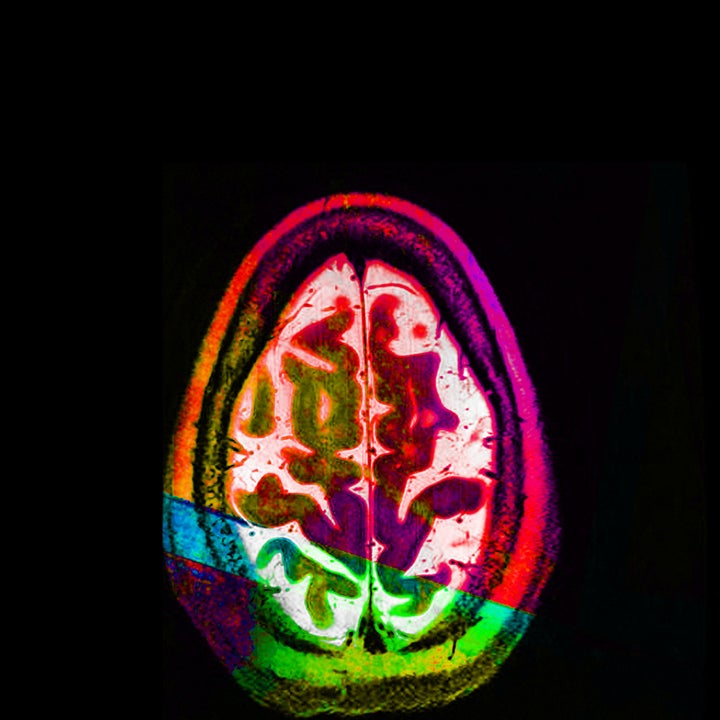 In our email conversation, Jameson described chronic disease as an ongoing natural disaster of the body, similar to a tsunami. She detailed, openly, how this kind of disaster leaves in its wake a real sense of fear and isolation. While she sees many illnesses depicted in mainstream media as belonging to a narrative that has a beginning, middle and end ― having "a flowing arc to the story" ― most illnesses lack a narrative that makes sense to outsiders. Jameson creates art, she says, in order to foster understanding and in order to connect the patients feeling overwhelmed, lonely or diminished to a greater community.
In the end, though, Jameson believes her art ― now included in the permanent art collections at places like the National Institutes of Health, Stanford University, Yale University, and the Center for Brain Science at Harvard University ― has the potential to speak to everyone.
"At some point in our lives, we all become patients and are challenged with accepting illness as a part of being human," she said.