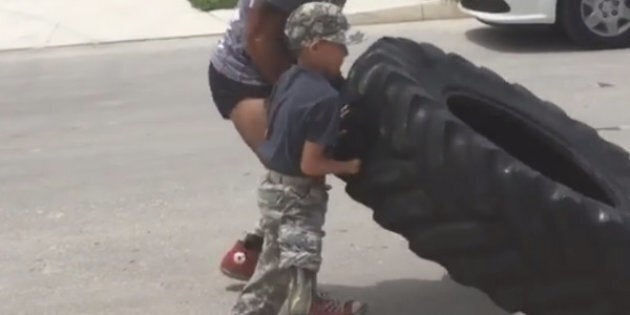 This young amputee's workout sesh with a veteran proved to be really uplifting.
A video shared across social media features Diego Mercado, a 10-year-old who was born with two fingers on his right hand and without a right leg, doing some serious training with retired Marine and fellow amputee Jose Sanchez at Warrior Fitness Center in San Antonio, Texas.
While the two trained together back in April, the video has recently gone viral. And with the level of strength and determination both Diego and Sanchez exhibit, it's easy to see why the clip has become so popular.
The pair, both using prosthetics, push the tire down the road under Sanchez's direction. The vet urges Diego along by saying, "Push it" and "Good job, man!" to motivate the boy.
Jason Mercado, Diego's father who's a captain in the Army, told The Huffington Post that Sanchez, who lost his leg in Afghanistan, completely surprised Diego with the workout that day.
Not only did they push tires, the pair also did push-ups and ran together, among other exercises at the fitness center, which was started by veterans. The proud dad, who's stationed in Texas' Fort Sam Houston, added that Diego also learned how to jump rope that day. All the while, the two were around other veterans and amputees who were also working up a sweat.
Mercado, who started nonprofit Team Diego ― which aims to help wounded veterans and kids with disabilities ― explained to HuffPost that Sanchez's workout was in part to show the boy what he was truly capable of.
"He has a prosthetic and he overcame his own challenges," Mercado said of Sanchez. "He was trying to show Diego he can rise above his own hardships."
The experienced proved valuable as Diego, whose dream is to be in the military, learned to "just keep going" and push through challenges ahead. What's more, by working out around Sanchez and other amputees, the boy told HuffPost that he truly felt like he truly "fit in."
Though the encounter was very meaningful to the boy, the meeting came about because Sanchez was inspired by Diego's willpower and positive attitude, after becoming aware of the boy through the fitness center's owners.
Mercado said that the workout was Sanchez's way of giving back to a boy who moved him so much.
You can support Team Diego below through CrowdRise.
Visit DoSomething.org to find out how you can make a difference.