CANBERRA -- How likely is this renewed talk, warnings even, of a possible Australian recession? If there is one will it be, to paraphrase Paul Keating, "one we have to have"?
The last recession was 25 years ago so a generation of Australians have never known one, and everyone else could be forgiven for forgetting what it is like.
"There is a terrible risk that our continued success has been steadily sowing the seeds of complacency."

Treasurer Scott Morrison
A recession is defined as two consecutive quarters of negative growth. According to prominent economist Chris Richardson from Deloitte Access Economics, recessions these days can "come out of the clear blue sky."
"It can seem unlikely today and almost with us three or four months later," Richardson told the Huffington Post Australia.
"I do think people under-estimate that Australia may have gone a quarter of a century without a recession, but that's involved a lot of luck and a lot of China."
"Chances are our luck is turning."
And when that luck turns and the next recession threatens?
"You want the Treasurer of the day to have a much healthier budget," Richardson said. "One that he or she would fight that down turn with."
"The likelihood of a recession in Australia at some time in the next decade is probably around two-thirds. And rising."
The Treasurer Scott Morrison issued a blunt economic warning Thursday as he laid the groundwork for a fight over budget repair ahead of the return of parliament next week.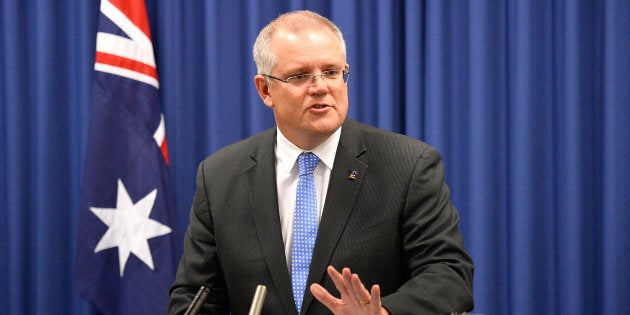 "Our debt now stands at around $430 billion, with interest payments at $16 billion this year, now one of the largest line items in the budget and growing," he said in the Bloomberg Address, a key economic speech in Sydney.
Treasurer warned gross debt would exceed $1 trillion in a decade under a worst case scenario in the Senate.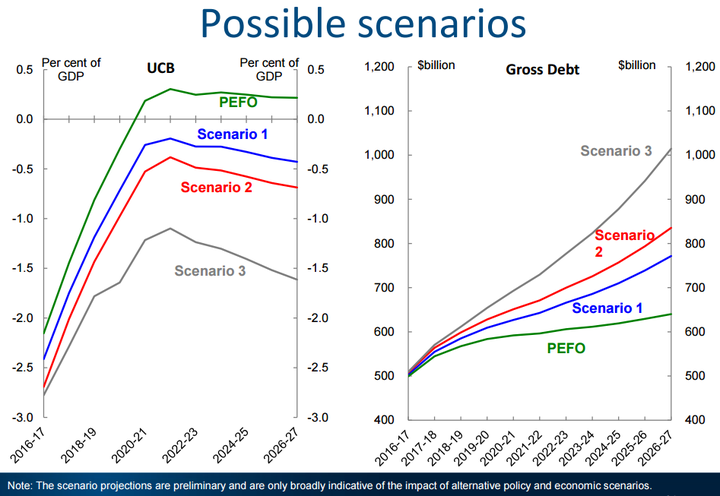 Ballooning debt and deficits, according to the Treasurer, are being dangerously accepted as normal.
"Deficits are dismissed as temporary, cyclical and self-correcting. If it means payments and services are maintained, then deficits are OK, just increase the taxes or increase the debt," Morrison said.
"Chances are our luck is turning."

Chris Richardson
Morrison praised Australia's just completed 25 years of consecutive economic growth, but warned it may "all go south".
"There is a terrible risk that our continued success has been steadily sowing the seeds of complacency," Morrison said.
"I do not want my kids to know what a recession is and everything that goes along with that."
But a rising budget deficit would not, in itself, cause a recession, according to independent economist Saul Eslake.
"If we were to eliminate the budget deficits, as the government wants to do, that would not have a material impact on whether we are likely to face a recession or not," he told HuffPost Australia.
"What it would do is strengthen our ability to respond to a recession, if one were to happen for other reasons."
"Both sides of politics have found it hard tell the people the truth."

Saul Eslake
"In Australia's history, all our recessions have been the result either of tight monetary policy implemented in response to inflation problem or to a shock from abroad. Or in many cases, both happening at the same time."
A recession brought on by a period of high interest rates seems remote, but Eslake and Richardson both say chances of a China shock are rising.
While there are challenges with the budget and economic growth, for the Treasurer, "there is a new divide: the taxed and the taxed-nots".
His priority, to deal with the shocks that "will inevitably come", is getting debt under control by "returning the budget to balance through disciplined expenditure restraint and a tax system that supports growth and provides sustainable revenues".
"Both sides of politics have found it hard tell the people the truth about that and to enact measures to withdraw measures that were given during that period that can't really be afforded right now," he said.
"I think the Treasurer is right to ask the Labor Party to support legislation enacting measures that Labor said during the election campaign that they would support. That is fair enough."
"But I think the Government is wrong in insisting that not only is there no role for revenue measures to improve the budget, but to proceed with big tax cuts that would actually make the budgetary position worse."
The Government is expected to introduce its 10 year company tax plan next week, as well as its $6.5 billion savings plan packaged together for bipartisan support in an "Omnibus Bill".