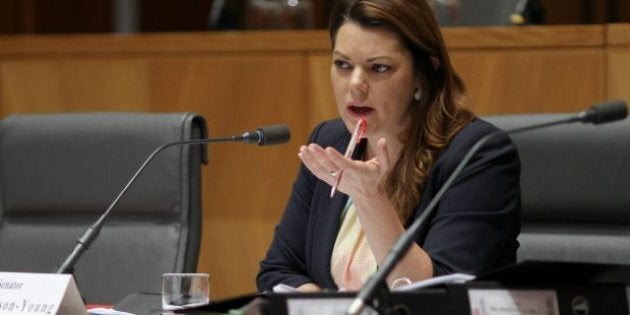 CANBERRA -- The federal politician synonymous with the plight of refugees and who has sparred with seven Immigration Ministers, Greens Senator Sarah Hanson-Young, has lost the immigration portfolio after nine years in the role.
The Australian Greens Party Room has shuffled portfolios Thursday just days ahead of the start of the 45th parliament.
The Immigration Minister Peter Dutton has described the moving of the South Australian senator as a "dumping" and "demotion."
Senator Hanson-Young loses the immigration portfolio to Tasmanian Senator Nick McKim and will speak for the areas of education, finance, trade, youth, arts and water.
In a statement, Senator Hanson-Young said she was disappointed, but accepted the change.
"I fought hard to keep the immigration portfolio, but ultimately it was a decision of the leader of the party," she said.
"While I am disappointed, I understand that politics is a team game and will work tirelessly in my new senior portfolio areas of Education and Finance."
The South Australian Senator has experienced significant personal abuse in her role, which she had turned around last year into a bit of YouTube fun.
There is no love lost with the Immigration Minister.
Peter Dutton has released a story statement indicating he won't miss their exchanges;
"Sarah Hanson-Young's dumping is no surprise," he said.
"Richard Di Natale obviously had enough of her outrageous and over the top behaviour and her demotion has been a long time coming."
Hanson-Young said she was proud of the contribution she has made in the role since 2007.
"The work of my team in recent years, along with many others, has exposed the systematic abuse of women and children on Nauru and has been central to changing public perception about offshore detention," she said.
"It's undeniable that the time to close the camps has come and I look forward to working with Senator Nick McKim, who will take on Immigration and continue the fight to restore our nation's generous heart.:
Senator McKim took to social media to say he was honoured to take the immigration portfolio.
"I'm humbled to be following in the footsteps of Senator Sarah Hanson-Young, who has for years been a lone, courageous voice in the Parliament for people who have been subjected to such inhumane treatment for far too long," he posted.
Greens Leader Richard Di Natale has congratulated the new Greens team.
"Every one of my colleagues should be proud of the work they have done in their portfolios over the past years and I am fortunate to go into this term with an experienced team from a diverse range of backgrounds and proven track record," the Senator said in a statement.
"This change gives our MPs an opportunity to take on new challenges as well as focus on issues of importance to the future of their home state and the nation."
"The team is energised by the challenge ahead," Senator Di Natale said.