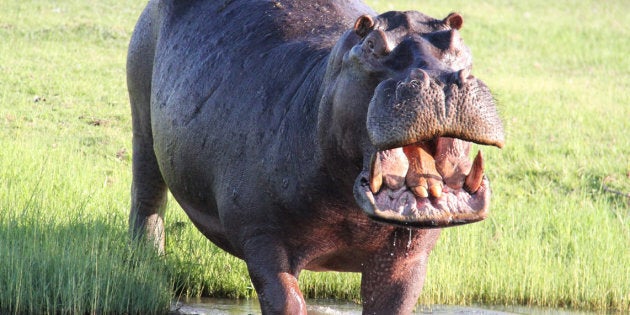 Sydneysider Rachelle Mackintosh has a keen eye for a great wildlife shot, which is what her beautiful wildlife blog Faunographic is all about, though words are the way she makes her living.
"Right now I'm the associate editor of Women's Health. My work has always been about words -- I've worked in magazine publishing since the late 1990s, in various roles from editor to chief subeditor to travel editor," Mackintosh told The Huffington Post Australia.
Her love of animals came before her love of photography, though they are excellent bedfellows. In addition to her blog she also posts selected shots to Instagram.
"My love of animals came first -- I've always been fascinated by them (I was that little kid who'd befriend snails and go AWOL with the family dog). I started playing around with point-and-shoot cameras in my early teens then got my first film SLR around 19 or 20."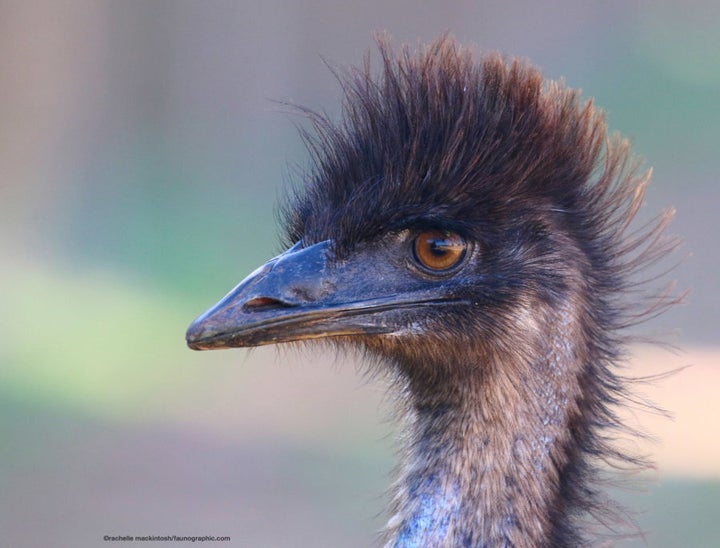 While she maintains a full time job and career in publishing, Mackintosh tried to get amongst the animal action as often as she can.
"I try to go overseas 2-4 times a year, but that depends on work and money (actually, just money!). And I try to do something every weekend when I'm at home -- whether that's going out on a whale-watching boat here in Sydney, heading to the 'burbs for birds, or exploring one of our incredible national parks (we're so spoilt here in Oz). The thing is, you don't need to go far to see something cool -- some of my favourite wildlife photos were taken right here in the city. Even in the CBD there are creatures all around us, and you'll definitely see them if you look for them," Mackintosh said.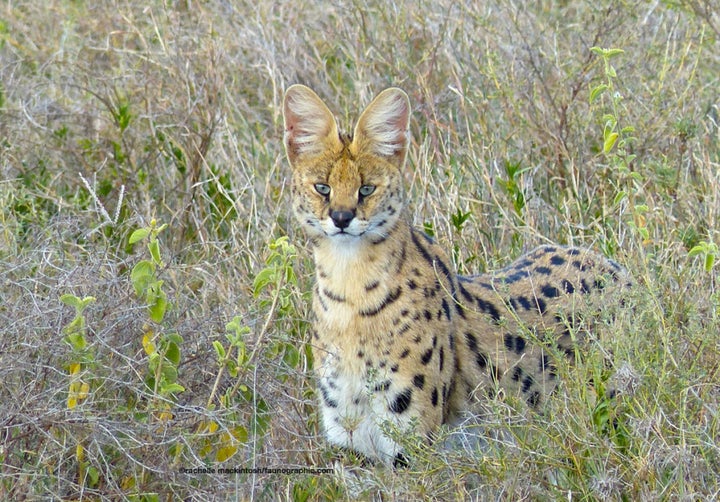 She's humble in her approach, though Mackintosh's passion has taken her to some pretty awesome places.
"The Durminskoye Reserve, in Far East Russia, was literally the coolest -- I was tracking the Amur tiger during the Siberian winter, and temps dropped to minus 38. That took some adjusting! Arctic Finland and Churchill (in northeast Canada) were marginally warmer. My favourite warmer spots include Namibia, Uganda, Borneo, Central India, Botswana, and WA's Ningaloo Coast. But as I said before, you don't have to go very far to have a top wildlife experience: in fact Sydney's Royal National Park is home to around 250 bird species, 43 different types of mammals, and 70 different reptiles and amphibians -- all just 26km from the CBD."
As for memorable moments, her favourites include encounters with rhinos, tigers and a farting polar bear.
"A few moments have stuck with me -- and not because the photos were especially good, but because the encounter was special. For example, in Kenya's Masai Mara I stumbled upon the legendary black rhino, Karanja, just a few days before he passed away at the ripe old age of 43. He was such a chilled old fella with one of the biggest horns I've ever seen; it was an absolute privilege to spend time watching him just "live life in his natural environment".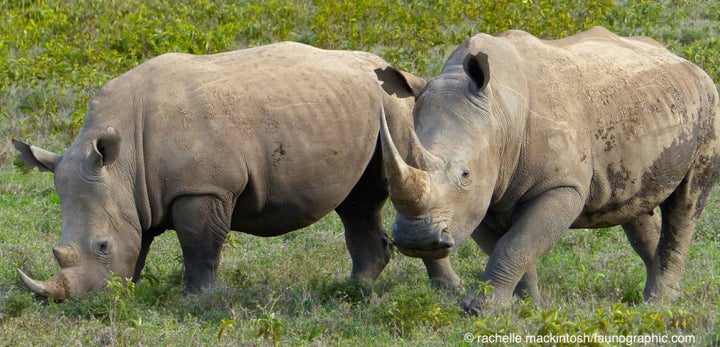 "Another encounter was in Kanha National Park, in India's Madhya Pradesh; I was alone with a guide/driver in a far corner of the park when we came across the park's then-reigning tiger king, Munna. We stopped the open-top 4WD and he came right up to the bonnet, as intent on watching me as I was him. He was not in any way aggressive, just idly curious – and when he looked me in the eye I knew I was totally irrelevant in that jungle... and felt very frail," Mackintosh said.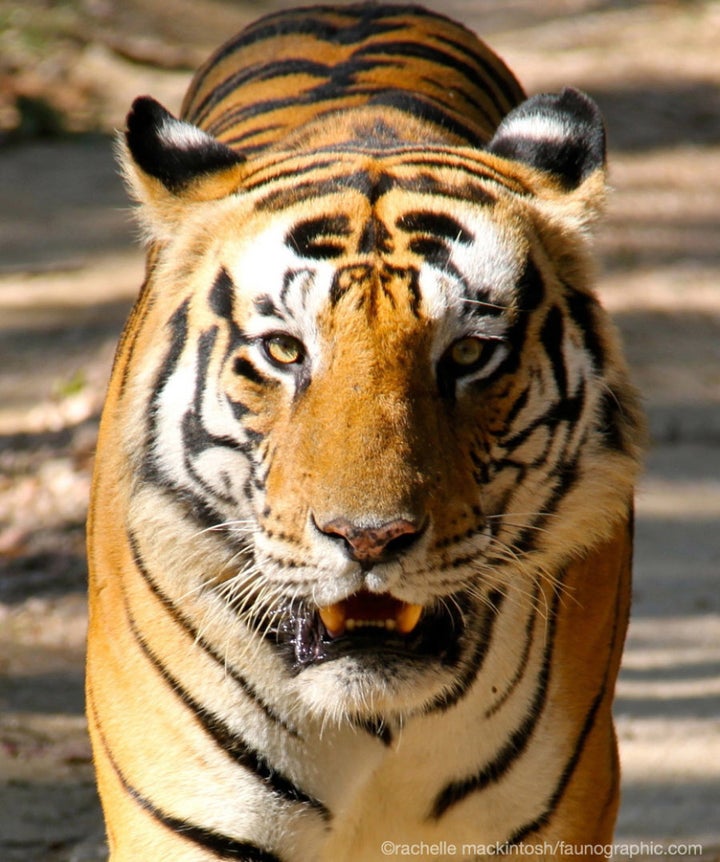 "Then there was the time I was tracking chimps in Kibale National Park, Uganda, when I was surrounded by shouty, hyperactive apes, bouncing in the trees all around me. It was pure mayhem. I happened to look behind me when I saw an older female sitting alone, away from the chaos, watching me intently. This moment of calm connection had a profound affect on me. Technically it's not the best, but it's one of my favourite photos and that encounter has always stuck with me."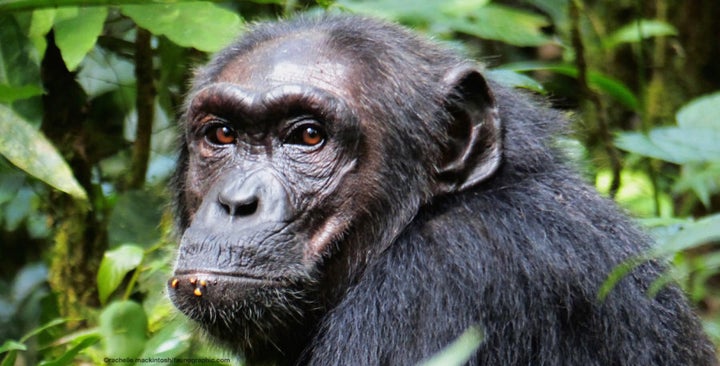 "And on a less worthy note, I'll never forget the time I was up in Hudson Bay, Canada, shooting a wild polar bear (from a buggy) on the eerily quiet tundra...when she joyfully let one rip. Yeah, I laughed like a 10-year-old boy," Mackintosh said.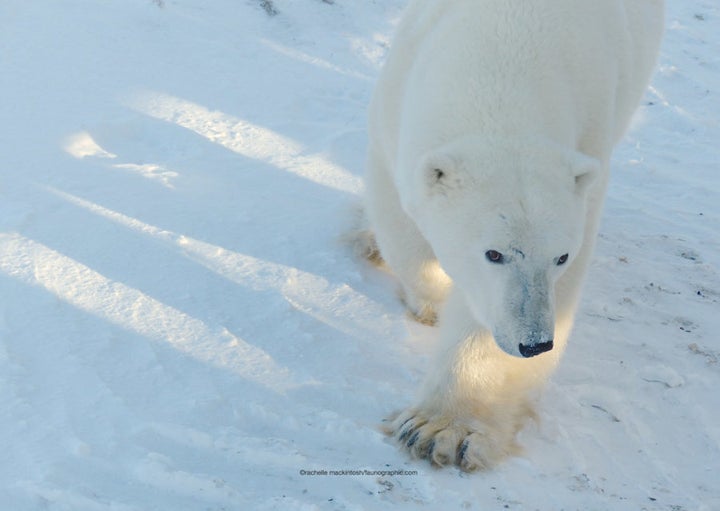 We asked Mackintosh to nominate her all time favourite animal, but she refused on the grounds of her general admiration, though she does have a soft spot for predators.
"I wish I had just one favourite animal -- it would make travelling to see them way easier! I love predators (all the big cats, bears, hyenas, wolves, orcas, sharks and raptors) because it's always a thrill to see a big (or little) carnivore in charge of his/her territory. I also love watching elephants because they are so intelligent, so underestimated, and they do whatever they can to look after each other."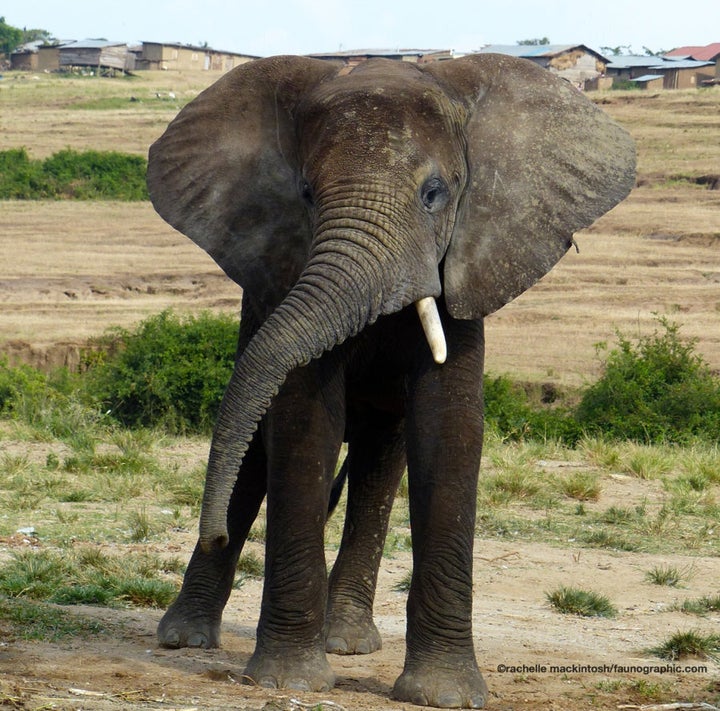 Shooting (and therefore observing) wildlife has made Mackintosh more empathetic.
"Animals have full lives of their own. So when you're watching a wild creature, don't think of it as a "what" -- think of it as a "who". That subtle shift in your thinking will keep your mind open and empathetic, and help you observe characteristics and behaviours you might otherwise miss. It also helps with photography because you can form (and capture) a genuine connection with your subject."