instagram.com/voguebrasil
By now, you should know the Olympics are happening in Brazil. Sure, they may be over, but the Paralympics are only just beginning (the official kickoff is Sept, 7th, so go ahead and mark that in your calendars right now).
So to attract visibility to the Rio 2016 Paralympics and highlight disabled athletes, Vogue Brazil thought it would be a good idea to share a series of photos from the publicity campaign "We are all Paralympians."
Here it is:
Pretty great, right? Wrong.
The Internet is in an uproar over the image because those aren't Paralympians. Those are models. Able-bodied models. Able-bodied models who were digitally altered to look as though they have a disability.
UGH.
The controversial shoot features actors Cléo Pires and Paulo Vilhena, both of whom Refinery29 state are able-bodied ambassadors for the Brazilian Paralympic Committee (CPB). In the photo, Pires' arm is digitally amputated and Vilhena is seen with a prosthetic leg.
They are Photoshopped to look like Brazilian athletes Renato Leite and Bruninha Alexandre, a table tennis player and volleyball player, respectively. Both Paralympians were on set of the photo shoot that day and are said to have helped in the creative process.
Yes, this photo shoot was all done with the blessing of the Paralymians on site.
Alexandre states in the Instagram post above that she is "proud to be part of this campaign" and that it is "increasing visibility" towards the Paralympic movement.
Even though there are models with those very disabilities @vogue could've featured, they've modeled together too. pic.twitter.com/q7jTCJysTZ

— Beth Elderkin (@BethElderkin) August 24, 2016
According to Clayton Carneiro, Vogue Brazil's art director, the concept for the shoot was Pires' idea.
"We knew it would be a punch in the gut, but we were there for a good cause," Carneiro told The Telegraph. "After all, almost no one bought tickets to see the Paralympic games."
The Telegraph also states that Pires responded on Instagram with, "We lent our image to generate visibility. And that's what we're doing. My God."
As pointed out by Pedestrian TV, Canadian Paralympic equestrian competitor Marnie Payne replied to the photo on Instagram, saying it was "offensive & disgusting."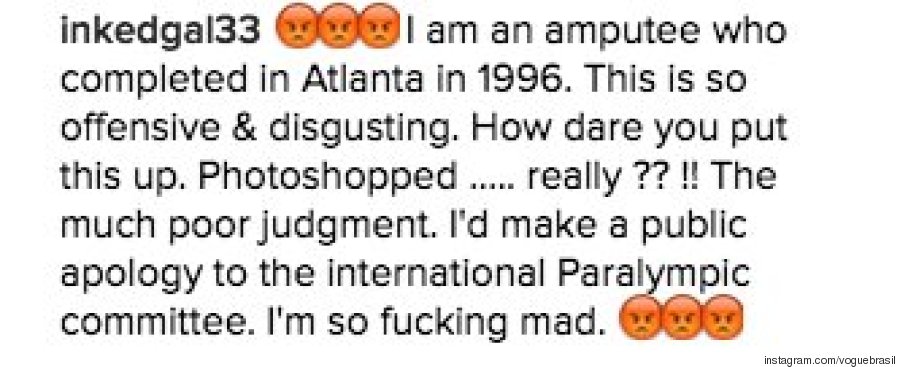 People with disabilities deserve better.

— Beth Elderkin (@BethElderkin) August 24, 2016
We have no answers as the Paralympians themselves were not featured, especially since they were present at the shoot. It would have been a fantastic opportunity to bring recognition to athletes who have fought to gain the same respect as Olympians.
Sigggggggh.
Follow Huffington Post Canada Style on Pinterest, Facebook and Twitter!