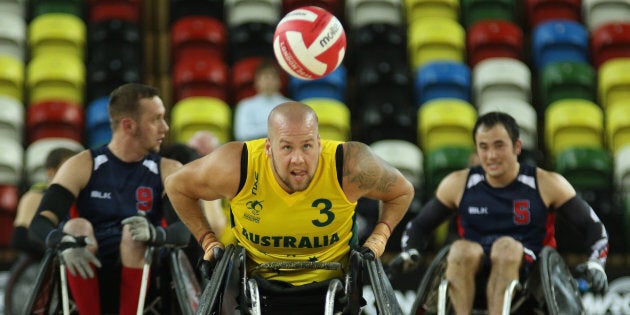 The only thing more impressive than Ryley Batt's gold medal is the fact he got around on a skateboard until he was 12.
You see Batt, who in 2004 became the youngest wheelchair rugby Paralympian in the world, refused to get into a wheelchair for most of his childhood. He thought wheelchairs were for people with who couldn't do anything for themselves.
"It was a fear for me," Batt told The Huffington Post Australia before jumping on a flight to Rio.
"I thought as soon as I got in the wheelchair I was going to get picked on and bullied."
The 27-year-old from Port Macquarie, a coastal town in New South Wales, was born with a limb deficiency. He's never had legs, and had to undergo an operation to separate his fingers at a pretty young age.
So when all of his mates in Port Macquarie adopted skateboarding, Batt thought no different and a skateboard became his chosen mode of transportation.
He'd use his hands to slow himself down, instead of his feet. His mum would have to buy him a new pair of pants every week because he'd rip those up as well as the skin on his hands.
"My dad was a builder at the time so he would build skateboard ramps for me and my friends," Batt told HuffPost Australia. Before you could say kickflip there was a halfpipe in his backyard.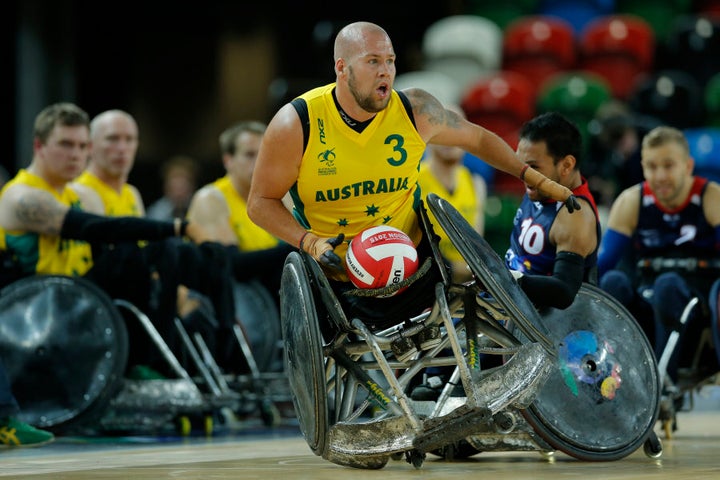 The gold medallist unsurprisingly won a local skateboarding competition when he was about nine years old. But three years later he submitted his electives too late and got left with wheelchair rugby in a sports class.
"All my mates jumped straight into the wheelchairs and were bashing each other up having a great time, but I just couldn't see myself in the wheelchair so I just didn't do it," Batt said.
"I just sat on the sidelines and watched my friends. I just couldn't overcome it. I didn't want to look like that, but I probably looked worse sitting on a skateboard."
Two weeks later, Batt built up enough courage to join his mates and he's never looked back.
"I guess when I jumped in that chair with my friends I finally felt on a level playing field. You could just never be on the same level [with other sports] and I'm such a competitive guy that it was really hard for me," Batt told HuffPost Australia.
"But as soon as I jumped in the chair I had more skills than them. I knew there was something going on there. It just felt good."
By 2004 Batt was at Athens Paralympics, making him the youngest Paralympian wheelchair rugby player at the tender age of 15. Rio will be his fourth Paralympics and the stakes have never been so high, as the Australian wheelchair rugby team defend their gold medal from the 2008 London Paralympics.
The training is rewarding but arduous. Six days a week for three and a half years, until the big moment arrives again.
The toughest part is not seeing your mates, said Batt, who he can't wait to catch up with once he returns from the games. Hopefully with a medal around his neck, preferably of the golden variety, and definitely with a beer in hand.
"I've been counting down until I can have one," said Batt, laughing.
"I don't care what kind it is as long as it's cold."
And Copacabana beach will be traded in for weekends camping out in the scrub, with motorbikes, water skis and -- if everything goes Batt's way -- no phone service.
"We've got an off-road caravan so I'm hoping we can go out remote and just enjoy ourselves for five days," Batt said.
"I think the outdoors is the best thing for everyone. If you can get away from technology, it's fantastic. It teaches the kids there's a lot more out there."
The 27-year-old has a wife and two stepdaughters he boasts are pretty good on motorbikes and jetskis. If you haven't worked it out already, Batt's an adrenalin junkie and it clearly runs in the family.
The Paralympian has mentors a 12-year-old boycalled Harry, who Batt sees exorbitant potential in.
It's an opportunity to repay a favour.
When Batt was young, a local wheelchair rugby Paralympian Tom Kennedy took him under his wing and drove him around the state to compete. Batt hopes to do the same for Harry, who you can meet in the below video.
"I don't want to toot my own horn but I saw myself in him," Batt said.
"I saw the same age, the same level of disability. He's an active kid, a footy fan and he'll be something else in the future."
And when he speaks at his stepdaughters' school, Batt sees something particularly terrific about the kids playing in the schoolyard these days.
"They don't judge myself or anyone in a wheelchair. They don't see the wheelchair, just the person behind the wheelchair," he said.
"Just to teach them a skill like that in life is a huge thing. I just think it makes you a better person, and makes you look over people's disabilities to their abilities and the people that they are."
Back to his own time in the schoolyard, you wonder whether Batt's elective was just a lifechanging coincidence or a little push from the people who love him. Either way, there's no looking back.
"If you could give me a magic pill and make me grow legs I wouldn't take it," Batt said.
"I'm happier with how I am right now than I would be as an able-bodied person. I've experienced a lot more and probably am a better person."