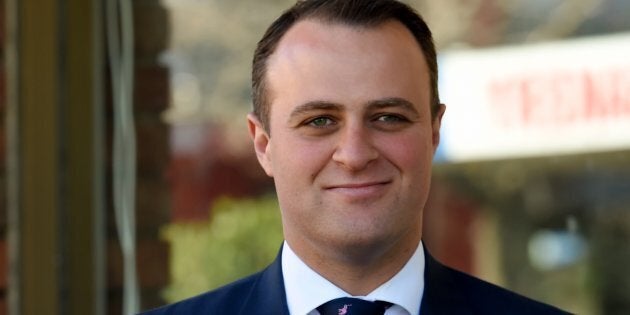 Former Human Rights Commissioner Tim Wilson has delivered an emotional pledge to push for change on marriage equality during his maiden speech in Parliament on Wednesday.
The new MP for the Victorian seat of Goldstein, Wilson thanked his partner, Ryan, for supporting his campaign and shared the struggle that waiting for marriage equality has been for them both.
"I know you have sacrificed so much for us to be here today," he said, fighting back tears.
"For seven years, a ring has sat on both of our left hands, and they are the answer to a question we still cannot ask.
"No matter what happens here, we have already achieved more than many who come and go from this place because we have lived the change we seek in the world. And that is why I am here. To lead change. To turn liberal values into liberal action."
His fellow politicians were visibly moved by the speech.
He then went on to discuss tax reform and call for a "sensible discussion" around industrial relations.
Long an outspoken advocate for LGBTQ people, Wilson resigned as the Human Rights Commissioner earlier this year to run for election to the House of Representatives.
Wilson defended the Liberal Party's decision to hold a plebiscite for marriage equality in a comment piece in The Sydney Morning Herald on Monday, despite admitting that he "crawled into a ball in bed and cried" when he initially heard that Tony Abbott was pushing for a plebiscite last year.
The Greens and many marriage equality advocates have opposed to non-binding vote on same sex marriage, saying that it will provide a platform for hate and risk further marginalising the LGBTQ community.