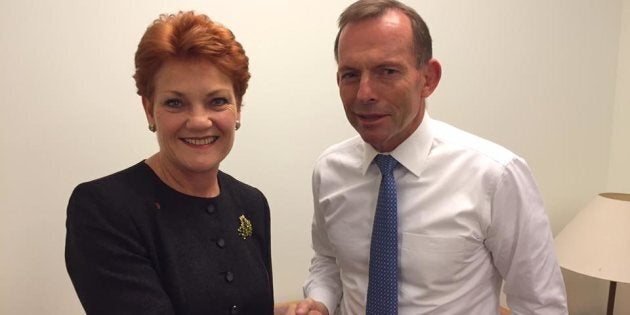 Is one of the most acrimonious feuds in modern Australian politics finally over? Perhaps.
Pauline Hanson, on just her second official day as a federal senator, welcomed former Prime Minister Tony Abbott to her new Parliament House office for a coffee and chinwag.
"Pauline it's good to catch up with you after all these years," Abbott said in an awkward, stilted conversation captured on video and posted to Hanson's Facebook page.
"I think it is great too and I really appreciate you coming to my office and saying 'hello' and welcoming me to the Parliament," Hanson replied.
"We've had a bit of a chat and we've had a cup of coffee and it's great and I really do appreciate that Tony."
Abbott praised Hanson, saying "there are half a million people who voted for you and you'll be a strong voice for their concerns".
It was a far cry from just a month ago, when Hanson said in a documentary that she still blamed Abbott and former PM John Howard for her imprisonment on fraud charges in 2003. It was just one controversial moment in the Hanson-Abbott relationship, which also included Abbott's staffer David Oldfield defecting to One Nation and Abbott reportedly assisting in legal cases against One Nation.
"It took me a long time to get over it. I blame Tony Abbott [and] John Howard for my imprisonment and no one will ever change my opinion about that."
While it's unclear whether Hanson has now forgiven Abbott, or changed her mind, it seems they have at least reconciled enough to share a caffeinated beverage. Hanson has also met with PM Malcolm Turnbull since her election to parliament, but that time, no video was captured.