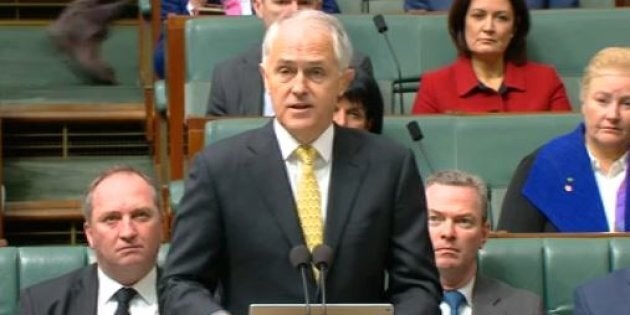 Australia will expand its military attacks against ISIS in Iraq and Syria, as the military begins operating under international law which gives more scope in targeting enemy combatants.
Prime Minister Malcolm Turnbull announced the shift in Australia's military campaign against ISIS, by placing our operations under the broader international regulations, rather than the "restrictive" Australian laws they previously operated under. This will allow Australian forces to target ISIS support services, not just active fighters.
In a blunt national security statement to the House of Representatives on Thursday, Turnbull said a "legal anomaly" had hampered Australia's actions against Islamic State, or Daesh, and that the decision to operate under international law would allow Australian defence forces to "target and kill a broader range of Daesh combatants".
"This legal risk posed a major challenge to the effectiveness of our operations. It meant that the ADF's targeting base in Iraq and Syria was restricted, and we could not operate as freely as our coalition partners," Turnbull said.
"So I can announce that the Government has reviewed its policy on targeting enemy combatants and earlier this year made an important decision to ensure our forces are empowered to act against Daesh in Iraq and Syria to the maximum extent allowed by international law."
Domestically, Turnbull outlined how the government was looking to broaden anti-terror legislation and powers, including:
post-sentence detention for high-risk offenders once their prison sentence ends;
control orders, which can place restrictions on individuals, such as associating with other people, being in certain areas, owning certain items or engaging in certain activities;
measures to "address the regrettable trend of increasingly younger Australians being susceptible to the lies and propaganda of Daesh and extremist ideology";
and stronger penalties for trafficking illegal firearms.
In an accompanying statement, the PM said the change "includes targeting those who may not openly take up arms but are still key to Daesh's fighting capability", which presumably includes those providing financial or organisational support to the group. The Guardian reported defence force chief, Air Chief Marshal Mark Binskin, said domestic law only allows strikes against "those Daesh forces that are taking a direct and active part in hostilities".
"It doesn't allow us to target those important supporting elements that are key to their fighting ability, eg their logistics and support organisations."
Turnbull said the legal shift would mean "our forces are fully empowered to roll back Daesh".
"Let me make myself very clear to those who contemplate joining Daesh. Take up arms against us and you will join the over 60 Australians, and thousands of other combatants, who have already been killed in the Iraq and Syria conflicts."
Greens defence spokesperson Scott Ludlam criticised the news.
"These changes seriously alter the governance of ADF personnel in combat. They change the definition of a war crime. It's a highly charged, complex topic in which civilians in war zones on the other side of the world have no voice," Ludlam said in a statement.
"We'd like to hear from the ADF about why they feel these changes were needed. What actions are they trying to take that are being prevented by existing war crimes legislation?"
The PM said 400 members of the Australian Defence Force Air Task Group were currently conducting airstrikes over "strongholds" in Iraq and Syria.
Turnbull warned that the expansion of attacks against ISIS -- which he said would affect "in particular our Air Force" -- may see an increased risk of terrorism on Australian shores. He claimed that law enforcement agencies had disrupted 10 domestic terrorist attacks in the last two years, with nine of those allegedly linked to ISIS, and 47 people people charged in 18 counter-terrorism operations.
"In the short term, unfortunately, the risk of terrorist attacks is rising as our battlefield success against Daesh grows," he said.
"It is quite possible that the next mass casualty attack on Australian victims will be somewhere in Southeast Asia, where Daesh propaganda has galvanised existing networks of extremists and attracted new recruits."
Lowy Institute fellow Rodger Shanahan, however, said it was unlikely that the change would make Australia a greater terror target.
"We've been included as a target simply because of who we are and what we represent. This slight modification won't make any difference to the way in which we are viewed by some terrorist groups," he told HuffPost Australia.
The PM reported "around 200 people" in Australia were being investigated "for providing support to individuals and groups in the Syria-Iraq conflict", and said Australia needed to "not only attack the disease at its source in the Middle East but redouble our efforts at home".