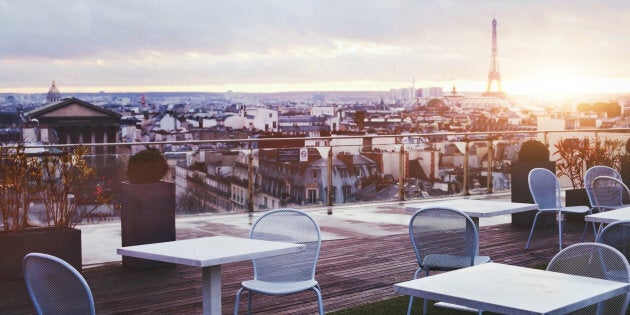 To imagine French style is to picture an effortlessness difficult to emulate. When you consider the Saint Laurent Le Smoking Jacket, Breton stripes and even the beret, we owe a lot to the French when it comes to fashion.
Just as iconic are Bensimons -- The famous colourful tennis sneakers often styled with vintage denim which give Parisian women a certain je ne sais quoi about their style. Created in 1980 by Serge and Yves Bensimon, the eponymous brand launch was soon followed by a concept store, Home Autour du Monde, in 1986 -- a space that combines both fashion and decoration. Being a true globe-trotter, Serge Bensimon reveals his favourite spots and Parisian secrets he loves to frequent when he is home.
"My favourite casual restaurant is the one I've found with my wife Charlotte just behind our apartment, Little Apple."
"Rest Yen is my pick for the best fine dining. I am a huge fan of Japan, I go there at least once a year and only this restaurant reminds me of the same flavours. For the anecdote, the chef worked for Kenzo fashion designer."
"La Cantine de Quentin is great for brunch. It is really our canteen. My brother Yves and I go there practically every day and their brunches are exquisite."
"Le Marché des Enfants Rouges, the food market located just behind my apartment, are my favourite fresh food markets. The Japanese spot, Chez Taeko, is also excellent.
"For a nice outdoor activity visit the Japanese garden of the Buddhist Pantheon or the Albert Kahn garden. Both are beautiful places to see and take a break in Paris."
"The best kept secret in Paris is the private Montmartre hotel. It is a unique spot, a place out of time, feels like the countryside in Paris!"
"For shopping, visit the Artazart Design Bookstore! And I am not saying that because I own the place! There is always a beautiful book to find about photography, architecture, there are many books for kids or gift ideas as well. Thus, the team has a great expertise and is never short of good advice."
"For a late night bar to go drinking go to Les Bains de Paris, one of the top places to party in the 80's. This famous spot has been revisited in 2011 to become a hybrid hotel house club with a comfortable and urban design. It is a very pleasant place to have a cocktail late night."
"The best hotel I recommend to friends is the The Mama Shelter for its originality, the characteristic warm ambiance and the design signed Philippe Stark."
"In general, for a good tourist activities, Feel free to stroll in the garden of the Palais Royal in Paris or a walk through Saint Germain des Près, the trendiest and chicest neighborhood, which is a place of intellectual Parisian life with many little libraries, cafés and art galleries.
I would advise to visit Buren's columns and Home Autour du Monde situated rue des Pyramides 75001, or to take a break at Café de Flore and go to Home Autour du Monde rue de Seine 75006, for a more artistic district. The idea of my stores? To do an express world tour and feel like at home!"