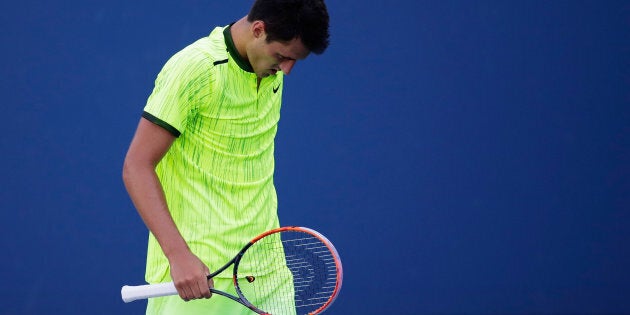 Foul-mouthed tennis player Bernard Tomic has been given a US$10,000 (A$13,300) fine after telling a spectator to "suck my balls" during the U.S. Open.
Tomic made the outrageous remarks -- where he also told the fan "I will put my balls in your mouth" and "I will give you some money to make you feel good" -- during his first-round match against Damir Dzumhur. Listen carefully below:
Tomic claimed the spectator was sledging him -- "he was saying some shit", the Aussie told the match umpire -- and made the same argument after the match when he was reprimanded.
"He was just baiting me a bit," Tomic said.
"I don't want to get into it. I apologise for what I said to him."
However, he was still slapped with the biggest fine of the U.S. Open so far, adding insult to injury after he also lost the match. Here's the final point, where Tomic doesn't exactly put in a huge effort:
Don't feel too sorry for him, though; the ATP website reports Tomic has netted $983,000 this year from match earnings alone.
It's far from the first time Tomic had courted controversy: