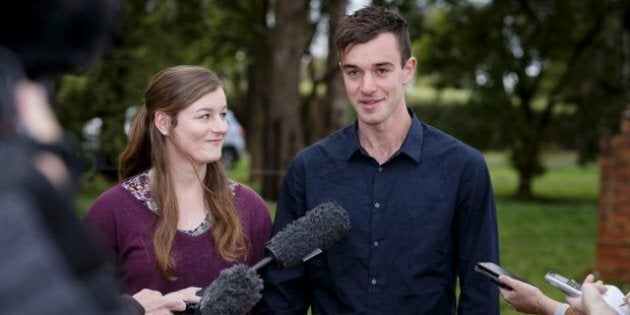 Two of the children involved in the Tromp family's mysterious road trip have reflected on the strange set of circumstances that captivated Australia this week, saying there are no words to explain what happened.
Victorian father Mark Tromp was found alive in Wangaratta on Saturday night after the strange family road trip, with the dad of 3 believed to be dehydrated but in "good health".
Mark was found 5 days after he and his wife Jacoba Tromp and their 3 adult children left their home in Silvan, in Melbourne's outer east, on the still unexplained sojourn.
Addressing media on Sunday, Ella Tromp said she couldn't explain what had happened to the family.
"It's bizarre," she told reporters in Wangaratta, alongside her brother Mitchell.
"I still feel confused, I know our state of minds wasn't in the best place.
"There's no other reason for it."
The pair said they couldn't go into the reasons that sparked the trip because police were still investigating.
Mitchell, who was the first of the children to bail out on the journey, said it was tough to see his family go through such an experience.
"I've never seen anyone like it but the main thing is that we're all ok now, everyone's safe, everyone's well so we can just go back to the family again," he said.
He was hoping his dad, who is currently being looked after by friends and family in Wangaratta, could come home soon.
Four of the family members were all found in separate locations, shell-shocked, throughout the week.
On Thursday, Mitchell told media the trip wasn't dissimilar to road trip in a scary movie.
He said he went on the trip to convince his parents to come home and that his parents' paranoia grew on the trip to a point where each adult child left.
"It slowly got worse as the days went by," Mitchell said at the time.
"They were just fearing for their lives, and then [we] decided to flee."
The Tromp family have a berry farm and earth moving company in Victoria's Silvan, in the Yarra Valley.