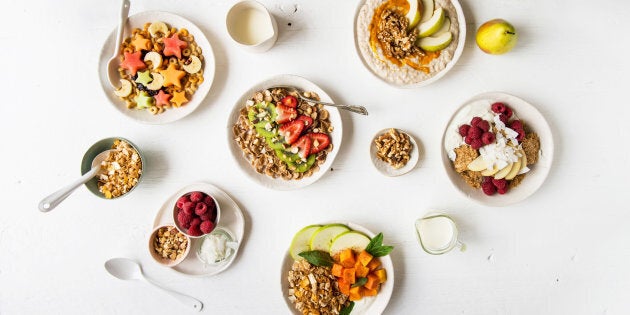 Breakfast can be your favourite meal of the day or, for some people, an absolute chore. Regardless of your love (or hate) of mornings, it's easy to get uninspired and bored of the same brekkie every day, which is why it's so important to spice it up every once in a while.
Thankfully, keeping breakfast interesting and fun is super easy -- and you don't need much time or any fancy ingredients.
Whether you're a cereal, porridge, muesli, toast or granola fan, there are a few simple and quick ways to switch it up and make your breakfast vibrant and extra tasty.
Here are our top five tips and tricks.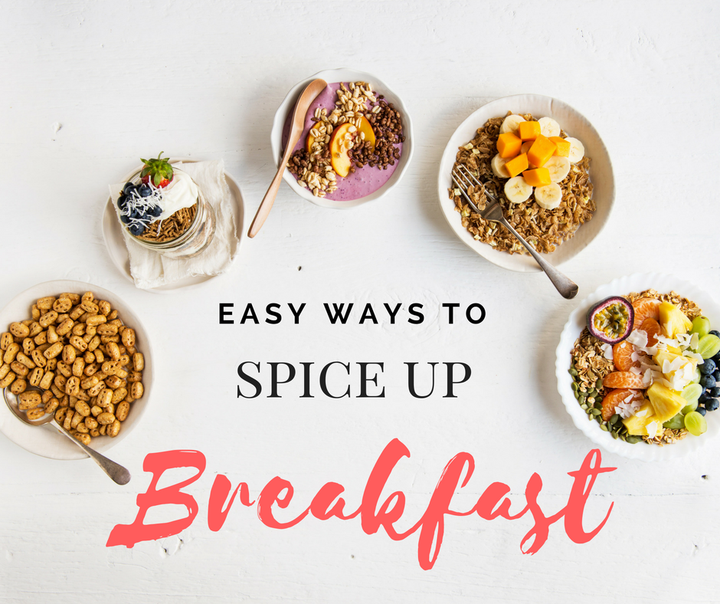 1. Add spices
Over time, plain toast, cereal, porridge and muesli can lack in flavour, and one ridiculously easy way to spice things up is to literally add spice.
Ground cinnamon, nutmeg, ginger and turmeric boost not only the flavour but also your breakfast's nutritional profile thanks to their anti-inflammatory and anti-bacterial properties. Other savoury spices to try include cumin, coriander, chilli and dukkah.
Add cinnamon on top of peanut butter or jam toast
Stir in (or sprinkle on top) cinnamon, nutmeg, ginger or turmeric to porridge, Bircher muesli, granola or cereal
Stir cinnamon, nutmeg, ginger or turmeric into yoghurt or milk
Add chilli, cumin or dukkah on top of avocado toast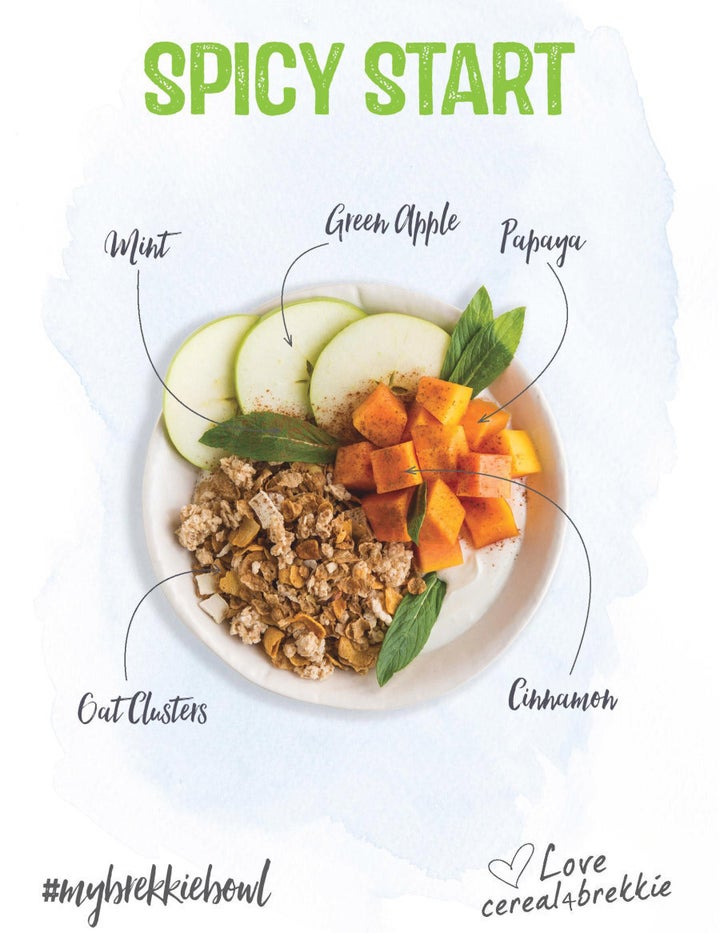 2. Add colour and texture
Let's be real, plain cereal and porridge can look like unappetising grey sludge. To upgrade your breakfast and make it look more vibrant, colourful and delicious, try adding colour and texture through fruit, nuts, fresh herbs, dried fruit, shredded coconut and various sweeteners like maple syrup.
Add peanut butter, berries, sultanas, apple purée and chia seeds on top of cereal, granola or porridge
Add seeds, fresh basil and halved cherry tomatoes to avocado toast
Add hazelnuts, pumpkin purée, pumpkin seeds, cinnamon, blueberries and maple syrup on top of cereal, granola or porridge
Add banana, mango, kiwi fruit, passion fruit, strawberries, mint and shredded coconut to cereal, granola or porridge
Add chopped hazelnuts or almonds, banana and blueberries on top of peanut butter toast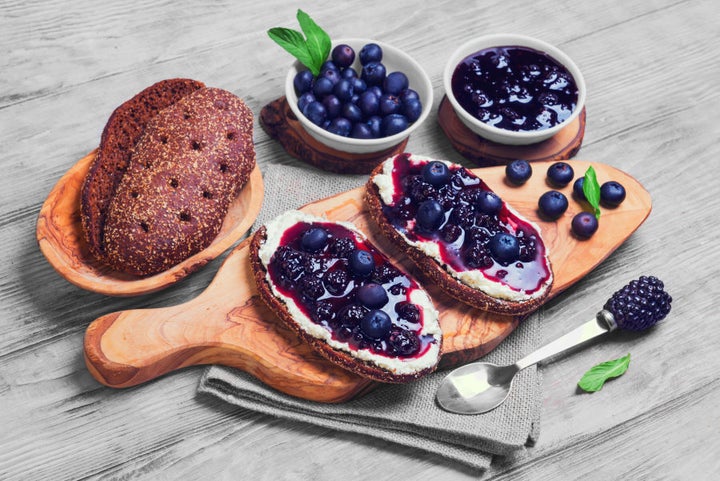 3. Mix it up
Most of us will have a bowl of just cereal or porridge, but why not mix two kinds of breakfasts together? This easy trick will add texture, flavour and keep breakfast time fun and refreshing.
Top your peanut butter toast with granola sprinkles
Have a bowl with half porridge and half granola/muesli with yoghurt
Top your porridge bowl with chia pudding
Add sliced avocado, peanut butter or jam to your granola and yoghurt bowl
Pour your morning smoothie into a bowl and top it with granola or muesli
Have a bowl with half chia pudding and half Bircher muesli or granola with yoghurt
Top your cereal bowl with crunchy granola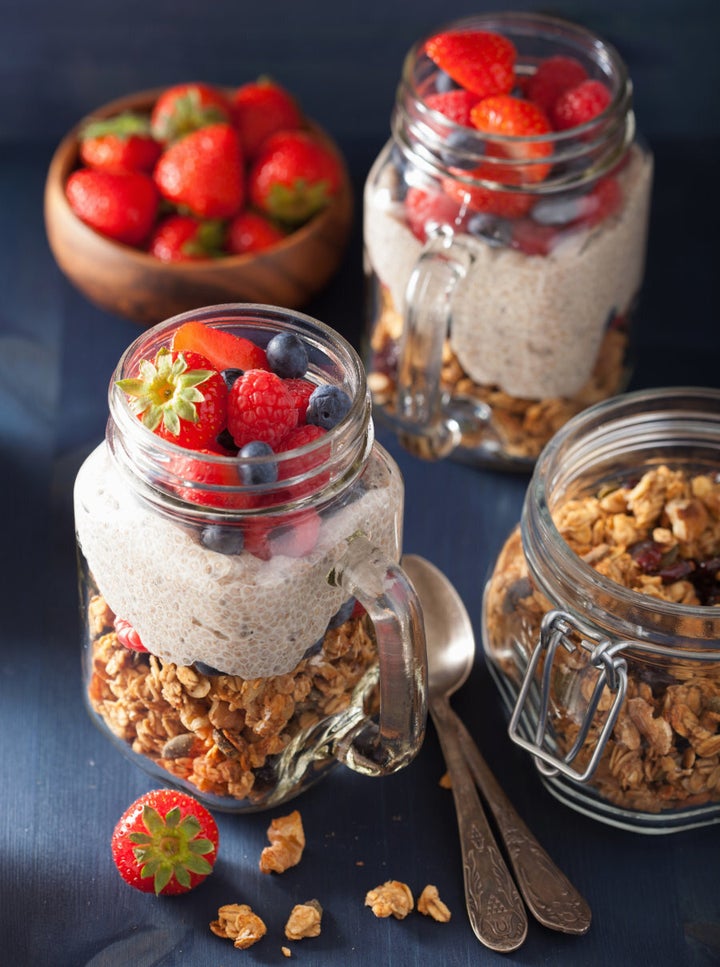 4. Think outside the bowl
If you're a cereal lover, instead of eating it from your usual bowl, try adding it to a mason jar. Or, if you're feeling extra creative, try layering granola (or Bircher or porridge), yoghurt, berries and nuts one at a time in a jar to create your own delicious breakfast parfait.
If you're after a cafe style breakfast, serve your granola or Bircher muesli on a plate and garnish with your favourite fruits, yoghurt, nuts and seeds.
5. Take a photo of it
Half a million Australians post photos of their breakfast to social media every day. While it's not for everyone, definitely give it a go, simply because it encourages you to make your breakfast look and taste more delicious.
Play around with different backgrounds, props (e.g. spoons, colourful plates, milk jugs, tea towels and bowls) different lighting and ingredients. Check out this photo below for inspiration.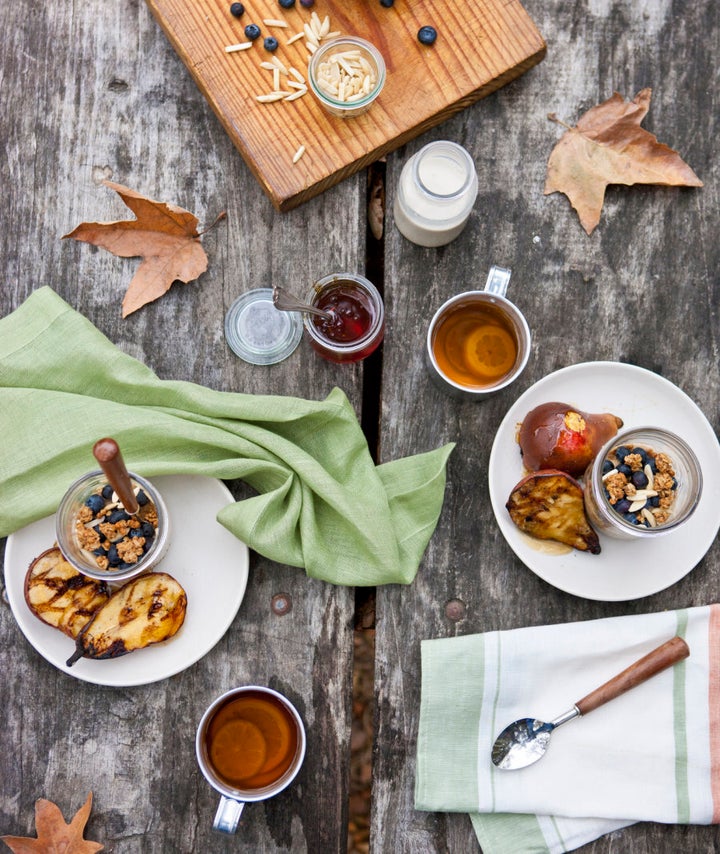 Images courtesy of Jennifer Jenner from 84th & 3rd and Australian Breakfast Cereal Manufacturers Forum.