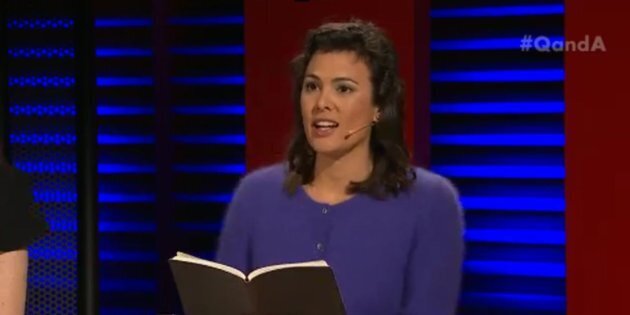 Actor and director Kylie Farmer translates Shakespeare into Indigenous languages, and on Monday night Q&A was treated to one of those performances.
Farmer performed Sonnet 127 in Noongar, which is the indigenous language of her family in the south-west of Western Australia.
Actor Kate Mulvany performed the translation back into the English language and the performance was as beautiful as the context of the words.
Take a look for yourselves:
"In the old age, black was not counted fair. Or if it were, it bore not beauty's name. But now is black beauty's successive heir, and beauty slandered with a bastard's shame?" Farmer and Mulvany asked consecutively.
"For since each hand hath put on nature's power, fairing the foul with art's false, borrowed face, sweet beauty has no name, no holy bower. It is profaned. If not, lives in disgrace.
"Therefore, my mistress' eyes are raven-black, her eyes are so suited and they mourners seem not born fair, no beauty lack, slandering creation with a false esteem.
"Yet so they mourn, becoming of their woe, that every tongue says beauty should look so.
When asked what she thought Shakespeare was conveying in the Sonnet, Farmer put it plainly.
"I'd like to think he's lobbying for the beauty in the blackness," Farmer said before deflecting to Mulvany.
Mulvany, on the other hand, thought Shakespeare's lobbying extended to all women, championing women's natural and diverse forms of beauty, and arguing women should feel comfortable in their own skin.
The pair sat on a panel on Monday night with controversial writer Germaine Greer, Bell Shakespeare artistic director John Bell and philosopher A.C Grayling as part of the Festival of Dangerous Ideas.
During a discussion of Shakespeare's portrayal of women, Greer said one of Shakespeare's most well known villains, Lady Macbeth, was powerless. The comment drew criticism from others on the panel but Greer stood firm.
"She does the cleaning up," Greer said to laughter in the crowd.
"Then she has a nervous breakdown. I mean, if I was doing a Macbeth now, I would have Jacki Weaver play Lady Macbeth."
Mulvany opened the first performance of the show with a speech by Emilia from Shakespeare's 'Othello'. The speech has been hailed as one of the first feminist speeches in the world, as Emilia tells Othella's wife, Desdemona, what she should know about men.
"She's upset by the way that she's been treated by Othello, and Emilia herself has a very tough, manipulative, conniving husband in Iago," Mulvany said.
Take a look at Mulvany performing Emilia's speech (as the delivery is as important as the words):