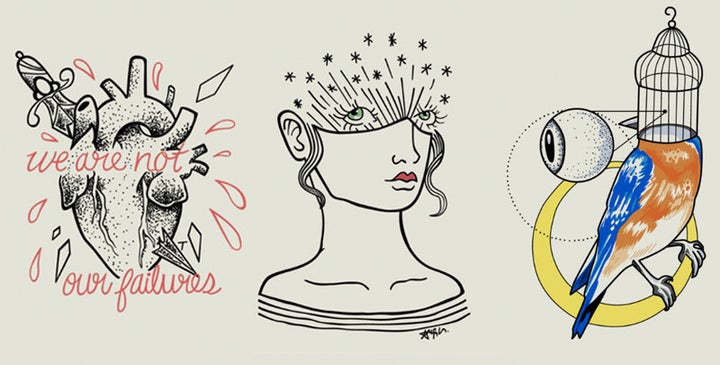 "I have chosen a surreal art approach to represent my invisible disability, due to the surreal nature of mental illness," tattoo artist Lindsay Carterexpressed in a statement. Carter's image ― featured on the right, above ― shows a bird whose head is a cage with a giant eyeball protruding from the dreamlike vision.
"As long as I've been consciously aware, I've been diagnosed with generalized anxiety disorder and major depressive disorder," she continued. "Severe episodes can happen for no apparent reason and at that point I cannot help nor snap out of the exaggerated feelings. I subjectively illustrate mental illness as being caged within your own mind."
Carter is one of five tattoo artists who make up Ink Visible, a collaborative effort to visualize disabilities that, until now, have remained invisible. Each contributing artist has created their own temporary tattoo design, reflecting experiences with disabilities that exist inside the brain and underneath the skin, giving color and shape to the symptoms and experiences that can't be seen and often remain misunderstood.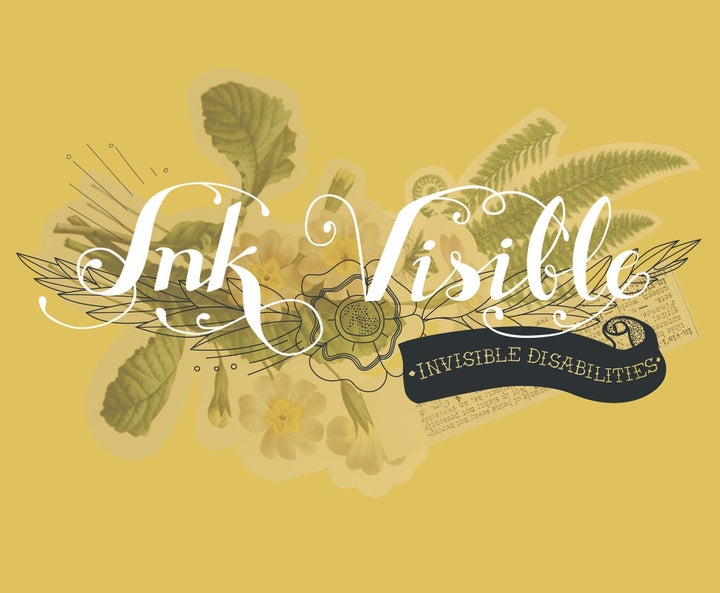 Ink Visible is the brainchild of artist Arianna Warner, who has a chronic pain condition called Reflex Sympathetic Dystrophy. Because her RSD prevents her from getting permanent tattoos of her own, Warner had the idea to use temporary tattoos as a vehicle through which to communicate what, for so long, seemed incommunicable.
Warner reached out to tattoo artists in the Portland, Oregon, area who were also struggling with disabilities that were too often minimized, overlooked or misconstrued as a result of being invisible. She selected five artists living with vastly different conditions ranging from bruxism, a condition in which you grind, gnash or clench your teeth, to anxiety, depression and diabetes.
For the chosen artists, tattoos had already become a source of catharsis and healing in their lives. "Tattoos can heal people and offer a release, both mentally and physically, for pain and processing for whatever ails ya," contributing artist Tanya Magdalena explained to Bitch Media. "They can be very healing." For them, transforming pain into fine lines and bright colors was a familiar and rewarding exercise.
The Huffington Post reached out to Warner by email to discuss how her personal pain yielded a creative collaboration aiming to change the way we talk about illness, disability and health.
As a fine artist, what is your relationship to tattoos?
I think of tattoos as one of many forms of self-expression for a multitude of reasons. Due to my invisible disability, Reflex Sympathetic Dystrophy, I am not able to get tattooed since that trauma to my body could cause my RSD to spread faster. During a brief remission of sorts, that doctors have not figured out an explanation for, I did get a tattoo representative of my relationship with my grandfather who has since passed from cancer.
How did you first become interested in tattoo culture?
I've always been interested in tattoo culture aesthetics, but, since tattoos were not an option for me, I moved my attention elsewhere. Almost two years ago, I reignited my interest in tattoo culture through a different temporary tattoo project named "Temporary (Visible Disability) Tattoo," [in which] I placed temporary tattoos of the access symbol (the person in the wheelchair) all over my body where my disability affects me. TVDT was a time-based performance piece where, as I continued doing my everyday tasks, the temporary symbols began to wear signifying my disability becoming invisible again. Through this performance, I would hand out different project tattoos that [illustrated] invisible disabilities to everyone who interacted with me or questioned my tattoos.
TVDT inspired me to think about ways to not only have a one-on-one interaction but be able to build a community based in invisible disability experiences using temporary tattoos. My interest in tattoo culture has circled back for me, and, through Ink Visible, I am able to be apart of a community that I never thought I would be able to. I have really enjoyed getting to know all the tattoo artists [who are] part of the project and have felt a part of their tattoo family and community.
Can you talk about your experience with chronic pain? How has art played a role in helping you cope with the illness?
When I was 17 I was diagnosed with RSD, which is a rare chronic nerve condition where nerves send pain signals to your brain even when nothing is wrong. The result is that I am in extreme constant pain all the time. Another component of the disease is that it can spread to other parts of my body. My RSD started the size of a bandaid over my right knee and has now spread to the full length of both legs, my right arm, and it is starting to spread down my left arm. Unfortunately, there is no cure for RSD.
Art has played a huge role in helping me cope with RSD through building community. All of my art practice, in one way or another, is influenced by having RSD. Art has given me a way to safely talk about my experiences in ways I feel comfortable doing so.
What have been some of the struggles associated with living with an invisible condition?
One of the larges struggles I experience living with an invisible disability is having people believe that I experience severe pain 24/7, 365 days a year. Many people, including some doctors, do not take my pain seriously because I am an outgoing, positive person. It is as if people need you to look, sound and act miserable to take you seriously as someone with a chronic illness.
Another change is that, since invisible conditions are not visibly recognizable, it's difficult to find others with similar experiences. It also doesn't help that there are serious stigmas attached to many medical illnesses that makes it difficult for people to openly talk about their experiences.
Was there a specific event or occurrence that inspired the idea of Ink Visible?
After TVDT, I really wanted to bring to light other people's stories in a respectful and ethically conscious way. I enjoyed working with temporary tattoos as a medium, so tattoo artists seemed like a great community to work with. This also allowed me to be a part of a community that I previously felt isolated from.
How did you select the tattoo artists you wanted to work with?
To find the Portland tattoo artists for Ink Visible, I send out an open call email to all the shops I could find online in the Portland area. I also went to many of the shops in person telling artists about the project and leaving flyers with them in case anyone was interested. I found it was more successful emailing artists because for some of them it was something they hadn't talked about with their co-workers and maybe weren't comfortable bringing it up.
What kind of feedback have you received from the project so far?
I have received really positive feedback so far from Ink Visible Portland. I think one of the really powerful components of the project is that, at the public event, all the attendees were provided materials to share their own experience with having an invisible disability if they chose to. All these pages were then compiled into a book that they could bind at the event and go home with lots of other stories from the community.
Ink Visible Portland was a great launching foundation for Ink Visible, [and] I am excited to announce the next city in the coming months. People interested in being updated on the project and what cities Ink Visible will be going next can follow along on Instagram, and online at inkvisible.org.
What do you hope to communicate to viewers?
I hope Ink Visible serves as a platform for people to use art in a similar way that I do: as a safe, insightful way that can contribute to building a community of people who have invisible experiences.
This interview has been lightly edited for clarity. Scroll down for more images of Warner and her Ink Visible projects.