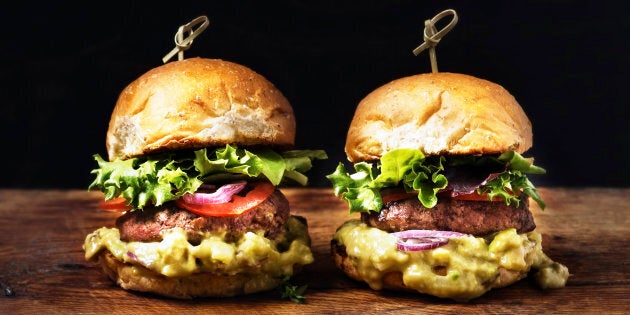 If you're vegetarian or vegan, the news that more and more restaurants and pubs around the country are going completely animal free will leave you feeling ecstatic (and make you want to organise a huge dinner with your mates PRONTO).
The latest Aussie eatery to ditch the meat is the Red Lion Hotel in Rozelle, Sydney, which will introduce a vegan-only menu from September 18 -- inclusive of both meals and drinks at the bar (yes, most wines and beers are not vegan).
And before you ask, no, you won't find massaged barley grass salad and spirulina smoothies on the new pub menu.
"We'll be doing normal pub fare like burgers, chips and pizzas, but vegan. Basically anything that would normally be on a pub menu, we'll have in a vegan style," Red Lion Hotel vegan co-founder Bhavani Baumann told news.com.au.
"We're just doing what we love to do, to show how yummy and tasty it can be to cut down on your meat consumption."
On the menu you'll find a vegan Big Mac, 'fish' burger, mock meat pies, shepherd's pie, 'pepperoni' pizza, as well as soups, bakes and salads for those looking for a healthier option.
"We're not the super vegans and we're not here to preach," Baumann told news.com.au. "A lot of people just want to have a meat free meal once or twice a week, so we're focused on those people, as well.
"We're just doing what we love to do, to show how yummy and tasty it can be to cut down on your meat consumption."
The Red Lion Hotel joins a bunch of other casual and fine dining restaurants to make the switch. Gigi Pizzeria in Sydney's vegan hub of Newtown went completely vegan in late 2015 after the owner, Marco Matini, had become "aware of how much produce we go through, plus all the information I've collected about animal agriculture on many different levels".
Yes, Gigi's pizza is as good as it looks.
Although the change to ditch all meat products was at first controversial and met with disbelief (and anger) from some regular meat-eating patrons, one year later Gigi still boasts 30 minute waiting lines (from omnivores, vegetarians and vegans alike) to try their incredible pizzas.
Award winning Sydney fine dining restaurant Yellow relaunched their one-hatted eatery in early 2016 as a vegetarian restaurant, with completely vegetarian and vegan dugustations available.
Burger joint Soul Burger in Sydney's Randwick also made the switch to a 100 percent plant-based menu, with their enormous mock meat 'cheese', 'chicken' and 'fish' burgers drawing in crowds from afar.
Marrickville cafe Two Chaps in Sydney also switched to a vegetarian-only menu, and we can't forget the always-vegetarian Melbourne fast food chain Lord of the Fries, which has long been a hangover staple for both meat eaters and vegetarians and vegans since 2004.
A shout out to some other vegan eateries around the country: Vege Rama in Brisbane, Vegie Bar in Melbourne, Clovelly Cupcakes in Brisbane, Sister of Soul in Melbourne, Shakahari in Melbourne, Monk Bodhi Dharma in Melbourne, Fern Cafe in Perth and Bliss Organic Garden Cafe in Adelaide.
With every delicious burger Soul Burger slams the 'vegetarians and vegans just eat rabbit food' claim.
But now every month you hear of eateries around the country transforming their entire menu and completely re-branding to become vegetarian or vegan. You might attribute this to the growing awareness of the animal cruelty, environmental and health impacts of meat consumption and factory farming, or maybe it's as simple as meeting the undeniable, sweeping demand of the growing vegetarian and vegan population.
According to a recent Ray Morgan survey, between 2012 and 2016 the number of Australian adults whose diet is "all or almost all vegetarian" has risen from 1.7 million people (or 9.7 percent of the population) to almost 2.1 million (11.2 percent). That's over one in 10 people.
Although vegetarianism is a nationwide trend, the shift towards the lifestyle "has been most striking in New South Wales, where there has been a 30 percent growth in this kind of diet."
An analysis of the past 12 months of Google searches from around the world also shows Australia has the highest percentage of searches for the word "vegan" of all searches conducted, outranking the previous highest ranker, Germany.
It seems Sydney and Melbourne are leading the way with their vegetarian and vegan friendly food scene, but no doubt other cities around Australia will follow suit.