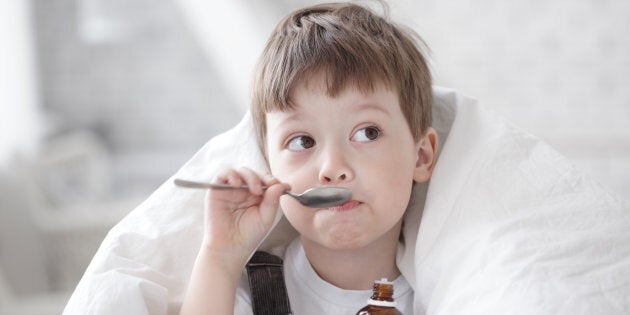 One in three Aussie children under six are receiving potentially harmful cough and cold medicines which are costing their parents millions each year, according to a new study.
The latest Australian Child Health Poll released on Wednesday found one third of children under six received the over-the-counter medicines, which the Therapeutic Goods Administration (TGA) has warned could harm young children.
Seventy four percent of parents incorrectly giving their young children the over-the-counter medicines said they had been told by a pharmacist to do so. Sixty four percent of these parents said they had been advised by a doctor, which Dr Rhodes said was particularly alarming.
"The types of medicines that we mean are things like decongestants, antitussives and antihistamines," Dr Anthea Rhodes of the Royal Children's Hospital in Melbourne told The Huffington Post Australia.
"They can't be purchased without advice from a pharmacist and the recommendation is that pharmacists should be advising those parents if their child is under six that that product is not safe."
Multiple studies have proven these medicines do not benefit young children or help them get better faster.
Dr Rhodes said the findings are a reminder pharmacies are businesses and more education in the sector is required.
"Parents are looking for quick fixes and solutions so sometimes it kinds of seems to suit everyone to buy something and use it but at the end of the day it may not be the safest option," Rhodes said.
How do you fix your child's cough?

Dr Rhodes said the most common cause of a cough in children is related to a cold.

"A cough is really the response of your airway to try and expel or get rid of muck that's in the airway, so it actually plays a part in helping you get better," Rhodes said.

The best way to get your child better is allowing them to rest and keep their fluids up. For some children, inhaling steam works (as long as it's supervised and there's no risk of the child burning themselves).

"Simple measures are all that's required," Dr Rhodes said.

"There's also some evidence that honey is beneficial for a cough. However, it's not suitable in children under 12 months of age."

Dr Rhodes suggested consulting your local GP if symptoms do not subside.
The poll, conducted by the Royal Children's Hospital in Melbourne, also revealed parents are giving their children over-the-counter medicines for the wrong symptoms.
One in ten parents are using Panadol and Nurofen to help sedate children, while almost one in three parents are using the medicines to treat their child's cough. There is no evidence these medicines help reduce a cough or aid sleep.
The poll, which surveyed 2000 parents with 4000 children collectively, also revealed another interesting finding about the amount of vitamins and supplements parents are purchasing for their children.
Aussie parents are spending an estimated $74 million annually on vitamins and supplements for children under the age of 15, with almost half of all Australian children estimated to have taken supplements in the past year.
"We know that 50 percent of Australian children are not nutritionally deficient," Dr Rhodes said.
"Even if they're picky eaters it's very unlikely that they require a vitamin or supplement. And yet, half of all kids -- and this is preschoolers right up to teenagers -- are taking vitamins and supplements." Dr Rhodes said.
A healthy diet, plenty of exercise outdoors and adequate sleep is more beneficial to children's immune systems and general health, said Dr Rhodes.
"It's much easier to buy a pill but in fact, many times, those multivitamins don't necessarily contain the combination of supplements that might be required for your child.
"[Parents] are better spending that money on something else. Buy them a new soccer ball."