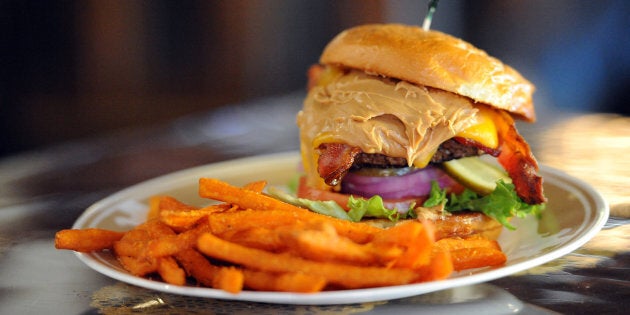 If you love peanut butter -- like, really love peanut butter -- you're probably partial to eating it by the spoonful as well as adding it to everything you possibly can: porridge, granola, fruit, brownies, muffins, smoothies, medjool dates... we could go on.
But have you ever tried savoury peanut butter recipes?
Thanks to its creamy texture and nutty flavour, peanut butter lends itself perfectly to salty, savoury dishes like burgers, ribs and dumplings. Just think about how delicious satay sauce is, and apply that magic to any dish you can think of.
To help get you started, and because peanut butter is the best, here are five savoury peanut butter recipes by Pic's Peanut Butter.
Remember, friends: don't skimp on the peanut butter. Never skimp on peanut butter.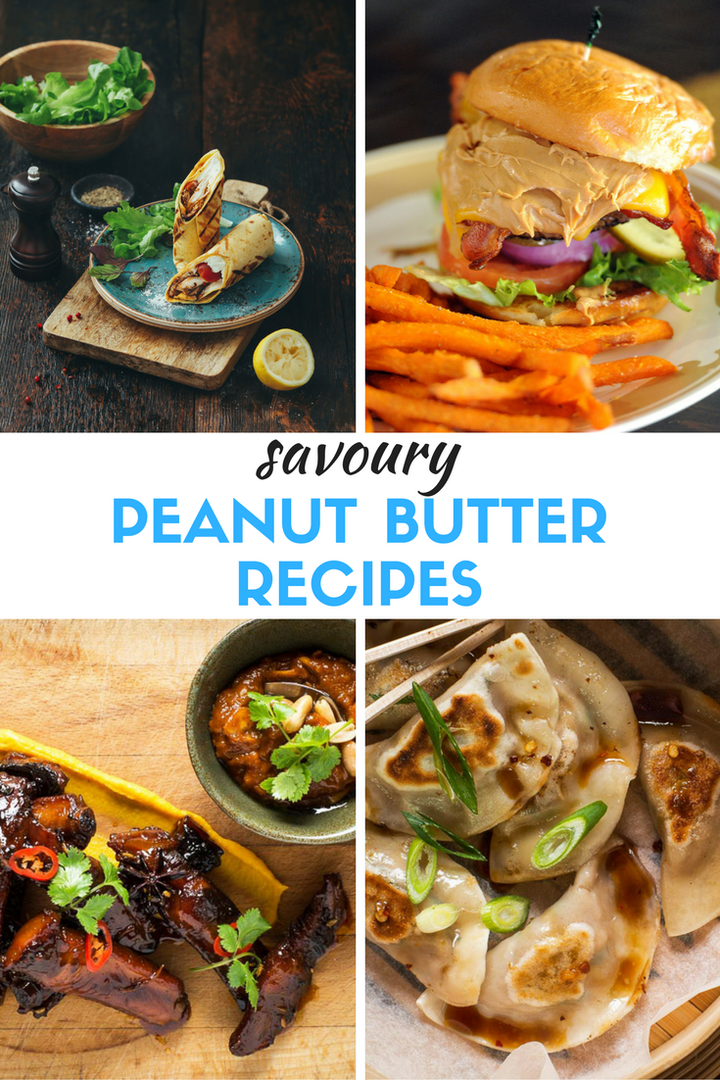 1. Sticky braised pork ribs with spicy peanut relish
INGREDIENTS
1kg pork ribs, separated
2 tablespoons sesame oil
4 tablespoons smooth peanut butter
Sea salt and black pepper
4 garlic cloves, crushed
4 cm piece of fresh ginger, peeled, thinly sliced
1 teaspoon dried chilli flakes (or to taste)
½ teaspoons fennel seeds, crushed
2 whole star anise
4 tablespoons honey
50ml soy sauce
100ml sweet soy sauce
30ml fresh lime juice
300ml mirin
4 spring onions, sliced
500ml chicken stock
For the spicy peanut relish:
2 tablespoons quality peanut oil
2 tablespoons red curry paste
5 garlic cloves, crushed
2 tablespoons crunchy peanut butter
1 tablespoon shrimp paste
½ cup peanuts, roasted
1 tablespoon palm sugar
1 tablespoon tamarind paste
2 tablespoons Thai fish sauce
METHOD
1. Preheat the oven to 170°C. Season the ribs with salt and pepper.
2. Heat a large oven proof pan or roasting tray on the hob with the peanut oil. Brown the ribs for 5-10 minutes on both sides until they are golden brown.
3. Add the garlic, ginger, chilli flakes, fennel seeds, star anise and honey and continue to cook for two minutes until the honey begins to caramelise.
4. Add the soy sauce, sweet soy, lime juice and mirin and bring to the boil, simmering for one minute. Taste and adjust the flavours, adding more lime juice if necessary. Add the spring onions and stock and bring to the boil.
5. Place the roasting dish in the oven and cook for 40 minutes, turn the ribs, then cook for 40 more minutes or until the ribs are tender.
6. Remove the pan from the oven and place back on the hob. Heat the marinade and reduce for 8-10 minutes, glazing the ribs until the sauce is thick and syrupy. Turn the ribs in the sauce to ensure they're fully coated. Serve with spicy peanut relish on the side.
7. To make spicy peanut relish: in a mortar and pestle make a paste by gradually pounding the red curry paste, garlic, peanut butter and shrimp paste until smooth.
8. Add the palm sugar, tamarind paste and fish sauce. It should taste salty, hot, sour and sweet.
9. Heat the peanut oil in a pan, add the paste and fry gently over a low heat for about 10 or until lightly golden and fragrant.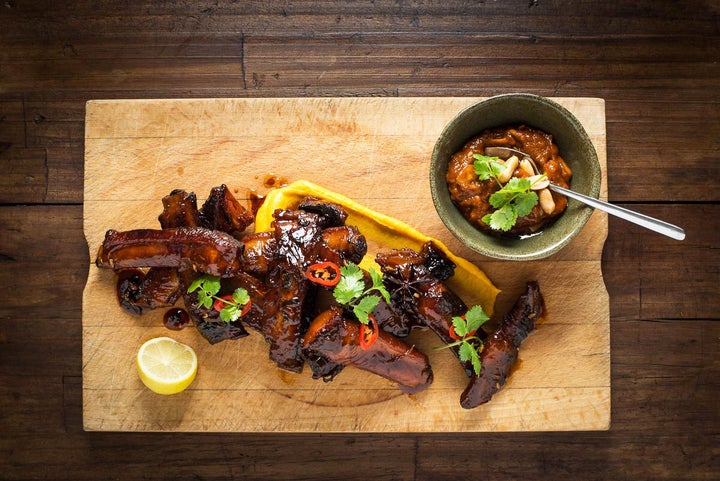 2. Peanut butter dumplings
INGREDIENTS
¼ cup smooth peanut butter
2 tablespoons peanut oil
½ Chinese cabbage, thinly sliced
400g chicken mince (or pork)
2 tablespoons black bean paste
1 egg white
¼ cup chopped chives
Salt and pepper
Rice flour, for dusting
24 gow gee wrappers (available from supermarket and Asian food shops)
Chinese black vinegar and chilli, to serve
METHOD
1. Heat one tablespoon of peanut oil in a large saucepan over medium heat. Add the cabbage and garlic and cook for two minutes or until softened. Cool.
2. Add the mince, black bean paste, egg white, peanut butter and chives to the cabbage, season with salt and pepper.
3. Dust a chopping board with a little rice flour. Lay out six gow gee wrappers on the board, then brush the edges with a little water. Place one teaspoon of the mince cabbage mixture into the centre of each wrapper. Fold over the wrapper to form a half circle, then press the edges to seal and enclose the filling. Repeat with the remaining wrappers.
4. Heat the remaining peanut oil with ½ cup of water in a large frying pan. Add the dumpling and cook for five minutes with lid on.
5. Remove the lid and cook until the water has evaporated and the dumplings are golden on one side. Serve with black vinegar and chilli as a dipping on the side.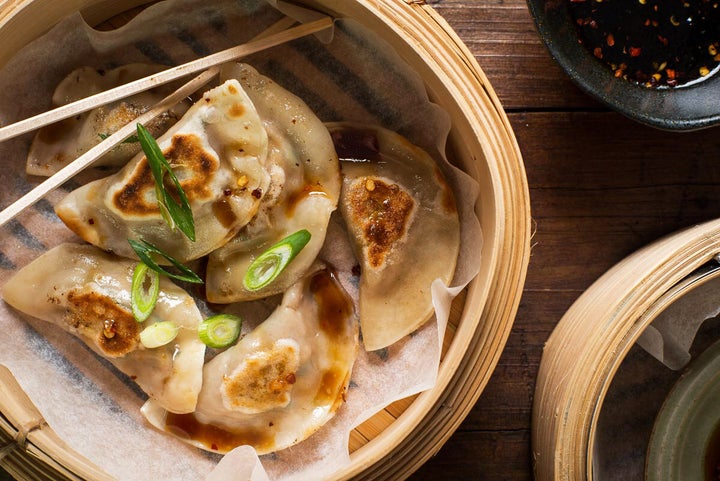 3. Peanut butter burger with bacon jam
INGREDIENTS
500g premium beef mince
½ white onion finely diced
1 tablespoon smooth peanut butter
Salt and pepper, to taste
Lettuce leaves, to serve
Tomato slices, to serve
Pickles, to serve
500g free range bacon
1 small onion, chopped
4 large garlic cloves, chopped
70g cup packed brown sugar
50g maple syrup
1 tablespoon apple cider vinegar
METHOD
1. Add all ingredients to a bowl and use your hands to mix well. Form into four good sized patties and put an indent in the centre with your thumb to stop curling and help cooking times. Chill in the fridge for at least half an hour.
2. Cook on the barbecue or hot pan for three minutes on each side.
3. Grab a bun of your choice and add plenty of salad. Serve burger hot from the grill drizzled with more smooth peanut butter and, if you fancy, some bacon jam.
4. To make the bacon jam: roughly chop the bacon and fry in a heavy pot until browned. Transfer to a bowl using a slotted spoon, draining off most of the fat.
5. Place onion and garlic in the pan, and soften for approximately five minutes until starting to turn golden. Return the bacon to the pan and add the remaining ingredients. Cook over medium heat for half an hour, or until deep golden and thickened to the consistency of jam.
6. Blend in a food processor for a finer texture if desired. Serve warm on the peanut butter burger or cold in your peanut butter sandwich.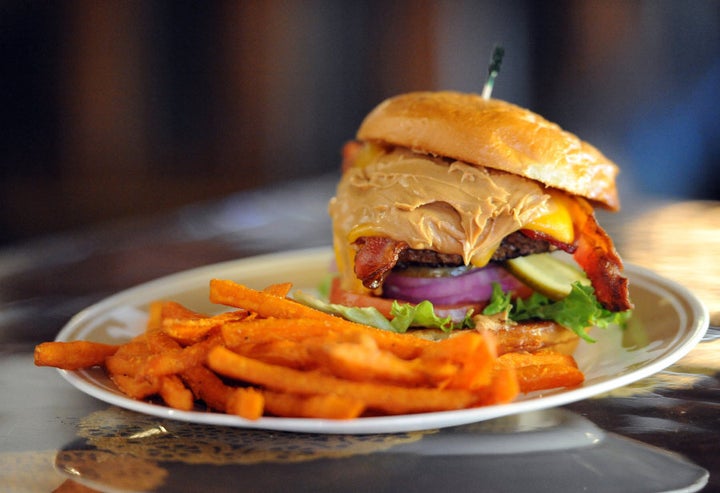 4. Coconut lime chicken burritos with peanut butter sauce
INGREDIENTS
1 cup smooth peanut butter
1 lime, juiced
1½ tablespoons sriracha
2 tablespoons coconut cream
1 tablespoons soy sauce
2 tablespoons cold water
For the chicken burritos:
3-4 juiced limes
¼ cup peanut oil
400ml coconut milk
3 minced garlic cloves
¼ teaspoon ground ginger
Salt and pepper, to taste
2 tablespoons fresh parsley, chopped
1 tablespoon fresh coriander, chopped
2 cups brown rice
4 boneless, skinless thigh fillets
4 flour tortillas
METHOD
1. Mix all the peanut sauce ingredients together in a bowl until smooth.
2. Mix the lime juice, peanut oil, coconut milk, garlic, ginger and seasoning until combined in a large bowl. Submerge the chicken in the mix and allow to marinate in the fridge for at least 30 minutes.
3. While chicken is soaking up some flavour, prepare the rice as per packet instructions.
4. Mix the parsley and coriander through the cooked rice.
5. Remove the chicken from the marinade and grill or pan fry for 5-6 mins each side until cooked through. Slice and set aside.
6. Build your burrito with ¼ of the rice, ¼ of the sliced chicken and a good spoonful of sauce. Roll into a burrito and grill for 3-4 mins until golden. Repeat with the other three tortillas. Dip into peanut sauce and enjoy.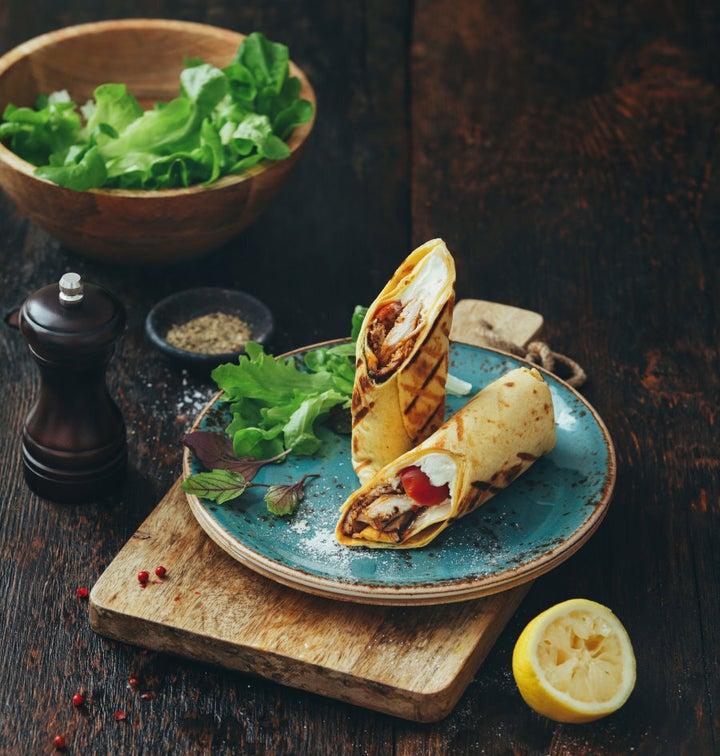 5. Baked fish en papillote with black bean and chilli
INGREDIENTS
4 x 200g fish fillets
Fresh ground white pepper and sea salt, to taste
2 tablespoons soy sauce
3 tablespoons mirin
2 teaspoons black bean sauce
1 teaspoon chilli sauce
80ml chicken stock
1 garlic clove, crushed
4cm piece of ginger, thinly sliced
1 bunch of coriander, chopped
2 spring onions, white part only chopped
4 tablespoons crunchy peanut butter
METHOD
1. Place each fish fillet on a large square of parchment paper and season with white pepper and sea salt.
2. In a sauce pan gently heat the soy sauce, mirin, sugar, black bean, chilli sauce and chicken stock. Stir to dissolve the sugar. Add the garlic and ginger. Chill.
3. Evenly pour the marinade over the fish fillet, then arrange the chopped coriander & spring onions on top. Finish each fillet with one tablespoon peanut oil.
4. Fold the parchment paper around the edges tightly in 5cm folds to create a half moon shape. (Make sure you press as you crimp and fold to seal the packets well, otherwise the steam will escape.)
5. Arrange the packets on a baking sheet. Bake until the fish is cooked through -- about 12 minutes, depending on the thickness of the fish.
6. To serve, cut open the packets and serve directly in the parchment paper.