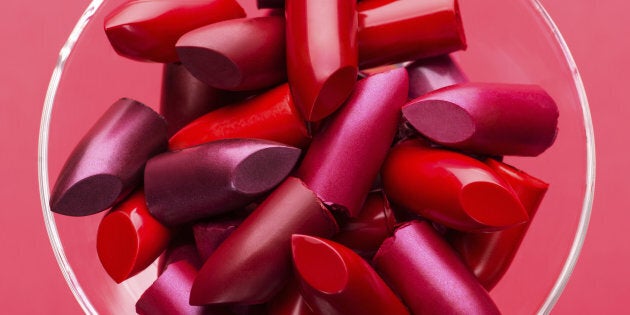 If ever there was a time that Lauder's 'The Lipstick Effect' theory has been tested and proven true it's in the past 10 years.
Coined by Leonard Lauder, chairman of Estee Lauder, the theory goes that consumers retain a desire for luxury goods even during tough economic times, it's just that the items in question changes. So while people might not be forking out for furs or Birkin bags, they'll still spend on big brands -- just on lower price point items -- A.K.A lipstick and beauty products.
The GFC started in 2007 and although Australia was less affected than other parts of the world, we still felt it. Couple that with the high cost of living getting even higher in our capital cities and it's not hard to see why retail in the last decade has struggled.
But not beauty. The beauty industry over the last 10 years has grown at a rapid rate not enjoyed before at a time when 'everything else' is in decline. Sure, the opulent 80s were a high time for consumerism, but thanks to the investment boom of that era cash was splashed on pretty much everything.
Fast forward 30 years and the beauty industry is still enjoying the profits of women's (and men's) desires, regardless of uncertain times. This might be partly due to The Lipstick Effect, but it's also thanks to the very tool you're using right now. The internet.
Prior to the internet -- which has become our right arm today -- consumers were marketed to through traditional advertising and editorial in print publications, which was effective. With the development of social media, brands now have direct access to their customers through their own channels and via the endorsement of beauty bloggers and vloggers. Effective as a term for what this has done for the sale of beauty products just doesn't cut it.
Australia's two biggest beauty bloggers, Lauren Curtis and Chloe Morello, are undeniable forces in the social media influencer space globally. The pair reach in excess of 6 million people worldwide across Facebook and Instagram and over 5.5 million people on YouTube combined. According to a statistic that came out of this year's Cannes Lions International Festival of Creativity, 60 percent of millennials say an influencer has changed their life or their view on the world -- making these two women big business. Brands are jumping on board; as you can imagine, a post about a brand or product by someone of this caliber equates in serious sales.
Perhaps that's why retail juggernaut Sephora decided to launch in Australia in December 2014. Prior to the beauty retailer coming down under, Australian shoppers most frequented Priceline Pharmacy which is known for its extensive range of affordable mass brand, and MECCA -- Australia's own luxury beauty retailer that since 1997 has stocked an impressive range of luxury international beauty brands.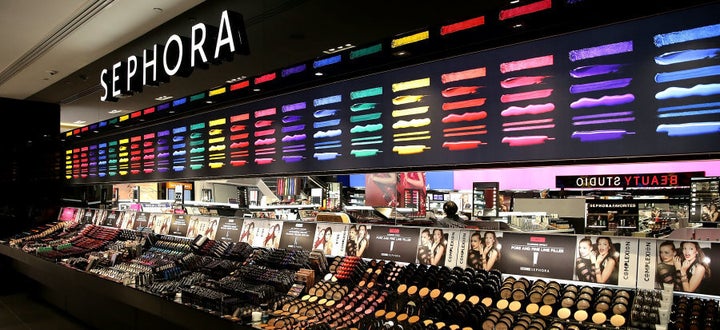 "I used to shop for beauty products quite a lot before I was gifted product. I loved visiting Priceline and using my little card to rack up points and score a $5 discount! I couldn't afford to go to MECCA so Priceline was the next best thing. I also shopped online a lot, mainly for American brands that couldn't be bought in Australia," Lauren Curtis told The Huffington Post Australia.
"I couldn't really afford to shop at MECCA prior to my success, but now it's my go-to. It's beautifully laid out and presented, easy to navigate and the staff are always so helpful. I shopped at Sephora overseas about once a year, and was super excited to hear that it was going to launch in Australia. There was always rumors that it might come to Australia, but to actually have it come true was amazing," Curtis said.
With 2000 stores globally, Sephora's launch into the Australian market was highly anticipated and a long time coming.
"The brand history dates back to 1969, when our founder Dominique Mandonnaud opened his first perfumery in Limoges, France," Libby Amelia, Sephora Australia Country manager told HuffPost Australia.
"His concept was to build a store which allowed customers to touch, smell and try on products. It was hailed as a beauty revolution by women tired of the traditional counter model. In 1996, the flagship store opened on the Champs-Élysées."
The following year Sephora expanded to Portugal, Spain, Poland and Italy; by 1999 it had landed in the U.S. and furthered its European expansion to Greece and Romania. China was next, in 2005, South-East Asia in 2008; Brazil and Mexico followed in 2010 and in 2014 Sydney.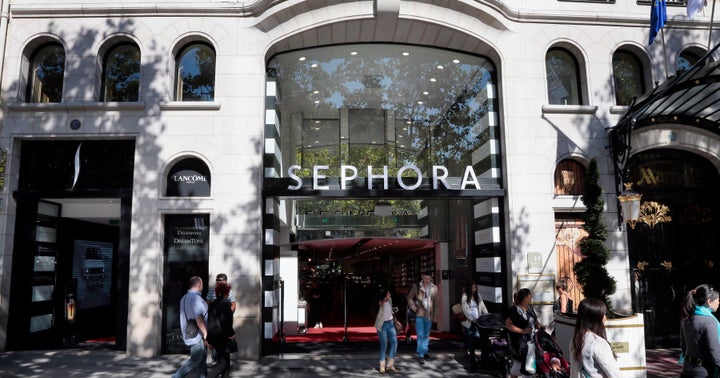 The ability to touch, smell and play with the products is part of the reason the stores are so popular. Buying beauty products can be overwhelming and it's a sensorial process -- if consumers can try before they buy they're more likely to shop there.
Prior to opening in Australia people who saw cult products from Sephora being used by beauty influencers had to source the items from overseas. Beauty influencers using a product in real time -- where the colour payoff, texture and wear can be determined in a an honest environment -- is now the most trusted recommendation, more so than traditional editorial and almost as much as advice from friends.
"Social media and the rise of the beauty blogger/you-tubers have changed the beauty industry. Previously, customers were limited as to where they could find their beauty information. Customers can now learn online anywhere, anytime. For Sephora is has been positive -- a blogger or celebrity posting about our products generates an incredible buzz and often encourages consumer purchasing behaviors," Chris de Lapuente, Global Chief Executive Officer of Sephora told The Huffington Post Australia.
We are lucky to have a comprehensive exclusive brand assortment to offer to the Australian consumer.
"Entering the Australian market was a decision which I did not take likely. Australian women are well-traveled, beauty savvy individuals who have often experienced our stores in Europe, the Middle East or the Americas. Thus there was great expectations from consumers behind our launch. So far, the response from customers has been superb and has allowed us to build our network much faster than planned," de Lapuente said.
"December 2014 saw the launch of the first Australian Sephora store in Sydney's iconic Pitt Street Mall. Since then we have welcomed four shiny new doors -- Melbourne Central, Macquarie, Pacific Fair and Broadway," Amelia said.
Entering a market that already had a luxury beauty offering in MECCA, Sephora managed to carve its own (very big) space with an impressive selection of exclusive brands.
"We are lucky to have a comprehensive exclusive brand assortment to offer to the Australian consumer. By entering the market we have grown the overall beauty sector, enabling the Australian consumers to have an increased beauty selection offering up to 40 exclusive brands, available only in Sephora," Amelia said.

Not one to rest on their laurels, Sephora saw a gap in product offering and subsequently launched the (new to Australia) Sephora Collection, an affordable in-house brand of the company's namesake.
"Sephora collection launched in 1996. It offers over 1500 products, with about 450 new products launched each year. As Sephora's private label, Sephora Collection embodies all the brand's daring, creativity and excellence -- game-changing products that is as accessible as they are exciting, as sensual as they are superior. Like the 365 lipstick shades -- one for every mood, every desire -- Sephora collection products encourage you to come out to play," de Lapuente said.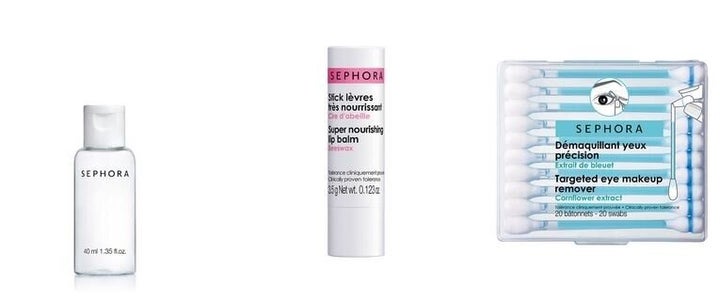 As for the internet -- the tool that subsequently took Sephora from being a shop-stop for overseas travellers and brought it to our shores -- the brand has big plans for its e-commerce offering at a time when consumers want to buy their favourite products online just as much as they want to touch and play with new stuff in-store.
"We have some incredible digital initiatives set to launch in the next 12 months within Australia. Our digital team is currently working on tailor-made apps to create greater personalisation and freedom for our customers to experience and place both online and instore. Our loyalty program will be relaunched, offering customers more innovative digital technology than ever before," de Lapuente said.
It's an exciting time for an industry that, although can be seen as superficial and frivolous, empowers women and men to express themselves and offers confidence that comes in a tube or bottle. Maybe lipstick is that powerful, after all.
Leigh Campbell traveled to Paris to interview Chris de Lapuente as a guest of Sephora Australia.